Robert Kleinhenz

Chief Economist at LAEDC






Bruce Norris is joined again this week by Robert Kleinhenz. Dr. Klienhenz is the chief economist at the Los Angeles County Economic Development Corporation (LAEDC). He directs the Kaiser Center for Economic Research, which conducts research on regional, state, and national economies. In addition he has also been a teacher for over 25 years.
In the last segment they had just started touching on things that may affect employment. Bruce asked what sectors are growing for 2015, to which Robert said it is pretty much the same sectors throughout the state, locally, and also nationally that are contributing to growth. These industries are accounting for between 60 and 80% of job gains. Those industries included leisure and hospitality, so it is tied to but not equating with tourism. Healthcare has been adding jobs for several years, even during the Recession.
Professional, scientific, and technical services is a category that includes architects, engineers, attorneys, IT consultants, and management consultants. This is in a sector of the economy that has been growing fairly strongly for the last several years. They are also seeing that as the economy improves, those segments or industries that serve households and the local population are also improving. Retail activity and employment is up. Construction jobs and industry activity is up, which is a very important improvement to note. About 1/3 of the construction jobs in California were lost during the Recession. We have now recovered 10-15% of those at this point over the last 4 years. We still have a ways to go, but it is a good sign this particular sector is turning around.
The interesting thing about this improvement in construction is that it has not been an even sum game. You have apartment construction dominating residential as opposed to single-family. On the commercial side you do not have much office things going on, but you have tons of industrial work. With respect to the residential side of things, the new home side will essentially respond to what is out there on the existing side and what price movements occur. Single-family home building has been slow to come around. If you take a look at both the state and local numbers, you find that the balance tips more toward multi-family. This includes apartment rental space. If you take a look at the demographics, they really are going to be driving this story over the next few years.
We are looking for the millennial generation to form households and become first renters and eventually homeowners. The oldest millennials are in their early thirties right now, and the typical millennials maybe 25. Growth opportunity over the next few years will be in rentals, whether apartments or other types of properties these young individuals can occupy as they get jobs, form households, and move on in their life cycle. A few more years out we will see more strength in the single-family home market. He thinks a lot of this will be driven by the trends in the millennial generation over the next few years.
Bruce asked about the millennial generation and if the decisions they made have surprised people in the sense that they are not getting married until quite a bit later than Bruce's generation. Bruce asked if this was something that was in progress and just happened to grow another year. He wondered if they had invented the trend or continued the trend. Some of these trends and life cycle milestones like forming a household, which may or may not involve marriage, buying a home, and starting a family have been pushed back. People and households are tending to hit those milestones at a later age. When you overlay on that trend, you see that the oldest millennials were in high school or college at the start of the Recession. They were having difficulty upon finishing school or finding jobs, and they were lucky to find a full-time job let alone a part-time job. Those kinds of things in the economy and how they affected the income strain these individuals and households have been able to earn also figure into those life cycle decisions and hitting those milestones. There has been a huge delay while demographers and other economists have been saying this will eventually come around with millennials showing up in apartment rentals. Eventually they will show up as homeowners, but it is taking much longer than most experts expected.
Bruce nor many of us lived through the Great Depression and therefore do not have that to look back and say the Great Recession was nothing compared to the Great Depression. Bruce wondered if the Great Recession has created some long-term impact on the willingness to take risk. Bruce asked if this is your first experience as an adult whether or not it felt really threatening and made him very conservative about what he does fiscally. Robert said when you talk with demographers and ask them to make comparisons of different generations, they often say the millennial generation has characteristics and behaviors that are similar to the greatest generation. This is the very same age cohort that went through the Great Depression.
Those who went through the Great Recession were also kids at the time of 9/11, which was earth-shaking for a young child or pre-teen than it would have been for an adult. These individuals who are millennials have had a couple earth-shaking events or episodes with which they have had to deal. In that regard they are somewhat their grandparents' generation. They want to approach things with greater caution and seem to be less inclined to maintain credit card balances or go into debt. Whether or not they are less inclined to become homeowners remains to be seen. One of the big questions is if this generation will be materially different in terms of their behavior and ownership patterns. They are probably still likely to pursue the American dream and become a homeowner. Some of their other behaviors definitely reflect a greater level of caution given what they have gone through in their lives. We have to keep in mind that they are still young and will be around for many decades to shape the economy and housing market.
What is funny is Bruce was a dad at 17 and a grandfather at 35. When somebody is 35, not married, and living at home he is really shocked. Robert said at 17 during the Great Recession a lot of kids did not have many options. The best thing to do when you are in the middle of a recession when you are young is keep going to school. This will oftentimes mean you will stay at home. There is a strong correlation between lifetime earnings and whether or not you started your working career in a recession or during an expansion. If you begin your working career during a recession, your lifetime earnings are lower than for an individual who starts their working career during an expansion. They best insurance policy to get around that, other than being very resourceful, is to educate yourself since education and earnings are highly correlated.
Bruce asked what skills are being well-rewarded in the marketplace right now. Robert said there is a lot going on in technology for which there is huge demand and appears to be, if not an under supply of jobs, a lien supply of jobs. Good salaries are being paid to qualified individuals, young or otherwise. We are seeing big job games occur at the low end; specifically for entry-level jobs and minimum wage jobs, as well as industry jobs and occupations where you need college education or an advanced degree.
Bruce said when he looks at manufacturing, it looks like we consistently produce more goods to export and do it with less people. Bruce asked if this was true and if this trend will likely continue. Robert said yes and that if we look at manufacturing, we have the largest number of manufacturing jobs in Southern California. We may be touted as Tinseltown and the entertainment capital of the world, yet the fact of the matter is we have a huge manufacturing base. It has to be competitive because it is selling on a global marketplace. Labor is expensive here in the United States, so there is a huge incentive for manufacturers to figure out a way to save on labor.
Automation is part and parcel of manufacturing and will continue to be, unlike the discussion about driverless vehicles. If you can eliminate or reduce the labor component, you have reduced your overall cost by a fair margin. Robert said we have seen automation take place on the factory floor as well as other goods related industries. Yet by virtue of that we are able to maintain competitiveness globally, and they have seen the value of manufactured goods produced in California on the rise since the Recession. This is a good thing to report.
Bruce how much the strength of the dollar has impacted exports. Robert said this is a concern. They have an international trade outlook event that takes place this month where they write up their outlook. He produces a forecast of container activity for the ports as well as the value of trade. If you look in current value of dollars, the dollar value of trade in 2015 will be flat or down a little bit from 2014. This is partly because of the appreciation in the value of the dollar. We are buying things from abroad that are costing less since the value of the dollar has increased and made these things cheaper.
Imports outweigh exports significantly, both locally and nationally. At the same time our exporters are in a difficult position because the value of the dollar makes their exported goods more expensive to those abroad who are buying them. We are seeing a little bit of the edge taken off of exports this year because of the higher value of the dollar. We are seeing imports coming in more cheaply, so in dollar terms the may be flat or down a little. In inflation adjusted terms, we think exports and imports go up. We look at container activity at the twin ports, which is important to the local economy. Given the labor dispute and congestion problems that posed problems earlier in the year, it looks like we have seen a turnaround and expect this year to be as good as this year. This is a great thing to be able to say given how tough it was in the first couple months this year.
Bruce asked if there is any port expansion plans in the area or outside our state that might impact how much we get to do. Robert said over the last several years the ports at Long Beach and Los Angeles have been marked by large infrastructure investments to the tune of several million dollars. The exact dollar figure was about $4 ½ billion that the port of Long Beach alone was investing. $3-4 billion was invested by the port of Los Angeles. There were a few things they wanted to accomplish. One was to deepen their channels, and another was to position themselves for these larger ships making their calls at these ports. Container ships of 2015 are about twice the size of container ships of 2004. In order to accommodate those larger ships, a lot of things on shore have to be changed. Infrastructure has to be built out and adjusted.
The local ports have been doing a lot to anticipate the arrival of these large ships already coming to local ports. Those large ships are larger than can what is able to fit through the Panama Canal. One of the concerns about the local ports is they may lose their market share because the Panama Canal will be widened, and the revamped Panama Canal will be opening up soon. The newest generation of ships going on the ocean and moving these containers will be too large to go through the Panama Canal. We have two ports that have positioned themselves to remain competitive. They account for a little more than 40% of the container activity in entire country and 60% of the imported containers come through the twin ports. A lot of this activity translates into transportation, warehousing, and wholesaling activity in Los Angeles County, the Inland Empire and Orange County. It is a huge job engine for the whole region. Somebody looked ahead and said we need a deeper waterway so these ships can come through here.
We have a lot of important industries locally. The entertainment industry is certainly one that is at or near the top of the list, but the goods that move international trades are right up there with the entertainment industry. They are both important engines of economic activity. They expand the local economic pie when they expand or move things out of the area. This is similar to our manufacturing sector, so it is important for us to do what we can to enable them maintain their competitive edge.
Bruce asked about 3D printers and how they have affected things. Robert said he does not know much about this, although he does know they can do great things and create artificial limbs for people and their capacity to do so with a variety of different materials. The idea that 3D printing can make something from scratch and replace an original part or limb is unbelievable. When Bruce talks with Sean O'Toole, he will go home afterwards and revolutionize what he thinks is about to happen. He was talking about 3D printers and got one for his ten year old son, so you can imagine what a running start his kid will have. He went on the computer and found out there was one case where a baby was born with a heart defect. Because of 3D imaging, they were able to reproduce the baby's heart. They could hold a replica of the heart in their hands, look at it, and see where the defect was. Because of this they could do a simple surgery directly to the problem.
With these, you can see someone who is very knowledgeable suddenly having a home base job that might be big bucks. This is why Bruce wondered where we were at with 3D printing and if it was still in its infancy stage. Robert said the first time he first saw the 3D printing in action was at a school where he taught toy design. He saw that they used 3D printing to create prototypes of toys that would eventually turn into commercially developed toy lines. It is very much the same thing. If you think about how things have progressed compared to 40 years ago in the era of mass production and mass markets, we have been increasingly moving toward a production economy that is able to provide more specialized services and goods that meet the unique needs of individuals. It seems that 3D printing is another example of how technology is innovating to make that happen to meet the needs of niche markets and customized products. This is an exciting time if you have any interest in technology to see where this 3D printing revolution will take us.
Bruce said when he looks at an unemployment chart, it has very much improved. When he looks at a participation chart, he wonders if most of the improvement in the unemployment chart is because people stopped looking. Robert said if you look at the national numbers, we have seen a trend decline in labor force participation rates, dating back several years to even before the recession. During and immediately after the recession, the concern was that people had dropped out of the labor force because the economy was so lousy. People were not able to get jobs. There was some truth to that and, to a less extent, still some truth today. The driving force behind labor participation rates over the next few years will be demographics as boomers leave the labor force as they get older.
An interesting sub-theme to this is we are seeing an increase in labor force participation rates among 55-64 year olds compared to previous generations. The declining trend is mostly due to demographics and will be with us for the next few years. There is not much that can be done about this. Bruce said one thing he found encouraging for California was over half of the venture capital in the country lands here to take a risk. For being the storytelling capital of the world, we do a lousy job of telling the story of California's economy and its success.
We have outpaced the nation in terms of job growth for several years running now, and we continue to be the destination for Venture Capital to most likely find a home. This owes to the spirit of entrepreneurialism, inventiveness, and technology. We have a center like the Silicon Valley and significant presence of IT and other tech sector industries. These industries that are growing these new ideas and turning them into products and services like the 3D printer are attracting capital and contributing to the growth of the state. This is certainly a good piece of news to talk about when we discuss California and its economy.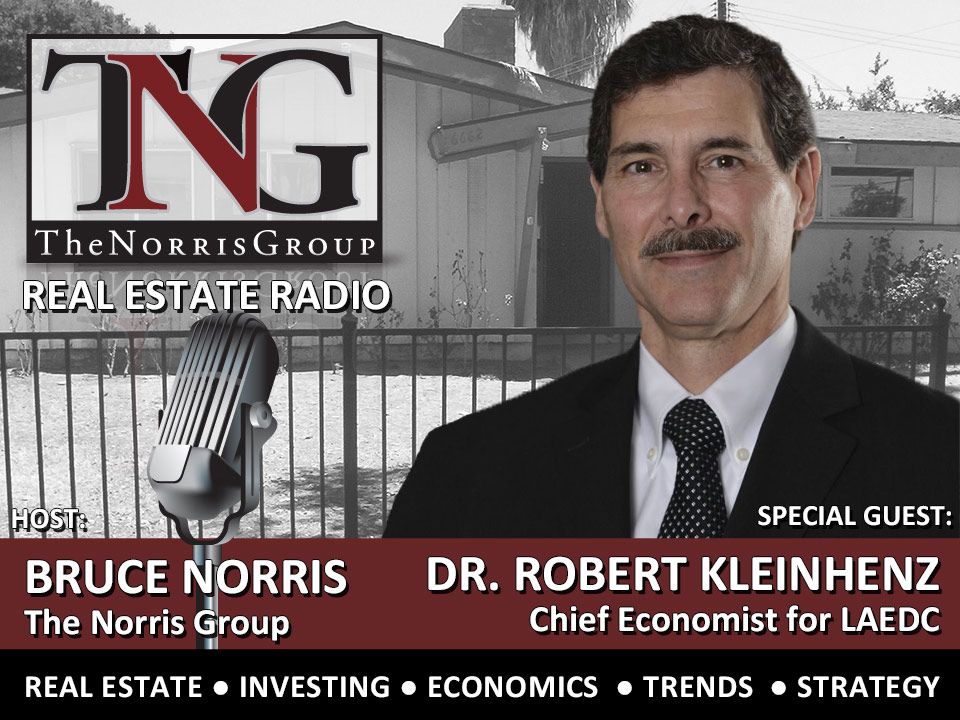 For more information about The Norris Group's California hard money loans or our California Trust Deed investments, visit the website or call our office at 951-780-5856 for more information. For upcoming California real estate investor training and events, visit The Norris Group website and our California investor calendar. You'll also find our award-winning real estate radio show on KTIE 590am at 6pm on Saturdays or you can listen to over 170 podcasts in our free investor radio archive.