Norris Bruce
Mar 06, 2019
You're Asking How Much For That?!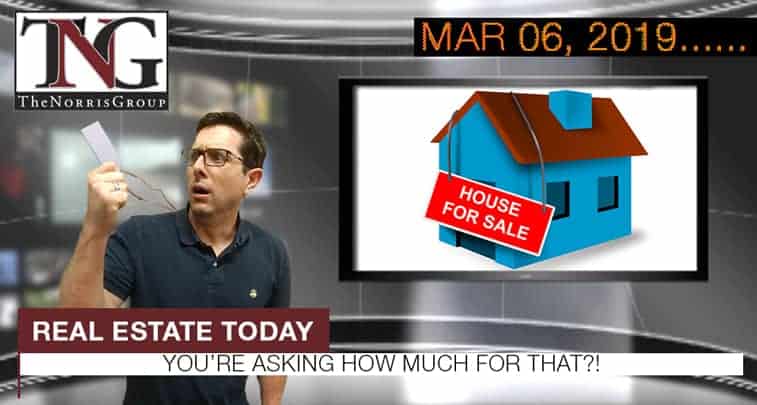 Today's News Synopsis:
What are the Big 5 factors that go into factoring a home's asking price?  More Americans are finding it more difficult to achieve the American dream, but you might be shocked to hear who it is they are blaming.  The Mortgage Bankers Association reported mortgage applications decreased 2.5% from last week.
In The News:
Realtor.com – "Got Sticker Shock?  These 5 Factors Are Influencing a Home's Asking Price" (3-6-2019)
"Ever gotten excited about a house for sale, then looked at the price and thought, "Are they out of their minds?" Yeah, us too."
Bloomberg – "Americans Blame Wall Street for Making American Dream Harder to Achieve" (3-6-2019)
"Almost half of Americans say Wall Street banks have made the "American Dream" more difficult to attain, according to a national poll released Wednesday that also shows capitalism still has strong support."
Apartment Therapy – "I'm 25 and I Can Afford to Live in the City – But Here's Why I'm Sticking to the Suburbs" (3-6-2019)
"Like millions of Americans who graduated with more than $50,000 in student loan debt, I knew it'd be a serious challenge to start my career living in pricey Washington D.C. and pay off my loans."
Redfin – "Amazon's Big Plans for Bellevue Could Spur the Seattle Suburb Back Into a Real Estate Frenzy" (3-6-2019)
"There's a spotlight on Bellevue's real estate market after Amazon gave up plans to occupy a skyscraper with the capacity for up to 5,000 employees in downtown Seattle."
MarketWatch – "Where mortgage payments take the smallest bit out of people's bank accounts" (3-6-2019)
"It's getting tough to afford a place to live — but residents of the nation's capital are better placed than their peers in other cities."
National Association of Realtors – "Majority of Real Estate Firms Remain Optimistic, Evolving Technology Remains a Challenge" (3-6-2019)
"The evolving technological landscape, competition from nontraditional market participants and housing affordability continue to be among the biggest challenges facing real estate firms in the next two years, according to a report by the National Association of Realtors®."
The New Yorker – "Can Micro-Real-Estate Developers Help Solve The Homelessness Crisis?" (3-6-2019)
"Proposals to erect housing for the homeless often incite panic in gentrifying neighborhoods, but converting garages into habitable dwellings could be a
harmonious solution."
Mortgage Bankers Association – "Mortgage Applications Decrease in Latest MBA Weekly Survey" (3-6-2019)
"Mortgage applications decreased 2.5 percent from one week earlier, according to data from the Mortgage Bankers Association's (MBA) Weekly Mortgage Applications Survey for the week ending March 1, 2019."

Bruce Norris will be presenting 10 Decisions To Make Before The Next Downturn with LA South REIA on Monday, March 11.
Bruce Norris will be presenting 10 Decisions To Make Before The Next Downturn with NorcalREIA on Wednesday, March 13.
Aaron Norris will be presenting Innovating Real Estate Marketing with the Black Inland Empire Real Estate Investment Club on Wednesday, March 20.
Looking Back:
Over a million Americans had just lost their shot at refinancing.  CoreLogic reported a 6.6% increase in home prices in January for the sixth month in a row.  What were the 100 richest communities in America?  Bloomberg gave the scoop
More on Hard Money Loans
Information on Note Investing
Real Estate Investor Education & Resources