Today's News Synopsis:
What are the top ten places in the United States for food destinations?  ThinkRealty released their latest report on the housing market, sharing things like the need for mortgage applications to change and more.  If you're coming from out of town and want that home that's over $1 million, then San Diego, Los Angeles, and Seattle are the places to look.
In The News:
ThinkRealty – "Housing News Report" (7-8-2019)
"Why Mortgage Applications Have to Change and More."
Realtor.com – "Five Stars: The 10 Surprising Places That Are America's Biggest New Food Destinations" (7-8-2019)
"No matter where you live, you gotta eat. But of course, not all meals are created equal."
Redfin – "Los Angeles, San Diego and Seattle are the Most Popular Destination for Out-of-Towners Searching for $1M-Plus Homes" (7-8-2019)
"Twenty-four percent of Redfin.com users searching for homes priced at or above $1 million in the last year were looking to buy a home in another metro area, the same share as non-luxury home searchers."
Forbes – "Millennials Will Re-Shape The New Home Market" (7-8-2019)
"In surveys taken ten years ago, Millennials used to say that they would never want to live in the suburbs, and they initially showed little interest in getting married and starting families."
MarketWatch – "This bunk bed in a shared room in San Francisco will cost you $1,200 a month" (7-8-2019)
"Co-living is one of the hottest trends in real estate, particularly in pricey cities. Here's what it's like."
CNBC – "Rental demand soars as more millennials believe it's cheaper than owning a home" (7-8-2019)
"In the D.C. suburb of Chevy Chase, MD, a massive apartment rental and condominium complex is going up, and apparently it can't happen fast enough. Demand for rental apartments in and near cities across America is soaring, just when most thought it wouldn't be."
Apartment Therapy – "Here's How You Can Visit Seinfeld's Apartment This Fall" (7-8-2019)
"With all of the reboots happening in the 90s sitcom world, there's an obvious void from the show about nothing, aka Seinfeld."
DS News – "Fannie Mae: Housing Sentiment Flip Flops" (7-8-2019)
"Mounting concerns over supply and affordability are driving down consumers' home purchase decisions, according to the latest Fannie Mae Home Purchase Sentiment Index (HPSI)."
Riverside, California hard money loan closed. Real estate investor received loan for $302,000 on this single family property appraised for $461,000.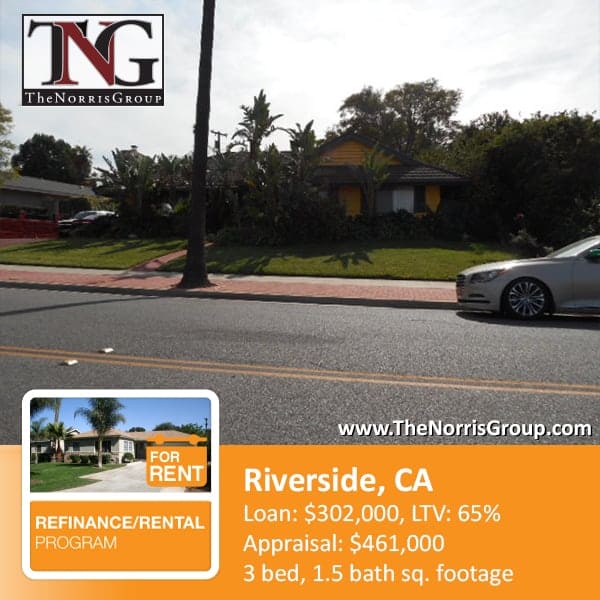 Aaron Norris will be presenting Innovative Real Estate Marketing with LA South REIA TONIGHT.
Aaron Norris will be presenting Innovative Real Estate Marketing with LA South REIA on Wednesday, July 10.
Bruce Norris will be speaking at the ThinkRealty Irvine Conference & Expo on Saturday, July 13.
More on Hard Money Loans
Information on Note Investing
Real Estate Investor Education & Resources