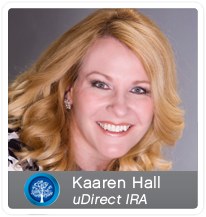 RIVERSIDE, Calif., Dec. 12, 2012 – We here at uDirect IRA Services want to help you direct your retirement money into great investments that make your retirement financially secure. Whatever it is you decide to invest in (and the list is pretty long) the point is to get going and save for retirement!
I was in Washington, DC in March this year and heard the Department of Treasury tell a group of us that there is something like a $6.6 trillion deficit between what baby boomers have and what is needed to retire. Needless to say, that's a huge gap!
So what can you do about it? The first thing to do is to make a contribution to your retirement account. While you're wrapping up 2012, think about what you're going to be paying for taxes and then ask yourself if you would rather send some of that money to your retirement account instead of to the IRS. Kind of a no-brainer I would say.
Check with your tax professional because the amount you can contribute depends on a few factors like your account type, your age, your income and how much you may have already contributed. If you are 50 or over there is a provision called a "catch-up contribution" where you can contribute more than if you were younger. It's nice to have some perks of aging!!
When it comes to deciding what to invest in, the list is long. We are administrators and not advisors so we don't give investment advice. Whatever you decide to do, make sure you do your due diligence. It's not easy to put away that retirement money, so make sure you're investing in something that is going to give you the pay-off you hope for. Nothing is certain (except death and taxes) but you can certainly minimize your risk with some good old-fashioned research.
Here are some helpful resources:
www.investor.gov
800 732 0330 The Securities and Exchange Commission (SEC) is dedicated to helping Americans protect their investments.
www.nasaa.org
202 737 0900 The North American Securities Administrators' Association (NASAA) provides information on investor education.
www.finra.org
301 590 6500 The Financial Industry Regulatory Authority (FINRA) has an "Investor" section on Smart Investing.
www.aarp.com
888 687 2277 American Association of Retired Persons (AARP) includes a section on scams, fraud and consumer protection.
Connect with uDirect IRA