Norris Bruce
Nov 08, 2018
Will Buyers Get Off The Fence?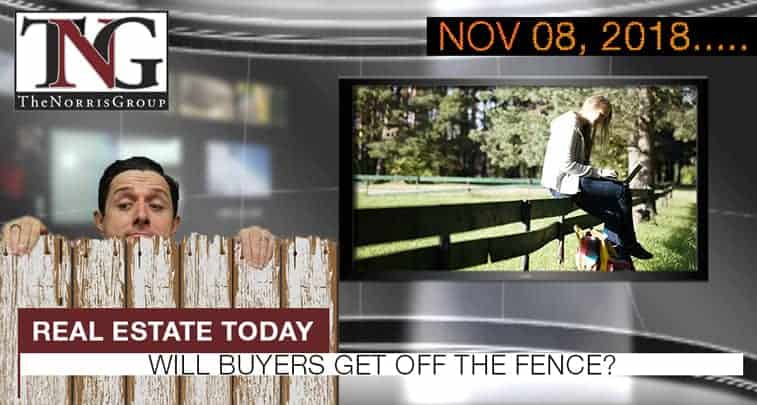 Today's News Synopsis:
With midterms behind us, how will it affect real estate?  Mortgage rates are at their highest in seven years with 30-year rates now at 4.94% and 15-year rates at 4.33%.  Zombies may be the "walking dead," but the zombie vacancies themselves are pretty much dead.
In The News:
Freddie Mac – "Mortgage Rates Hit Seven-Year High" (11-8-2018)
"Freddie Mac (OTCQB: FMCC) today released the results of its Primary Mortgage Market Survey (PMMS®), showing that mortgage rates rose significantly across the board."
ATTOM Data Solutions – "Equity Rich U.S. Properties Increase to New High of 14.5 Million in Q3 2018" (11-8-2018)
"ATTOM Data Solutions, curator of the nation's premier property database, today released its Q3 2018 U.S. Home Equity & Underwater Report, which shows that in the third quarter of 2018, nearly 14.5 million U.S. properties were equity rich — where the combined estimated amount of loans secured by the property was 50 percent or less of the property's estimated market value — up by more than 433,000 from a year ago to a new high as far back as data is available, Q4 2013."
Inman – "Will a break from political uncertainty help the real estate market?" (11-8-2018)
"Many in the industry believe that, with midterms behind us, buyers may finally get off the fence."
Marketplace – "Realtors turn to social media to market luxury real estate" (11-8-2018)
"Advertising on Instagram is nothing new. If you use the photo-sharing platform, no doubt you've scrolled past your share of clothing or food ads. But now, the real estate industry is putting a new twist on Instagram marketing by creating entire accounts and hashtags for some luxury properties."
NAHB – "Housing Affordability Edges Lower in the Third Quarter" (11-8-2018)
"A modest increase in interest rates and home prices kept housing affordability at a 10-year low in the third quarter of 2018, according to the National Association of Home Builders (NAHB)/Wells Fargo Housing Opportunity Index (HOI) released today."
National Mortgage News – "Mortgage defaults creeped up, but healthy economy keeping them tame" (11-8-2018)
"Mortgage delinquencies inched up, in part from natural disasters hindering homeowner performance, but a stronger economy is still keeping defaults low, according to the Mortgage Bankers Association."
Bloomberg – "Fed Stands Pat on Interest Rates Ahead of Expected December Hike" (11-8-2018)
"The Federal Reserve left interest rates unchanged and stayed on course to hike in December as strong economic growth, higher tariffs and rising wages look set to spur inflation."
Realtor Magazine – "'Zombie' Vacancies Are Dying Out" (11-8-2018)
"It turns out the hot housing market is a threat to one notorious housing market scourge: the zombie foreclosure. This occurs when a home has been vacated by homeowners prior to the foreclosure being completed, leaving it in limbo."

Aaron Norris will be presenting Technology Trends and Effects On Real Estate 2018 at OCREIA on Thursday, November 8.
Aaron Norris will be speaking at the Intelligent Investors Real Estate Conference 2018 on Saturday, November 10.
Looking Back:
Why the housing market got no Trump Bump.  The Joint Employer Bill was just passed by the House that would benefit small businesses and home building firms.  Seattle took the top spot among favored real estate markets as both Seattle and Los Angeles fell out of the top spots.
More on Hard Money Loans
Information on Note Investing
Real Estate Investor Education & Resources