Norris Bruce
Jan 13, 2020
Where's My Flying Car?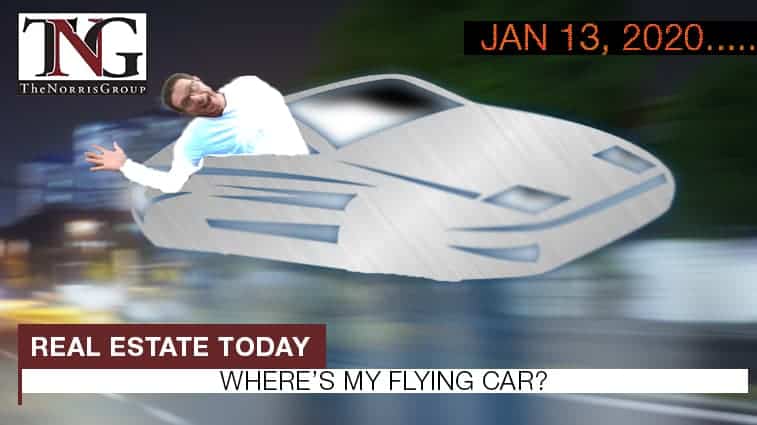 Today's News Synopsis:
The future is now.  The Mortgage Bankers Association reported the amount of available mortgage credit decreased in December by 3.5% to 182.2.  In almost 50% of the markets in the U.S., it is more affordable to rent than buy, and they all have one thing in common.
In The News:
HousingWire – "The biggest mortgage industry trends of 2019 that will carry into 2020" (1-13-2020)
"The last 365 days proved that as much as the industry tries to predict the real estate market, nothing beats proactively preparing for any type of lending environment."
Mortgage Bankers Association – "Mortgage Credit Availability Decreased in December" (1-13-2020)
"Mortgage credit availability decreased in December according to the Mortgage Credit Availability Index (MCAI), a report from the Mortgage Bankers Association (MBA) that analyzes data from Ellie Mae's AllRegs® Market Clarity® business information tool."
MarketWatch – "Renting is more affordable than buying in almost 50% of these housing markets – and they tend to have one thing in common" (113-2020)
"Buying a home is the more affordable option in only 53% of housing markets across the U.S.."
Forbes – "14 Up-And-Coming Real Estate Locations To Watch" (1-13-2020)
"In major global cities, the real estate market is caught in a high-demand, low-supply cycle."
Inman – "The future is now with the 3D home tour virtual experience" (1-13-2020)
"It's 2020, so surely we should be living in a space-age by now? Well, while it's not quite the Jetsons, today's homebuying journey has certainly entered a new age."
Realtor.com – "6 Energy-Saving Myths You Need to Stop Believing Right Now" (1-13-2020)
"The new year is a time for making resolutions, and for many of us, saving energy inside the home is at the top of the list."
National Association of Realtors – "Age of Buyers is Skyrocketing…But Not for Who You Might Think" (1-13-2020)
"One of the more fascinating trends from the recent 2019 Profile of Home Buyers and Sellers is the rising age of homebuyers."
Apartment Therapy – "Extend Your Christmas Tree's Life By Decorating It for Valentine's Day – and Maybe Every Other Holiday, Too" (1-13-2020)
"If you love Christmas trees so much, you still can't bear to put yours away, why not leave it out through February?"
Bruce Norris will be presenting his newest talk 6 Things To Succeed In 2020 with CVREIA on Thursday, January 14.
Bruce Norris will be presenting Turmoil: The Coming Storm of Negative Interest Rates on Saturday, February 1.
Bruce Norris will be presenting his newest talk 6 Things To Succeed In 2020 with LA South REIA on Monday, February 10.
More on Hard Money Loans
Information on Note Investing
Real Estate Investor Education & Resources