Norris Bruce
Jul 10, 2018
When and How Much Should You Water Your Lawn?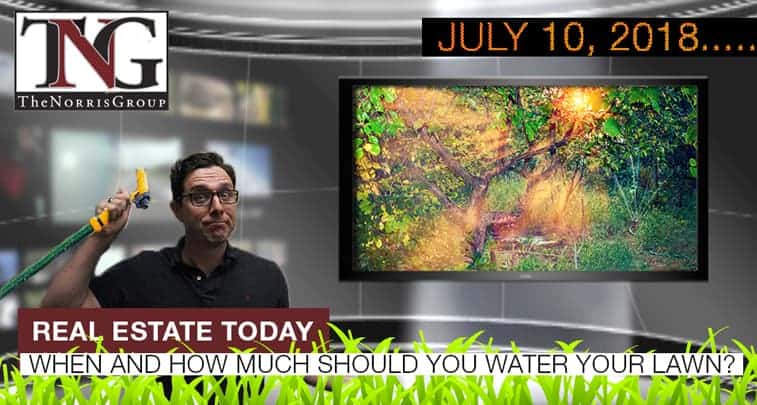 Today's News Synopsis:
Wondering about your lawn with all this heat?  Foreclosure rates were lower as a result of both an improved economy and underwriting.  The amount of mortgage credit available increased 0.2% to 181 last month.
In The News:
Bloomberg – "Competition Was a Culprit in the Housing Bust" (7-10-2018)
"Blame for the 2007 to 2009 financial crisis has been pinned on everyone from greedy financiers and big banks to irresponsible home buyers. Add cutthroat local competition to the list of culprits."
CNBC – "The hottest housing market in the US is up 13% and now may be headed for a crash" (7-10-2018)
"Seattle-area real estate agent Jerry Martin said he first entered the business in 1977, which means he remembers the days of double-digit mortgage rates and multiple booms and busts."
Zillow – "Buyers Are Paying a Smaller Premium for Waterfront Living" (7-10-2018)
"The premium for living on the water isn't as high it used to be. Homes along the water sold for a 36 percent premium in the first quarter of 2018, according to a new Zillow® analysis. "
Mortgage Bankers Association – "Mortgage Credit Availability Increased in June" (7-10-2018)
"Mortgage credit availability increased in June according to the Mortgage Credit Availability Index (MCAI), a report from the Mortgage Bankers Association (MBA) which analyzes data from Ellie Mae's AllRegs® Market Clarity® business information tool."
National Mortgage News – "Foreclosure rates sink on better economy, improved underwriting" (7-10-2018)
"Healthier economic conditions, more effective underwriting methods and recovering hurricane-impacted states helped drive delinquency and foreclosure rates to their lowest level in over 10 years, according to CoreLogic."
Los Angeles Times – "Environmentally minded Californians love to recycle – but it's no longer doing any good" (7-10-2018)
"Californians dutifully load up their recycling bins and feel good about themselves. They're helping the environment and being good citizens."
Inman – "Former brokerage sues Zillow for patent infringement" (7-10-2018)
"Complaint alleges Zillow and Trulia apps violate Corus Realty Holdings' 2001 patent — with features commonly used in listing search apps today."
National Association of Realtors – "When and How Much Should You Water Your Lawn?" (7-10-2018)
"For green, vibrant grass, it is essential for homeowners to learn about aerating, seeding, and watering their lawns to keep the curb appeal intact, according to realtor.com®'s Lawn Lover's Guide."
Santa Ana, California hard money loan closed. Real estate investor received loan for $735,000 on this single family property appraised for $1,100,000.

Bruce Norris will be speaking at the ThinkRealty Irvine Conference & Expo on Saturday, July 14.
Bruce Norris will be speaking at the Stay Put or Cash Out with LA REIA on Tuesday, August 7.
Bruce Norris will be presenting Cashing In On A Boom on Saturday, Septemeber 8.
Looking Back:
Many wondered if we could we be seeing an increase in commercial real estate on wheels with the increase in mobile retail stores?  Black Knight Financial Service's latest data showed a 16% decrease in the number of underwater borrowers.  Realtor.com's latest list showed the best places to live if you wanted to live by a lake.
More on Hard Money Loans
Information on Note Investing
Real Estate Investor Education & Resources