Norris Bruce
Nov 07, 2019
What Will Be Their Social Impact On California's Housing Market?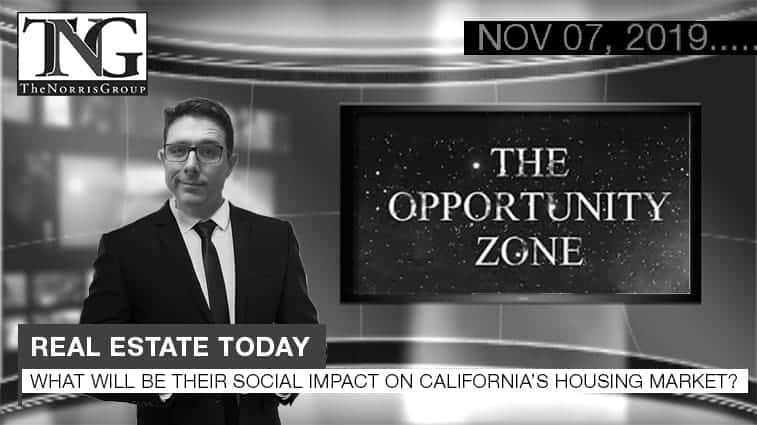 Today's News Synopsis:
Opportunity Zones!  Mortgage rates decreased this week with 30-year rates now at 3.69% and 15-year rates at 3.13%.  Where are the 20 hottest real estate markets?
In The News:
Realtor.com – "The 20 Hottest Markets in Real Estate, October 2019: Why Ohio?" (11-7-2019)
"Ohio may be considered flyover country by those living in big, expensive cities on the coasts, but today's home buyers have it squarely in their sights."
Freddie Mac – "Mortgage Rates Fall Back" (11-7-2019)
"Freddie Mac (OTCQB: FMCC) today released the results of its Primary Mortgage Market Surveyâ (PMMSâ), showing that the 30-year fixed-rate mortgage (FRM) averaged 3.69 percent."
Mortgage Bankers Association – "Commercial/Multifamily Borrowing Ascends in the Third Quarter of 2019" (11-7-2019)
"Commercial and multifamily mortgage loan originations were 24 percent higher in the third quarter compared to a year ago, and rose 9 percent from this year's second quarter, according to the Mortgage Bankers Association's (MBA) Quarterly Survey of Commercial/Multifamily Mortgage Bankers Originations."
CNBC – "More Americans say now is a bad time to buy a home" (11-7-2019)
"After a strong summer in the housing market, something is turning potential buyers on their heels. Just 21% of Americans say now is a good time to buy a home, a drop from 28% in September, according to a monthly sentiment survey by Fannie Mae."
Business Insider – "Even wealthy millennials are on the hunt for homes in more affordable areas, and it shows just how expensive housing in America has become"
(11-7-2019)
"Housing in America is so expensive that even millennial millionaires are searching for more budget-friendly places to live."
ATTOM Data Solutions – "U.S. Homeowners Found Far More Likely To Be Equity Rich Than Seriously Underwater in Q3 2019" (11-7-2019)
"ATTOM Data Solutions, curator of the nation's premier property database and first property data provider of Data-as-a-Service (DaaS), today released its third-quarter 2019 U.S. Home Equity & Underwater Report, which shows that 14.4 million residential properties in the United States were considered equity rich, meaning that the combined estimated amount of loans secured by those properties was 50 percent or less of their estimated market value."
NAHB – "Lower Mortgage Rates Push Housing Affordability to Highest Level in Three Years" (11-7-2019)
"With mortgage rates at a three-year low and a healthy job market, housing affordability rose to its highest level in three years in the third quarter of 2019, according to the National Association of Home Builders (NAHB)/Wells Fargo Housing Opportunity Index (HOI) released today."
Forbes – "Opportunity Zones' Social Impact on California's Housing Market" (11-7-2019)
"California is positioned to take full advantage of an opportunity to breathe life into low-income neighborhoods throughout the state. An economic impact of hundreds of millions of dollars could significantly improve conditions in the state's 879 federally designated opportunity zones in low-income communities."
Aaron Norris will be presenting his latest talk Innovative Real Estate Marketing with TIGAR on Tuesday, November 12.
Aaron Norris will be presenting his latest talk Innovative Real Estate Marketing with Pasadena FIBI on Thursday, November 21.
Bruce Norris will be presenting Turmoil: The Coming Storm of Negative Interest Rates on Saturday, February 1.
Looking Back:
If California is the future, why are so many leaving?   Housing sentiment decreased to its lowest in a year according to Fannie Mae, meaning more people felt now was not a good time to buy.  Mortgage applications decreased 4% to their lowest in four years with the increase in mortgage rates.
More on Hard Money Loans
Information on Note Investing
Real Estate Investor Education & Resources