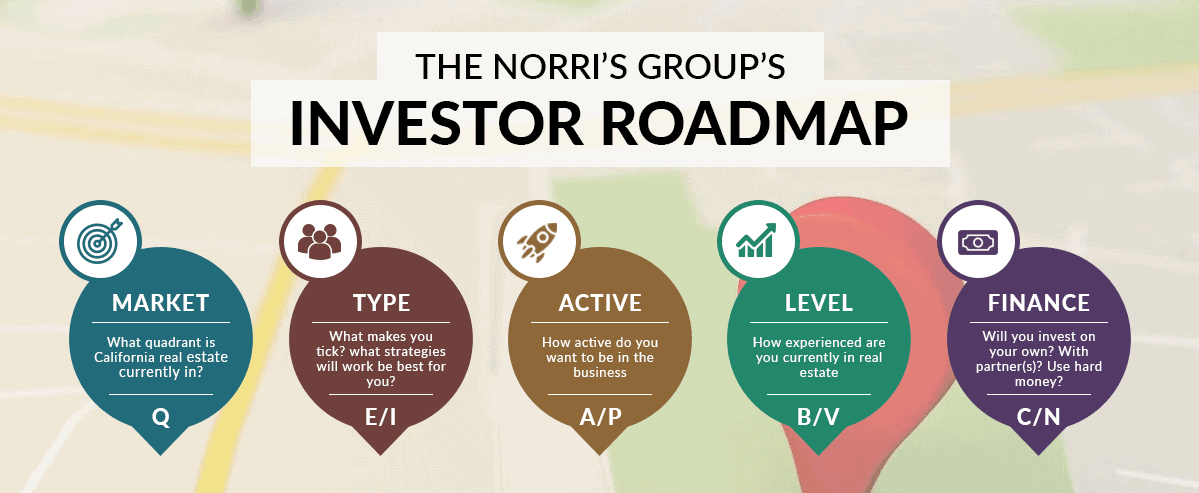 THE BIGGEST

HURDLE TO GETTING STARTED IN THE REAL ESTATE INVESTING? KNOWING WHERE TO START…AND WE CAN HELP!
The Norris Group is best known for its California market timing research. Depending on where we're at in the market, we know the exact strategies investors need to use to make the best profits and to find deals.
But…there are over 30 different buying strategies! It's easy to get overwhelmed and many give up. Let us create a custom plan for you! This is PERFECT for those just getting starting.
Answer the simple four questions below, mark the answers down, and then register for a quick one-on-one review with our team. We'll create a custom roadmap just for you and even share our latest newsletter with you to give you some insights into your market..
1. PLEASE FILL IN THE FOLLOWING STATEMENT. IN LIFE, I…
a) Get energy and find great joy working and interacting with people.
b) Find working with people neutrally enjoyable. I don't love or hate it.
c) Like to work alone and consider myself an introvert.
2. COMPLETE THE FOLLOWING STATEMENT. WHEN REAL ESTATE INVESTING, I WANT TO BE…
a) Extremely involved in every part of the deal from finding the deal, to designing and fixing it, to selling it.
b) Want to be involved but plan to delegate most activity to trusted partners.
c) Dealing with as few people as possible.
3. PLEASE SELECT YOUR LEVEL OF EXPERTISE WHEN IT COMES TO REAL ESTATE INVESTING.
a) Beginner (don't own my own home or perhaps only own primary residence)
b) Intermediate (have completed a few deals)
c) Advanced (have completed numerous deals)
4. HOW WILL YOU FINANCE YOUR REAL ESTATE ACTIVITIES?
a) I have my own cash and great credit, I can get regular financing from a local bank or pay cash.
b) My credit is great, but I don't have cash available. I will need a partner.
c) I have cash but plan to work with a hard money lender
d) I have no cash and bad credit.
Make sure to write down your letters. Then, simply book an appointment online at the link below for your customized one-on-one session. The session is FREE!