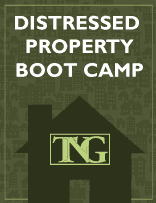 The Norris Group Property Buying Boot Camp
3-Day in-the-trenches intensive for real estate investors. Price: call 951-780-5856.
The Norris Group Property Buying Boot Camp Overview
"The Norris Group doesn't just have a whole new look on our website, we also have a whole new look to our boot camp. You are going to like our new three day-finder intensive." – Bruce Norris
DAY 1: Market Analysis & Deal Finding
This market is challenging…we understand that. The goal of the first segment of the boot camp is to make you a better finder and make you a better property magnet. Very few companies have dozens of wholesale deals month after month that they buy and/or fund. We do! You will leave the boot camp with the most updated information on what's being purchased, from who is it being purchased, how big a discount and how the deal was negotiated. In other words, we are going to get to the bottom of why the seller said "YES!"
We'll show you how to take a comp and multiply your deals. Every wholesale comp is evidence that someone made a decision to sell a property at a below market price. Almost every time, that's the end of the value of that deal. We will show you how to sequentially walk that wholesale comp around so it creates more deals and more profit for you.
The bulk of your deals will now come from talking to people who own a property. The first thing you have to learn is how to get a seller to call you with what they have. Together, we will tear apart some 20 mailing pieces to see what works and what doesn't. Then, from what you've learned, you will customize your own mailing piece.
We will take a look at the most popular websites that attempt to attract seller responses. We will call fellow investors who have signs, ads etc. The goal here is to create relationships with people who are finding more properties than they can handle and have some of their excess properties sent your way. Bruce will cold call a few of these people so you can get comfortable with having the conversation.
**The Norris Group has created a new division dealing with buying wholesale flips from fellow investors. You'll hear about flipping wholesale deals to us (you get paid by working with us) or using our money and partnering with us. In what we call Quadrant #4, we can either be your competitor or a potential partner…we have chosen the latter. You can still borrow money from us, but you may be able to flip us a property or find a deal we can partner. That's exciting!
DAY 2: Negotiation & Valuation Intensive
In the real world, you will need to know how to negotiate. More and more deals are coming from working with private sellers directly. We will split into teams and role-play negotiating the types of deals you are going to find. Bruce will moderate the negotiation and then the entire boot camp will give feedback. (Everyone gets a turn so be nice!)
We'll get down to the reasons all-cash offers should be considered by many sellers. If you do not know how your offer helps a seller, you won't buy many properties. You have to understand what the seller's circumstance is and what the seller want's.
**During this segment, Bruce will be open to having investors who are close to putting a deal together call and discuss strategy on speaker phone. In some cases, Bruce will get on the phone and talk to the seller directly. 
**We then will call sellers! I have invited a fellow investor to the boot camp who is particularly successful at talking to seller's directly. He buys property extremely well and I want to hear what he has to say…you should to. Then, we'll get on the phone and call some of these on our own…Bruce included! (He'll have to brush off some rust, but it's time!) 
Appraising in the Real World. If you are going to find deals that are profitable, you've got to understand appraising. If you are going to flip us properties, you have to see properties through our eyes! We will spend a half day with our real estate appraiser, Rick Solis. You'll learn how to quickly get an accurate value of the property you are looking to buy.  Putting the correct value on the property is where it all starts!  Knowing the correct ARV is the first step in finding out if the deal makes sense.
**Rick is going to show you the ropes, and then we will be putting your new skills to work in the field actually appraising a property recently purchased by an investor.  No BS…this is the real deal! Your evaluation and comps will be compared to one of Rick's actual appraisals. You'll have to explain how you got to your value. This is extremely valuable and new! 
DAY 3: Repair Workshop and Using the Internet to Your Advantage
We are going to take you through a number of properties. We'll start by doing a repair estimate together. What would we do to the property? Why would we leave the cabinets, windows, etc. The person taking you through these properties will be Joe Gain. Joe has estimated repairs on several thousand properties for The Norris Group. (He learned from scratch and so can you!)
**When you get to the last property, you will be asked to write up your own repair list. When we get back to the office, your estimate of what needed to be done will be compared with what we found. Then, we will show you how to use our automatic repair estimator to help you get to what the repairs actually cost.  
This is very important! If you want to buy properties profitably, you must understand what is necessary to repair and how much it costs to repair it. If you intend to flip us a property, you have to be able to do a repair estimate accurately.
Aaron will show you how he uses the internet to make The Norris Group a household name. He'll give you some tips on branding and where technology is headed so when you set up your brand, you do it right the first time. He'll also show you some tips and tricks on PropertyRadar to help you smartly target your desired market.
Bruce will finish up by going over his top ten lists of contacts, websites, charts, and books he uses and recommends!
**Bruce has also agreed to give each person attending a 30-minute consultation over the phone or in person; your choice within 30 days of the boot camp. Bruce will set up two days to see people at the office or, if by phone, we'll figure out a mutually good time within the 30-day period. 
There's no better way to get your investing career off the ground quickly. Both experienced and novice investors have attended our boot camps over the years.
Included in the boot camp is a quarterly webinar for boot camp attendees for the first year. You'll be able to ask questions, discuss deals, and share insights quarterly with Bruce and other attendees.  And, as always, our team is here by phone to answer questions.
Space is limited! 
There's no upselling, there's no fluff, and even the most successful REO agents and long-time investors have raved about their experience at our property buying boot camp. You learn relevant information from someone actively buying California real estate in today's market. Need some motivation? Check out the deals we fund every day through our 
hard money lending department
.
Space is limited for every boot camp so call Aaron Norris today at (951)780-5856 to reserve your spot or to be put on a waiting list for cancellations. Also ask how joining our TNG Premium Subscription can get you an extra special discount.