CALIFORNIA "ONLY" INVESTOR TRAINING
PREMIER VIP ACCESS TO OUR AWARD-WINNING REAL ESTATE INVESTOR EDUCATION ONLINE
THIS IS THE MOST IN-DEPTH TRAINING WE PROVIDE ON HOW TO TAKE YOUR INVESTING BUSINESS TO THE NEXT LEVEL.
We've taken our award-winning investor education online, allowing you to learn from the comfort of your couch or on-the-go as you look for properties. You'll stay up-to-date with premium content, get access to our quarterly TNG Economic Newsletter and follow-up webinars, enjoy exclusive discounts, and more! What used to cost $3,000 is now yours for $350 per year! AND…going digital means we get to continually add and update the information.
Our core investor "How To" library includes 5 California-specific courses, 9 full days of training, homework assignments, and the ability to get it all digitally. Here's just a partial look at what you'll discover:
CALIFORNIA "ONLY" INVESTOR ESSENTIALS
ESSENTIALS EVERY SMART CALIFORNIA REAL ESTATE INVESTOR MUST KNOW
From over 30 years of experience investing in real estate, we've seen many people struggle to become successful wholesale buyers, the most common problem stemming from a lack of absolute command of the essential elements of real estate investing. Not basic, essential. You must know and have command of the following topics to have a chance at success as a California real estate investor: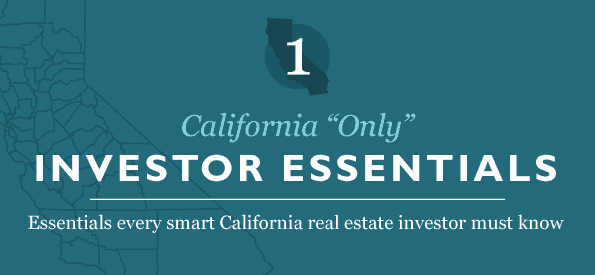 ✓  How to determine the current position of the California cycle and how to target likely sellers
✓  How to engage sellers in conversations
✓  How to quickly appraise a property
✓  How to understand and accurately estimate repairs
✓  How to write up offers that make sense
✓  How to have an unlimited supply of money to buy deals
✓  How to hire the right contractor 
✓  How to protect yourself with insurance
✓  How to sell your properties in both easy and tough markets
✓  Which is the best business entity to hold real estate
✓  How to develop a game plan that allows you to make financial progress with minimal risk
✓  How to be proud and ethical in a business notoriously full of "sharks"
✓  Last, but certainly not least, you must PRACTICE! The course includes assignments to "cement" the concepts so you completely "get it" under your belt once and for all!
CALIFORNIA "ONLY" BUYING SYSTEM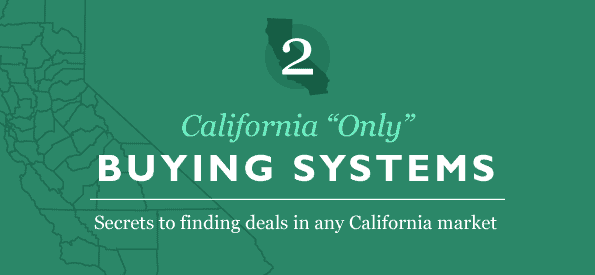 SECRETS TO FINDING DEALS IN ANY CALIFORNIA MARKET
Bruce Norris takes his 35+ years of California real estate investing experience and teaches you how to implement over 25 different "buying systems" to find wholesale deals no matter what cycle (up, down or flat) the market is in. Each "Buying System" includes an exact "How to" process and the alignment of the key charts that will indicate you have reached that stage in the economy.
The course manual includes a color-coded "deal wheel" chart. You simply find which of the four economic cycles you are in, and the "TNG deal wheel" tells you in which order to implement the wholesale buying techniques. Learning is critical, but PRACTICE makes perfect! This program includes 10 days of assignments to apply what you learned and "cement" the concepts so you completely "get it" under your belt once and for all!
New chapters include Mobile Home Park Investing, Short-Term and Vacation Rentals, as well as Accessory Dwelling Units! Even even got some top secret ideas to help you manage short-term rentals when your city or county outlaws them! 
CALIFORNIA "ONLY" NEGOTIATING
CLOSING SECRETS OF THE MASTERS
In this course, Bruce Norris teams up with sales guru and accomplished author Ben Gay III to create this outstanding course on negotiating. Ben's expertise is door knocking, cold calls, and hardcore negotiation skills. What's interesting is he is so good at it that you don't even realize persuasion is occurring. This is a once-in-a-lifetime opportunity to be taught by a master closer coming from an entirely different world of selling. For those of you who have already read his books, The Closers and The Closers II, we know you won't want to miss this!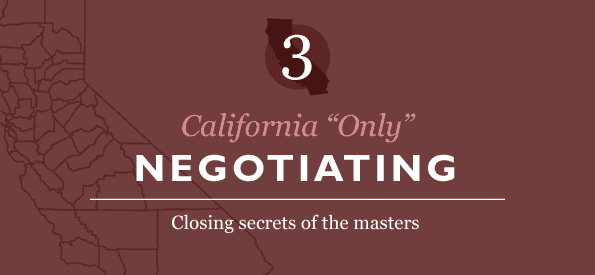 This course will definitely take you out of your comfort zones, but why not risk it? It's the best way to learn and one of the most overlooked skills of our business.
The two days of training are followed by 10 days of assignments. Once you practice, you'll be ready for the real deal!
CALIFORNIA "ONLY" FORECLOSURES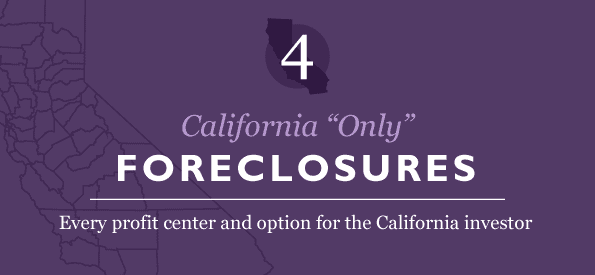 EVERY PROFIT CENTER AND OPTION FOR THE CALIFORNIA INVESTOR
Not all foreclosure courses are created equal. Every state has different laws regarding the foreclosure process and not knowing the difference could not only be costly financially, but mistakes could also mean jail time! Take out the guesswork and dive into our California "Only" Foreclosure course.
Join Bruce Norris and foreclosure expert Ward Hanigan as they cover the California foreclosure business from every angle.
As an added bonus, the course includes successful foreclosure buyers sharing their inside secrets! Don't just listen…LEARN! There's no better way to complete a course than to practice what's been preached! The program includes 10 days of assignments to help you do just that.
CALIFORNIA "ONLY" SELLING SYSTEMS
SECRETS TO SELLING HOUSES IN ANY CALIFORNIA MARKET
Imagine approaching the selling of your house the same way, year after year, even though the market had changed. Can you imagine how much that mistake can cost you? Now imagine you have a timing tool that tells you when the market is about to change and how to make the necessary changes so you can make more money when you sell your property.
During the "price boom" market (Quadrant 4), selling a home is easy. However, you could increase your net by 10% on every property by just understanding and implementing the right selling system for that market.  In a flat and declining market (Quadrant 1), there are systems that allow your property to sell before others and for full price. Think of how much money you can save if you know three things: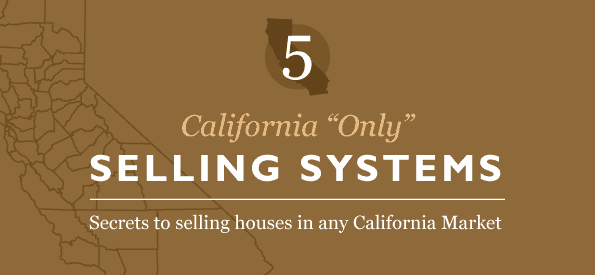 The inventory you want to buy/sell is very different depending on what quadrant you are in
The repairs you do vary greatly depending on what quadrant you are in
The way you appraise property changes depending on what quadrant you are in
Bruce will teach you 20 unique selling strategies, the inventory you should and should not be holding in particular markets, and important strategies to exposing your properties to the market.
The courses already have over 1,200 printed pages worth of material and over 60 hours of listening/video.  In printed format, you'd pay well over $3,000 for these courses.  Now, you can access this incredible resource on your phone, tablet or desktop computer with an Internet connection and a subscription that costs less than a cup of coffee daily.
THIS IS THE ULTIMATE EDUCATION FOR BOTH NOVICE AND VETERAN REAL ESTATE INVESTORS WHO WANT PROVEN SYSTEMS TO HELP THEM TAKE THEIR BUSINESS AND INCOME TO THE NEXT LEVEL. IF THAT'S YOU, DON'T HESITATE TO TAKE US UP ON THIS SPECIAL OFFER.
BUT THE COURSES AREN'T ALL YOU GET!
You'll also get our Quarterly TNG Economic Update Newsletter and a quarterly follow-up webinar with live Q&A. This is where you'll get the inside information we're using to move forward in the coming quarter.
THE BEST PART? 
You can ask your questions on the LIVE webinar that'll allow you to apply the concepts discussed specifically to YOUR business. It's really a priceless benefit that you'll get to ask the master himself about what he thinks of your options.
EXCLUSIVE DISCOUNTS, RESOURCES, AND MEETINGS

Subscribers also get access to a growing list of partner discounts at places like Wayfair.com, Staples, LampsPlus, ProFlowers and more. Use just a few of the discounts EASILY covers the cost of your subscription. You can also set up to get discounted rates on tenant screenings and even early-and-first discounts for live events with The Norris Group.
In addition, our low-cost Annual Investor Lunch in Southern California is one of the best opportunities you'll get to hobnob with key California players and some of the most under-the-radar investors quietly amassing fortunes. You'll be surprised at how willing they are to share their "what works" knowledge and proven strategies for profitably investing in California Real Estate.
So, here's the BIG opportunity you have today …
IF YOU WANT ACCESS TO
OUR BEST INVESTOR EDUCATION MATERIAL,
24/7, FROM ANYWHERE IN THE WORLD,
GET A VIP ANNUAL SUBSCRIPTION TO OUR
ONLINE EDUCATION PORTAL NOW FOR JUST $350.
IT IS AUTO RENEWAL UNTIL CANCEL
Our 5 courses alone once sold for $3,000. For $350, you get unlimited access for the year to our library as well as updates! Upgrade to VIP below and watch your email inbox for log-in confirmation and instructions.
Want to check out the portal and get a glimpse of the content and download past presentation? 
Register for a freemium
 account today to give our content a try.