Norris Bruce
Jan 31, 2019
The Number Is A Little Conservative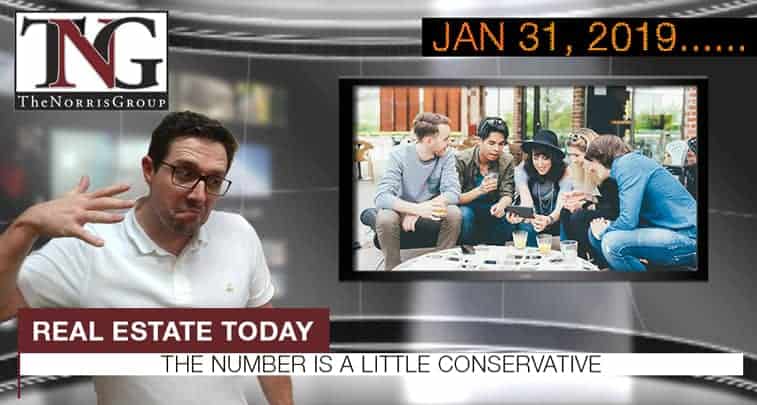 Today's News Synopsis:
How much do Millennials shopping for homes plan to spend?  Mortgage rates increased this week with 30-year rates now at 4.46% and 15-year rates at 3.89%.  Home seller profits were, on average, at their highest in 12 years in 2018 at $61,000.
In The News:
Freddie Mac – "Mortgage Rates Tick Up" (1-31-2019)
"Freddie Mac (OTCQB: FMCC) today released the results of its Primary Mortgage Market Survey (PMMS), showing that mortgage rates moved up slightly after weeks of moderating."
ATTOM Data Solutions – "Average U.S. Home Seller Profits at 12-Year High of $61,000 in 2018" (1-31-2019)
"ATTOM Data Solutions, curator of the nation's premier property database, today released its Year-End 2018 U.S. Home Sales Report, which shows that home sellers in 2018 realized an average home price gain since purchase of $61,000, up from $50,000 last year and up from $39,500 two years ago in 2016 to the highest level since 2006 — a 12-year high."
Forbes – "America's Housing Affordability Crisis Only Getting Worse" (1-31-2019)
"The nation's housing affordability crisis might very well come to a head this year with Not In My Backyard proponents facing off against the foot soldiers of the Yes In My Backyard movement"
NAHB – "55+ Housing Market Ends Fourth Quarter on a Positive Note" (1-31-2019)
"Builder confidence in the single-family 55+ housing market remained strong in the fourth quarter of 2018 with a reading of 66, up six points from the previous quarter, according to the National Association of Home Builders' (NAHB) 55+ Housing Market Index (HMI) released today."
The Press Democrat – "Santa Rosa's new granny unit policies spur secondary home spike as city works to build housing" (1-31-2019)
"New data shows Santa Rosa received more applications to build "granny units" last year than it had in the entire preceding decade, evidence that the city's efforts to spur housing just about any way it can is starting to yield results."
Realtor Magazine – "Fed Puts Brakes on Rate Increases" (1-31-2019)
"The Federal Reserve voted to leave interest rates unchanged Wednesday and signaled that it's not in any hurry to resume raising rates in 2019."
CNBC – "Here's how much money millennials shopping for homes this year plan to spend" (1-31-2019)
"Fewer young people have been buying homes in their 20s and early 30s, compared to previous generations: Only 37 percent of people aged 25-34 owned in 2018, compared to 45 percent of both Gen Xers and baby boomers when they were that age."
Forbes – "The Best Cities To Buy Rental Property In California For 2019" (1-31-2019)
"There's no state like California when it comes to real estate. Cities like San Francisco and San Jose boast median home prices in excess of $1 million — and that's the median price, not the average price (which would can be pulled up by a few very expensive homes)."
Looking Back:
Airbnb and the Super Bowl equaled amazing money for the investors that had them.  Realtors spent millions to try to defeat tax reforms.  Homeownership rates are still not what they used to be.  What were the top cash killers you need to know when buying rentals?
More on Hard Money Loans
Information on Note Investing
Real Estate Investor Education & Resources