Norris Bruce
May 07, 2019
Riverside, CA Has The Biggest Share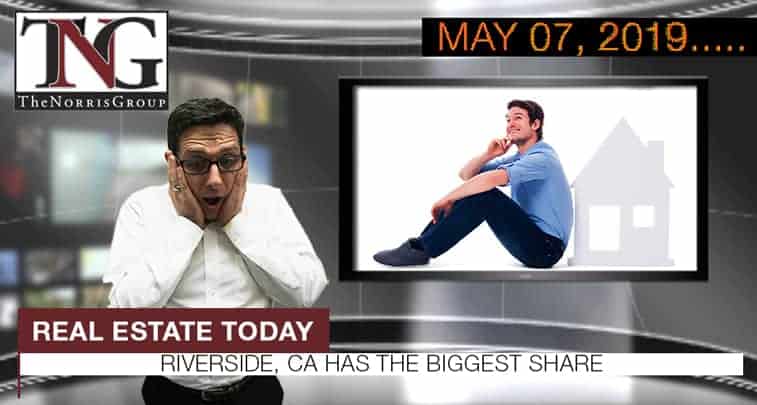 Today's News Synopsis:
More than 1/5 Millennials still live with mom.  Home prices in March increased by 3.7% year-over-year according to CoreLogic.  So what it is about that $17,000 "sweet spot" that could help you in selling your home?
In The News:
Zillow – "More Than One in Five Millennials Sill Live With Mom" (5-7-2019)
"More people age 23-37 are living with their moms than at any time this century, according to a Zillow® analysis."
Freddie Mac – "Freddie Mac Multifamily Affordable Housing Efforts Have Long Targeted Areas Now Deemed Opportunity Zones" (5-7-2019)
"With a torrent of new capital set to flood newly created Opportunity Zones, Freddie Mac (OTCQB: FMCC) today released an analysis of past loans that financed multifamily properties within these geographies."
MarketWatch – "The $17,000 'Sweet Spot' You Should Know About Before You Sell Your Home" (5-7-2019)
"Open the door to bigger profits.  Home prices are on the rise, climbing another 3% year over year, according to S&P CoreLogic Case-Shiller 20-city home price index from February released this month."
Gallup – "In U.S., Real Estate Still Leads Stocks as Best Investment" (5-7-2019)
"Stocks have had a strong 2019, with the major U.S. stock indices establishing or nearing record highs in April and early May."
CoreLogic – "CoreLogic Reports March Home Prices Increased by 3.7% Year Over Year" (5-7-2019)
"CoreLogic® (NYSE: CLGX), a leading global property information, analytics and data-enabled solutions provider, today released the CoreLogic Home Price Index (HPI™) and HPI Forecast™ for March 2019, which shows home prices rose both year over year and month over month."
Business Insider – "10 things real-estate agents wish they could tell you – but won't" (5-7-2019)
"Life as a real-estate agent probably isn't as glamorous as you'd think.  Business Insider surveyed real-estate agents around the country about what it's really like working in the industry, the best and worst parts of their jobs, and what they wish they could tell their clients."
Forbes – "The Real Estate Industry Plagued By Highly Public Clashes" (5-7-2019)
"What is it about 2019 which seems to be drawing the ire of regulators and competitors to the residential real estate brokerage industry? "
Realtor.com – "No Side Table?  No Problem – Try These 10 Surprising Alternatives" (5-7-2019)
"Your parents' matching brown side tables are fine (and free), but if you want something a little more interesting to grace the ends of your sofas and chairs and hold your lamps and cocktails, you're in luck!"
San Bernardino, California hard money loan closed. Real estate investor received loan for $146,000 on this single family property appraised for $250,000.

Aaron Norris will be presenting Innovating Real Estate Marketing with the Moreno Valley Professionals on Wednesday, May 8.
Bruce Norris will be presenting 10 Decisions To Make Before The Next Downturn with WEREP on Friday, May 10.
Bruce Norris will be presenting 10 Decisions To Make Before The Next Downturn with LA REIA on Tuesday, May 14.
Looking Back:
What were the other benefits of affordable housing?  The latest Home Purchase Sentiment Index from Fannie Mae showed a 3.4% increase in housing confidence, putting it at 91.7.  The effects of the housing crisis were being felt in smaller cities, not just the big ones.
More on Hard Money Loans
Information on Note Investing
Real Estate Investor Education & Resources