Norris Bruce
Sep 12, 2019
Quiet On the Set! Oh Wait, We Don't Even Have An Office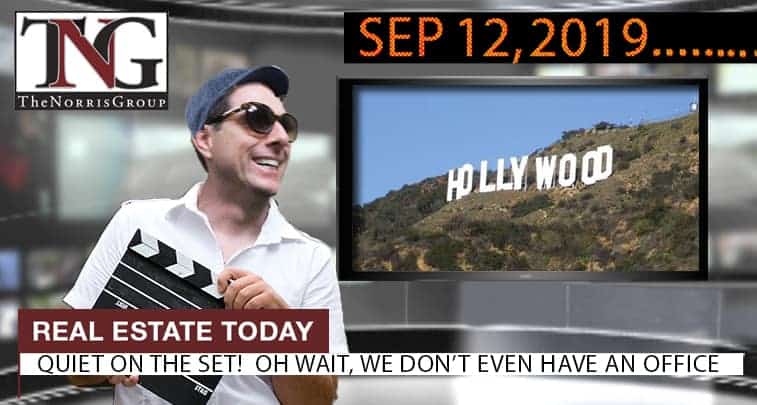 Today's News Synopsis:
Commercial spots are all the rage in Hollywood…too bad there's not many available.  Freddie Mac reported mortgage rates went up this week with 30-year rates now at 3.56% and 15-year rates at 3.09%.  The amount of available mortgage credit decreased last month by 3.9%.
In The News:
Mortgage Bankers Association – "Mortgage Credit Availability Decreased in August" (9-12-2019)
"Mortgage credit availability decreased in August according to the Mortgage Credit Availability Index (MCAI), a report from the Mortgage Bankers Association (MBA) that analyzes data from Ellie Mae's AllRegs® Market Clarity® business information tool."
Realtor.com – "The Hottest Markets in August Include Some You've Never Heard of" (9-12-2019)
"The hottest real estate markets in America right now are smaller cities that most folks probably wouldn't be able to find on a map."
CoreLogic – "2019 CoreLogic Wildfire Risk Report Highlights U.S. Wildfire Vulnerability, Finding Nearly 776,000 Homes at Extreme Risk of Wildfire Damage This Year" (9-12-2019)
"CoreLogic® (NYSE: CLGX), a leading global property information, analytics, and data-enabled solutions provider, today released its 2019 Wildfire Risk Report, which finds nearly 776,000 homes with an associated reconstruction cost value of more than $221 billion at extreme risk of wildfire damage."
Freddie Mac – "Mortgage Rates Increase" (9-12-2019)
"Freddie Mac (OTCQB: FMCC) today released the results of its Primary Mortgage Market® (PMMS®), showing that the 30-year fixed-rate mortgage (FRM) rate averaged 3.56 percent."
CNBC – "Treasury Secretary Mnuchin says Trump has approved reform plan for Fannie Mae and Freddie Mac" (9-12-2019)
"Treasury Secretary Steven Mnuchin said President Donald Trump "has approved" the Treasury's plan to reform mortgage giants Fannie Mae and Freddie Mac."
Variety – "Hollywood Races for Commercial Real Estate Spaces" (9-12-2019)
"There's no room in Hollywood. Unprecedented low vacancy rates in the single digits equals a competitive race from soundstages to Class A creative office space from the Valley to the Pacific."
Curbed – "Rent a private island for $200 a night – if you can get 19 friends to come with" (9-12-2019)
"If you've got $4,000 and an insatiable hunger for privacy, have we got the vacation rental for you."
Forbes – "These 10 Cities Will Be The Most Vulnerable When The Recession Hits" (9-12-2019)
"Most markets around the country are seeing homes sit on the market for slightly longer than usual and even former U.S. treasury secretary Larry Summers says there is a 50% chance of a recession in the next few years, so sign suggest there are most likely going to be some headwinds in housing coming soon."
Bruce Norris will be presenting his latest talk 10 Decisions To Make Before The Next Downturn with SJREI TONIGHT.
Bruce Norris will be presenting Cashing In On A Boom: Creating Value In A Tight Market on Saturday, September 14.
Bruce Norris will be presenting his latest talk 10 Decisions To Make Before The Next Downturn with the BIEREIC on Wednesday, September 18.
Looking Back:
The housing market was in an absolute perfect storm for demand.  Household income increased 1.8% the previous year according to the latest data from the Census Bureau.  Migration to lower-tax metropolitan areas was increasing as more people were looking to move from the expensive coastal areas.
More on Hard Money Loans
Information on Note Investing
Real Estate Investor Education & Resources