Norris Bruce
Feb 12, 2018
Proposal Could Make It The First U.S. City To Launch An Initial Coin Offering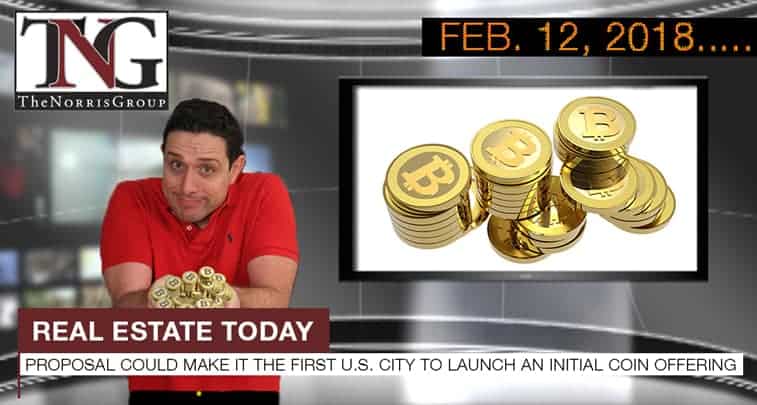 Today's News Synopsis:
Berkeley wants to use cryptocurrency… to help house its homeless.  One group that would benefit from Trump's proposed 2019 budget is HUD, which would see an increase in their funding.  Realtor.com's latest list showcases the top cities with the most McMansions.
In The News:
HousingWire – "Trump's proposed 2019 budget gives HUD's funding a boost" (2-12-2018)
"President Donald Trump announced today his proposal for the fiscal year 2019 budget, which would allot for a slight bump in funding for the U.S. Department of Housing and Urban Development."
The Real Deal – "The first real estate-backed cryptocurrency is here" (2-12-2018)
"El Segundo-based startup Aperture Real Estate Ventures plans to launch a real estate-backed cryptocurrency by the end of February."
Realtor.com – "Who Ordered All the McMansions?  10 Cities Where They're Piled Highest" (2-12-2018)
"You know them when you see them.  The imposing, ostentatious structures looming over surprisingly wee plots of land."
CoreLogic – "CoreLogic Acquires eTech Solutions" (2-12-2018)
"CoreLogic (NYSE: CLGX), a leading global property information, analytics and data-enabled solutions provider, today announced the completion of the Company's acquisition of eTech Solutions Limited (eTech)."
CNBC – "Here's how a 5% mortgage rate would roil the US housing market" (2-12-2018)
"Mortgage rates are now at their highest level in four years and poised to move even higher.  The timing couldn't be worse, as the usually busy spring housing market kicked into gear early this year amid higher home prices and strong competition for a record low supply of homes for sale."
Inman – "10 hidden Facebook features all real estate agents should know" (2-12-2018)
"We've scoured the social media guides, tracked down the experts and sifted through the flashy add-ons to bring you the top 10 hidden Facebook features, tips and tricks every real estate agent should know going into 2018."
Mercury News – "Berkely wants to use cryptocurrency to help house its homeless" (2-12-2018)
"In search of cash to help alleviate an intensifying homeless crisis, city officials here are considering a radical, and very Silicon Valley option — a cryptocurrency fundraiser."
The Orange County Register – "Dana Point tree-trimming crew discovers tri-level tree house with view of the ocean hidden in Lantern Bay Park" (2-12-2018)
"A tri-level tree house with three rooms, an aquarium and views of the Pacific Ocean was uncovered hidden in a 50-foot-tall Aleppo pine tree in Lantern Bay Park on Wednesday, Feb. 7, officials said."
Riverside, California hard money loan closed. Real estate investor received loan for $315,000 on this single family property appraised for $455,000.