Norris Bruce
Apr 27, 2016
Pending Home Sales at Yearly High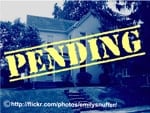 Today's News Synopsis:
The Mortgage Bankers Association reported a 4.1% decrease in mortgage applications from last week.  On the other hand, pending home sales increased to their highest in a year at 110.5.  Freddie Mac changed its prediction for the economy and now believes it is looking more like it was in 2006.
In The News:
Mortgage Bankers Association – "Mortgage Applications Decrease in Latest MBA Weekly Survey" (4-27-16)
"Mortgage applications decreased 4.1 percent from one week earlier, according to data from the Mortgage Bankers Association's (MBA) Weekly Mortgage Applications Survey for the week ending April 22, 2016."
DS News – "This Year's Housing Forecast Looks a Lot Like 2006" (4-27-16)
"Inconsistencies in the economy during the first quarter have not dampened Freddie Mac's forecast for housing for the coming year. Freddie Mac has held fast to its prediction that 2016 will be the best year for housing since before the crisis."
Housing Wire – "Pending home sales jump to highest level in nearly a year" (4-27-16)
"Overcoming several roadblocks in housing, pending home sales managed to increase in March for the second consecutive month, reaching their highest level in almost a year, according to the National Association of Realtors."
Mortgage Professional America – "Fed holds interest rates steady for now" (4-27-16)
"As expected, the Fed is holding steady on interest rates for now.  At its meeting today, the Federal Open Market Committee chose to forego a rate hike for now, citing soft exports and inflation that continues to run below the Fed's 2% target."
DS News – "Ocwen Stung by First Quarter Loss" (4-27-16)
"The first quarter of 2016 has not been kind to the profits of banks and investment banking firms, as evidenced by the substantial year-over-year declines most of them experienced."
Housing Wire – "Brian Benson out as CEO of ClosingCorp" (4-27-16)
"ClosingCorp is now looking for a new chief executive officer as the company tells HousingWire that Brian Benson is out as the company's CEO. "
Mortgage Professional America – "Morning Briefing: Home price growth is easing off" (4-27-16)
"The growth of home prices slowed in February according to the latest S&/Case-Shiller Home Price Index.  Year-over-year there was a 5.3 per cent gain nationally but the monthly increase was 0.2 per cent while the 10-city index gained 0.1 per cent in the month."
DS News – "Is Something Amiss in the Reverse Mortgage Industry?" (4-27-16)
"San Francisco-based advocacy group California Reinvestment Coalition (CRC) has asked HUD to impose a moratorium on home equity conversion mortgage (HECM, or reverse mortgage) foreclosures by CIT Group and its subsidiary, Financial Freedom."
Burbank, California hard money loan closed. Real estate investor received loan for $530,000 on this single family property appraised for $817,000.

Bruce Norris will be presenting his newest talk Stay Put, Cash Out, Or Change Seats? with IVAR on Wednesday, May 4.
Bruce Norris will be presenting his newest talk Stay Put, Cash Out, Or Change Seats? with OCRE Forum on Wednesday, May 11.
Bruce Norris will be speaking at the AOA Million Dollar Tradeshow and Landlording Conference 2016 on Thursday, May 19.
Image copyright source: www.flickr.com/photos/emilysnuffer
Looking Back:
The risk for Freddie and FHFA loans increased 0.3% year-over-year in March to 11.84%, putting them at a new high but not showing much change over all from the previous three months.  According to the latest Homeowner Sentiment Survey, homeowners were placing new value on their homes that involved more than just price. HOPE NOW provided new outreach opportunities to homeowners struggling the most.