Norris Bruce
Apr 15, 2019
Ouch! How Much Did That Set Us Back?!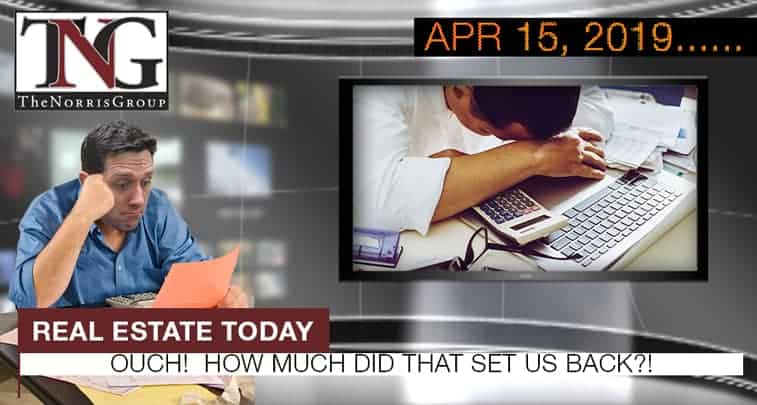 Today's News Synopsis:
What's a common mistake homeowners make that can be very costly?  Where are the 10 neighborhoods in America that are seeing the fastest-growing gentrification?  Despite an increase in enthusiasm for opportunity zones, surprisingly more are not buying into it.
In The News:
MarketWatch – "Will Uber's IPO really boost San Francisco house prices?" (4-15-2019)
"Ride-sharing service Uber's initial public offering is expected to attract high demand from investors. And experts say that could have major implications for home buyers and owners in the San Francisco Bay Area."
Realtor.com – "America's 10 Fastest-Gentrifying Neighborhoods: Buy While You Can!" (4-15-2019)
"When it comes to real estate, gentrification might just be the touchiest subject of all."
Zillow – "Zillow Offers Now Live for Home Sellers in Dallas-Fort Worth" (4-15-2019)
"Home sellers in Dallas can now use Zillow Offers to request a no-obligation cash offer from Zillow to buy their home. Dallas is the second Texas market, following Houston, where Zillow is now buying and selling homes."
HousingWire – "Opportunity Zones have investors excited.  So why aren't more buying in?" (4-15-2019)
"When it comes to Opportunity Zones, investors are excited about the potential for tremendous tax savings, but many are not buying in just yet. What's the problem?"
Bloomberg – "West Coast Homebuyers Get One Benefit From Sales Slowdown" (4-15-2019)
"The tightest housing markets in the U.S. are unwinding in time for the key spring selling season, giving buyers an edge for the first time in years."
The Daily Sentinel – "Residential real estate off to a slower start this year" (4-15-2019)
"After stark increases to kick off 2018, the residential real estate market has dialed it back to start 2019 with fewer transactions and building permits issued during the first quarter of the year."
Realtor Magazine – "A Costly Mistake Homeowners Are Making" (4-15-2019)
"Many homeowners may be one leaky or burst pipe away from a financial crisis.  Nearly 20 percent of homeowners admit they have no money put aside for an emergency home repair, according to a survey of more than 1,400 homeowners by HomeServe USA."
More on Hard Money Loans
Information on Note Investing
Real Estate Investor Education & Resources