Norris Bruce
Jan 03, 2019
No. 1 Reason….Livability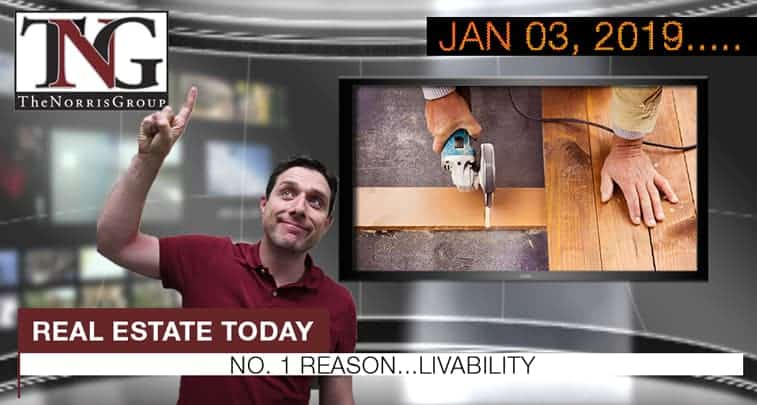 Today's News Synopsis:
Homeowners love their DIY remodels says N.A.R. survey.  The Mortgage Bankers Association reported a 9.8% decrease in mortgage applications from last week.  Where are we at in terms of opportunity zones this year?
In The News:
Zillow – "California Captured One-Third of the National Housing Recovery" (1-3-2019)
"The U.S. housing market is more valuable than ever, worth a cumulative $33.3 trillion in 2018. Since the market hit its lowest point in 2012, it has gained $10.9 trillion in value, and is now worth $4 trillion more than it was at the peak of the housing bubble."
Freddie Mac – "New Year Brings Lower Rates" (1-3-2019)
"Freddie Mac (OTCQB: FMCC) today released the results of its Primary Mortgage Market Survey (PMMS®), showing that the new year started with lower rates across the board."
ATTOM Data Solutions – "Alexa, Tell Me About My Property?" (1-3-2019)
"With Alexa (Amazon Echo) more abundant than ever in households and even businesses across the nation, it's becoming more apparent that Alexa may start powering the housing industry."
National Association of Realtors – "Homeowners Love Their D.I.Y. Remodels, Says Realtor Survey" (1-3-2019)
"Homeowners looking to add personality and individuality to their home are more likely to undertake a do it yourself remodel than hire a professional, according to the National Association of Realtors' 2019 Remodeling Impact Report: DIY."
Mortgage Bankers Association – "Mortgage Applications Decrease in Latest MBA Weekly Survey" (1-3-2019)
"Mortgage applications decreased 9.8 percent from two weeks earlier, according to data from the Mortgage Bankers Association's (MBA) Weekly Mortgage Applications Survey for the week ending December 28, 2018."
Curbed – "Where Opportunity Zones stand, heading into 2019" (1-3-2019)
"When Trump's tax overhaul became law a year ago, the real estate industry's attention was focused on caps to the mortgage-interest deduction, plus state and local tax deductions—which the industry predicted would put the housing market in peril. (It didn't.)"
Inman – "More homes sitting on the market" (1-3-2019)
"Listing Inventory ticked up 5% in December as homes languish for months on average and prices decline."
Looking Back:
Blockchain to disrupt Real Estate in 2018.  After thirteen years of increase, the rental population decreased for the first time as rent prices continued to increase drastically.  Which mortgage rules could be seeing a change that borrowers needed to be aware of?
More on Hard Money Loans
Information on Note Investing
Real Estate Investor Education & Resources