CALIFORNIA REAL ESTATE INVESTOR NEWSLETTER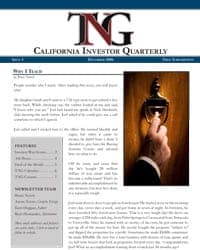 One of the most popular free resources The Norris Group offers has been our free California Investor Quarterly newsletter. We lovingly call it, "The Blue One."
Once a quarter, Bruce and guest writers discuss the real estate buying business, things to consider while navigating the real estate market, the always funny investor war stories, commonly asked questions, deal of the quarter, and more.
In the last two issues we featured Tony Alvarez featuring a script of his conversation with a Los Angeles REO agent. Think deals aren't happening in the current market? Not true!
To sign up, simply enter your name and email address below to get this quarter's current issue.
Subscribe To Our Free NewsLetter
[contact-form-7 id="16229″ title="Subscribe to our newsletter"]