Today's News Synopsis:
How California stacks up split into 3 states.  HUD and the Commerce Department reported housing starts decreased 12.3%.  Zillow plans on expanding the buy and sell business to Atlanta.
In The News:
ATTOM Data Solutions – "How California Housing Stacks Split Into Three States" (7-18-2018)
"ATTOM Data Solutions, curator of the nation's premier property database, today released an analysis showing what the three California housing markets would look like if the state is split into three new states per a proposal that has qualified for the state's November ballot."
NAHB – "Housing Starts Fall 12.3 Percent As Tariffs Draw Increased Concern" (7-18-2018)
"Total housing starts fell 12.3 percent in June to a seasonally adjusted annual rate of 1.17 million units, according to newly released data from the U.S. Department of Housing and Urban Development and the Commerce Department."
Realtor.com – "Beat the Crowds!  How to Buy a House Before It Officially Hits the Market" (7-18-2018)
"Buying a home is a lot like running a race: Once a listing goes live, buyers have to sprint off the starting block before throngs of other buyers start bidding. Talk about stressful!"
Mortgage Bankers Association – "Mortgage Applications Decrease in Latest MBA Weekly Survey" (7-18-2018)
"Mortgage applications decreased 2.5 percent from one week earlier, according to data from the Mortgage Bankers Association's (MBA) Weekly Mortgage Applications Survey for the week ending July 13, 2018."
Zillow – "Zillow to Expand Buying and Selling Homes to Atlanta" (7-18-2018)
"Potential home sellers in Atlanta will soon be able to use Zillow Offers to request an offer from Zillow to buy their home."
Builder Online – "Smart Homes Of The Future Will Call 911 For You" (7-18-2018)
"Noonlight, previously known as SafeTrek, launched as a personal safety smart phone app that allows a user to call for help without dialing 911. Now, CNN's Heather Kelly reports the company wants to expand the platform to smart home products like the Amazon Alexa, Google Home speakers, Apple Health app, Nest Protect smoke detector, Canary security camera, and Biostrap health wearable to ensure homeowners can do the same within their homes"
CoreLogic – "CoreLogic Reports Accelerating Rent Prices in April Driven by National Employment Growth" (7-18-2018)
"CoreLogic (NYSE: CLGX), a leading global property information, analytics and data-enabled solutions provider, today released its latest Single-Family Rent Index (SFRI), which analyzes single-family rent price changes nationally and among 20 metropolitan areas."
Think Realty – "Millennial Homeownership Trends Linked to Wealth Disparities" (7-18-2018)
"The decision to delay homeownership could have some unexpected effects on younger generations, especially Millennials."
Rancho Mirage, California hard money loan closed. Real estate investor received loan for $410,000 on this single family property.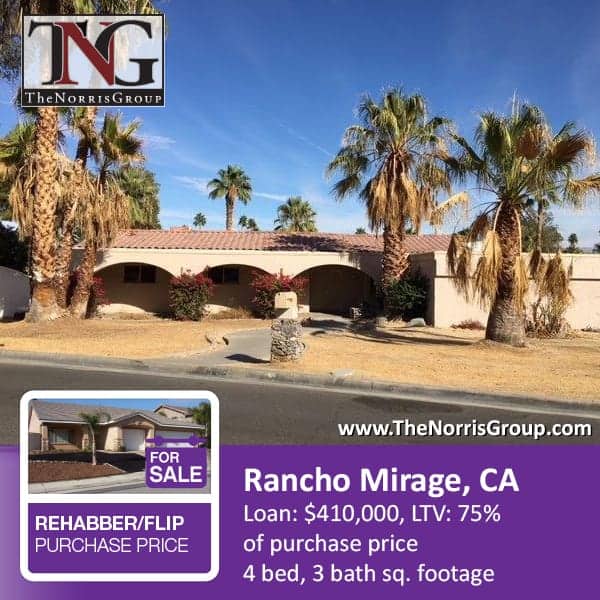 Bruce Norris will be speaking at the Stay Put or Cash Out with LA REIA on Tuesday, August 7.
Bruce Norris will be presenting Cashing In On A Boom on Saturday, Septemeber 8.
Bruce Norris will be speaking at the Stay Put or Cash Out with SJREI on Thursday, Septemeber 13.
Looking Back:
Homeowners of Generation X were the ones that were still hurting the most from the Housing Crash and having trouble gaining equity in their homes.  The NAHB reported builder confidence decreased this month, although it continued to stay strong.  A record number of homes were sold this month to international buyers.
More on Hard Money Loans
Information on Note Investing
Real Estate Investor Education & Resources