Today's News Synopsis:
The NAHB reported a decrease in builder confidence this month while also reporting a 3.8% decrease in housing starts for the month of January.  The MBA reported an 8.2% increase in mortgage refinance applications from last week.   Ed Delgado, the president of Five Star Institute, met with Hud Secretary Julián Castro to discuss the need for defining a vacant or abandoned property then turning them to foreclosures.
In The News:
NAHB – "Housing Starts Fall 3.8 Percent in January" (2-17-16)
"Nationwide housing starts dropped 3.8 percent to a seasonally adjusted annual rate of 1.099 million units in January, according to newly released data from the U.S. Department of Housing and Urban Development and the Commerce Department. Overall permit issuance edged down 0.2 percent."
Mortgage Professional America – "Morning Briefing: You wouldn't want to be a realtor in these cities" (2-17-16)
"While the national headlines report strong growth for the US housing market there is of course regional disparity.  WalletHub.com has analysed which cities are the best for a healthy career as a realtor comparing the 150 most populated cities across 13 key metrics, ranging from sales per agent to annual median wage for real-estate agents to housing-market health index."
Mortgage Bankers Association – "Refinance Applications Drive Increase in Latest MBA Weekly Survey" (2-17-16)
"Mortgage applications increased 8.2 percent from one week earlier, according to data from the Mortgage Bankers Association's (MBA) Weekly Mortgage Applications Survey for the week ending February 12, 2016."
Bloomberg – "Fed Frets Corporate Credit Crunch Will Crimp Economic Growth" (2-17-16)
"Federal Reserve policy makers are beginning to worry that a corporate-credit squeeze will constrict the economic expansion.  With banks tightening standards on business loans and investors demanding higher yields on some corporate debt, companies may find it harder and more expensive to raise the money they need to grow."
Housing Wire – "Fed's final push for HARP?" (2-17-16)
"Before the Home Affordable Refinance Program expires at the end of 2016, the Federal Housing Finance Agency is launching a major social media campaign to try and pull in the remaining 367,600 people still eligible."
Mortgage Professional America – "Homebuilder confidence continues to fall in February" (2-17-16)
"Builder confidence in the market for newly built single-family homes continued to slide this month, falling three points from January's reading of 61 on the National Association of Home Builders/Wells Fargo Housing Market Index."
DS News – "Five Star's Delgado Asks Castro to Address Vacant and Abandones Properties Issue" (2-17-16)
"Five Star Institute President and CEO Ed Delgado recently met with HUD Secretary Julián Castro to ask the Secretary to consider issuing a mortgagee letter to set the definition and criteria for identifying vacant and abandoned properties and then accelerating those properties to foreclosure."
Bloomberg – "U.S. Stocks Rally as Hardest-Hit Shares in 2016 Continue Rebound" (2-17-16)
"U.S. stocks rallied for a third day, with the Dow Jones Industrial Average rising more than 200 points, as the year's most-battered shares continued to recover."
Mortgage Professional America – "Despite setbacks, Quicken Loans will continue to fight government suit" (2-17-16)
"Despite reversals in court, lending giant Quicken Loans says it's not giving up its fight against the federal government, which has accused the company of knowingly approving shoddy loans to make a quick buck."
Housing Wire – "The TRID ripples: Time to close mortgage loans continues to rise" (2-17-16)
"In the months since the implementation of the Consumer Financial Protection Bureau's TILA-RESPA Integrated Disclosures rule last October, repeated evidence shows the impact of TRID, whether the reports were anecdotal or statistical."
Moreno Valley, California hard money loan closed. Real estate investor received loan for $128,000 on this single family property appraised for $197,000.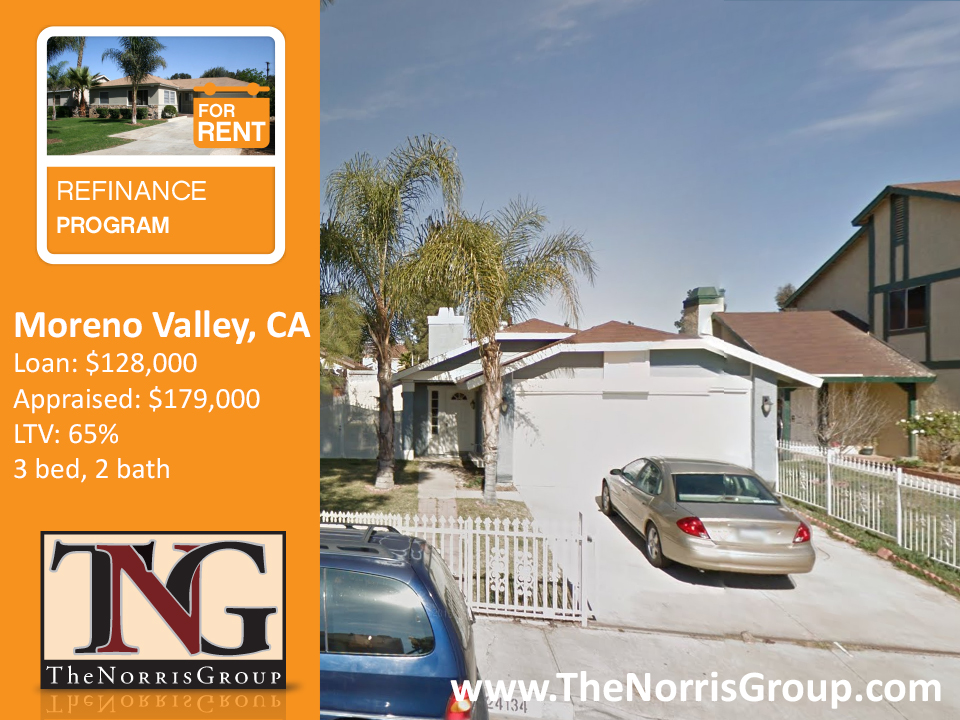 Bruce Norris will be presenting his newest talk Stay Put, Cash Out, Or Change Seats? with NORCALREIA on Wednesday, March 9.
Bruce Norris will be presenting his newest talk Stay Put, Cash Out, Or Change Seats? with OCREIA on Thursday, March 10.
Bruce Norris will be presenting Cashing in on a Boom: Investing in Quadrant 4 with Bruce Norris in Sacramento on Saturday, March 19.
Image copyright source: www.flickr.com/photos/cbsnapa