Norris Bruce
Jul 26, 2017
Millennials Believe Technology Makes the Real Estate Investment Process Easier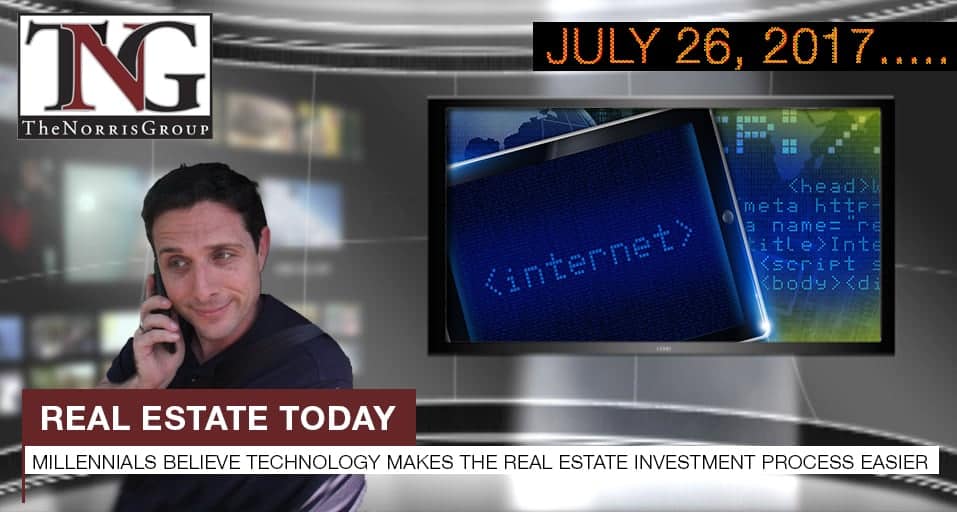 Today's News Synopsis:
What is spurring Millennial home ownership?  According to Forbes, it's real estate investing.  Despite previous plans to increase interest rates again this month, the Federal Reserve has decided to postpone it once again.  The Mortgage Bankers Association reported mortgage applications increased 0.4% from last week.
In The News:
CoreLogic – "CoreLogic Reports Second Quarter 2017 Financial Results" (7-26-2017)
"CoreLogic® (NYSE: CLGX), a leading global provider of property information, insight, analytics and data-enabled solutions, today reported financial results for the quarter ended June 30, 2017."
BiggerPockets – "8 Myths About Section 8, Corrected: Here's the Profitable Truth" (7-26-2017)
"Did you know that there are grants that can help real estate investors with the acquisition of investment property?  Did you know there are programs that will pay above market rent for your investment property?  Sure, you do—but there are so many misconceptions about using government funds, they may be deterring you from maximizing your investments."
Realtor.com – "What Is an Assemblage Mortgage?  Major Savings If Your Loan Makes the Cut" (7-26-2017)
"What is an assumable mortgage? True to its name, it's a type of home loan where the buyer takes over the seller's mortgage, rather than applying for a new loan."
HousingWire – "Fed elects to hold off on interest rate hike" (7-26-2017)
"As expected, the Federal Reserve released its decision to hold off on any increases to the federal funds rate in July."
Real Estate Tech News – "Your Apartment Building's Emergency Plan Needs Mobile Communication" (7-26-2017)
"Tenants typically prefer to be left alone, but when they want to contact a property manager, they expect easy and instant communication. Conversely, property managers want to ensure tenants are adequately informed at all times about everything from overdue rent to scheduled building maintenance."
Forbes – "How Real Estate Investing Is Spurring Millennial Home Ownership" (7-26-2017)
"Millennials are the largest group of home buyers for the fourth consecutive year, according to the National Association of Realtors 2017 Home Buyers and Sellers Generational Trends Report. Nearly 40% of home buyers were under 36 years old."
Mortgage Bankers Association – "Mortgage Applications Increase in Latest MBA Weekly Survey" (7-26-2017)
"Mortgage applications increased 0.4 percent from one week earlier, according to data from the Mortgage Bankers Association's (MBA) Weekly Mortgage Applications Survey for the week ending July 21, 2017."
Bloomberg – "To See the Future of Renting, Watch the College Kids" (7-26-2017)
"To rent an apartment on LoftSmart, a website for college students looking for off-campus housing, users browse listings, take a virtual tour, and read reviews from current or past tenants."
Bruce Norris will be presenting his latest talk 10 Life-Changing Days of a Real Estate Investor with InvestClub for Women on Wednesday, August 16.
Bruce Norris will be presenting his latest talk 10 Life-Changing Days of a Real Estate Investor with SJREI on Thursday, September 14.
Bruce Norris will be presenting Cashing In On A Boom up in San Jose on Saturday, September 16.
Looking Back:
The Census Bureau and HUD announced an increase in new home sales by 3.5% month-over-month and 25.4% year-over-year, putting them at an 8-year high.  Home prices increased 5% in May across the nation according to the S & P CoreLogic Case-Shiller Indeces.  Discussion on the increase in Fed interest rates was expected to heat up this week.