Norris Bruce
Jul 06, 2018
Mailers and Finding Deals with Doug Van Soest #598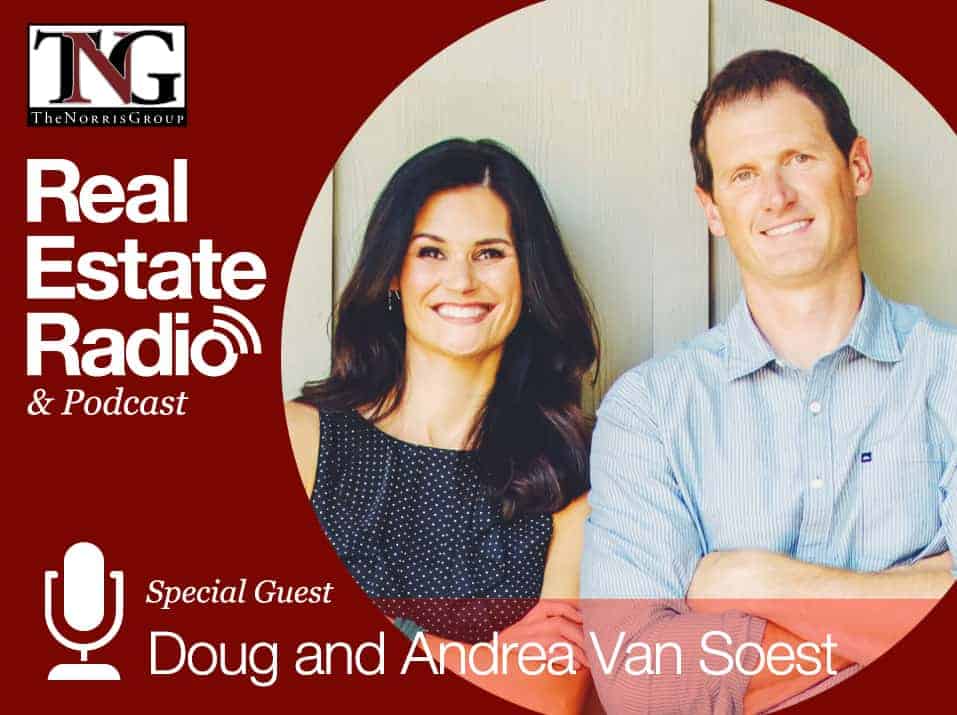 Bruce and Aaron Norris are joined this week by Doug Van Soest. He and his wife Andrea have been property buyers since about 2008. They have done about 400 deals as well as have gotten into wholesaling, property management, and keeping properties. He has been one of the success stories of the business.
Episode Highlights
What business did he own prior to getting involved in real estate?
When did he and his wife Andrea first become involved in the real estate business?
How did they decide who would handle what tasks in the business?
What is his best skill in the business, and what is Andrea's?
How has finding deals changed in 2018?
How has their mailer changed over the years, and what did they do to make themselves stand out?
How is the industry itself going to start changing how people search real estate?
Episode Notes
Bruce began by asking what business he owned prior to getting involved in real estate. Right after he and Andrea got married in 2000, they both quit their jobs and opened a kettle corn popcorn business. At that time, it was a new novelty. They were living in San Diego at the time, and they bought a kettle and a trailer and took everything with them to Colorado. Here, they lived in his brother's basement and were entrepreneurs. Their whole goal was to work for themselves and start a business. They did this for about two years and absolutely loved it.
Bruce asked where the entrepreneurial gene came from since it wasn't entrenched in his family before this. Doug said his wife attributed it to her grandfather. He always had different businesses and worked for himself. He always encouraged this in his kids and grandkids. Doug said on his side, his family had a family business they worked together in for a while. In a sense this is entrepreneurial as well. It wasn't really something he was taught, but he had read a book before this, Rich Dad, Poor Dad, that really opened his eyes up to not wanting to work for somebody else his whole life. Bruce loves when books change lives. When somebody writes this type of a book, this is pretty special.
Bruce asked Doug when he first got involved in real estate. He said the book lit the fire of real estate in the backs of their heads. They always knew they wanted to get into real estate at some point, somehow. They bought a rental unit in Albuquerque while they were doing the kettle corn. They wanted to own a rental property and get into real estate. They bought a fourplex and were benefit of the market at that time. A year and a half later, they sold it and got a little windfall from it.
It was not until they moved back to California and needed to get their feet wet in real estate that they really got involve. He became a real estate appraiser in 2003 and was licensed in 2004. At that time, there was so much business and real estate that it was booming. There were refis and purchases going on everywhere, and it was so busy. He spent the next 3-4 years just doing full-time appraising. Bruce asked they owned a house at the time, which he said they bought a house in Murrieta in 2004 and sold it and bough another brand new one in 2005.
Six months later, he heard Bruce speak in the spring of 2006. This was the first time he had heard anybody say you needed to sell since things were going to change in a bad way. He was an appraiser in real estate and doing this every day, and this was the first he had heard this. It scared him then since they had just bought a new home and had a brand new baby. They did not want to move again right then. They owned that home until last year and sold it for a little less than what they bought it. They hung onto it, rented it, bought another house when it crashed, and it all worked out. But they kept it through the crash. It went from about a $500,000 to $220,000 two years later.
Bruce said this is part of the education that is invaluable. He was not looking at statistics, he lived it and made decisions in order to not live through that again. They were fortunate enough to not buy a whole bunch at that time. He was glad they made the purchase since it was a great home and they lived in it for a long time. He was fortunate that they were able to sell it recently. When they actually ended up really buying a lot, things were much better.
Bruce wondered what kicked this off since he was not originally aware he was an appraiser. He wondered if he was seeing values getting crushed or if he took some training. Doug said it was when he heard him speak. This really set off a fire in him that he needed to be ready for what was coming and arm both him and Andrea to buy and sell houses. This was always something they wanted to do, but it was still to high at this time so they kept educating themselves and reading. He would also drive around all day doing appraisals while listening to podcasts about real estate investing.
It was not like it happened overnight. It was not until 2008 that they actually bought their first house. They lived through 2007 and 2008 and felt that it was time to dive in, so in 2008 they got serious about buying their first investment/flip property. Bruce asked if they got into it with the idea that they were going to flip or if the idea was to keep it from the beginning. Doug said the idea from the beginning was to flip. He was working 70-80 hours a week appraising, working early in the morning and late at night, writing reports, driving around forever. This was not something he wanted to do indefinitely. Even with appraising, the goal was always to get into real estate, their long-term goal being to own rental properties.
In 2008, things were falling dramatically and it was hard to flip properties. It was hard to prove a value, even if you had a crowd of people wanting to take it off your hands. All your comps were REOs and short sales. It was difficult times, so they were conservative on all of their offers. Looking back, this was great because they did not want to make a big mistake on their first investment. It took them 9 months of just making offers off the MLS, day in and day out before they finally got a yes answer. In the meantime, he was still appraising and Andrea had her real estate license.
This was a neat story since a lot of times when people hear of successful people, they think it happened right out of the gate. It was a lot of thought, work, and education on their part. It may happen faster for some people, but not for them. It was something they were determined to make work.
When you listen to so many different opinions, you run across different business plans. Bruce was affected by how he started. He was interested in flipping, and it was really hard for him to be converted to a keep guy. He thought he could sell it and come home with $25 grand, or he could keep it and come home with $120 a month. Even today, with each new acquisition that they get they try to look at it through both lenses. You have to see what is better for a "right away" paycheck and will move you forward in some way, or what is better in the other category and can be held and will provide income for years to come. They still analyze each one this way, but at the time they wanted to quit their jobs and get going on it.
Doug and Andrea are a married couple in the business, which is not common. Bruce asked how they figured out who would do what. Doug said they actually get asked this a lot, and fortunately all they have known is working together since they have been married. They are a true partnership and good team. If they were doing it individually, they may not be doing it. When one person is down, the other lifts them up. It took them a couple years to see who was best at what and what they like doing. The key to this was really talking about it with each other. This kept them enjoying what they were doing and in the lane of what their skills are.
Doug's best skill in the business revolves around acquisitions and analyzing the properties. This came from his background in appraising since he was comfortable with it, knew the numbers well, and enjoys analyzing a deal. This was why he settled into this role, and it has transitioned over the years. Early on, they bought only bank-owned homes. There was some relationship there with agents, but it was mostly numbers and speed. This has transitioned to you sitting across the table and dealing with a person. This was his strength and where he has settled.
Andrea is an interior designer and has settled into the role of the actual fixing of the properties, designing them, choosing what goes into the house, and dealing with the contractors. She really enjoys that aspect of the transformation of the house itself. She is really good at it, so this is where she has settled. It works very well.
In 2011 and beyond, he really started gathering rentals. All of a sudden, they had enough flipping money that the livelihood was not a big deal and they were going to pursue the bigger picture. However, Doug said this was not really it and the key was the long-term rental program that allowed them to get financing that was relatively painless. It was geared for people like the Van Soests who wanted to acquire rentals and not go through the pains of trying to get a bank loan every time. They would have been limited to 4, maybe 10 depending on how it went. They did not have the cash to buy every house that they wanted. They were able to leverage using the rental program, and this was the catalyst that allowed them to acquire the numbers they were able to get. There was not much available in terms of financing that they could find at that time.
Aaron said at the time it was still an 8-year program and under 10%, so people thought they were crazy. They were able to do this because they were looking ahead and thinking they were good for a long time. In the lending business, when you are lending at a trough at 60-65%, by the time that loan gets done it will 30-35%. It is a very safe loan, but not everybody could fund it, and this is why it worked.
In the early days, a lot of it was bought out of the MLS. The relationships with the realtors was that vital, and Bruce wondered how this has changed. Doug said they did not have as many relationships that really benefitted them like they thought they could have. If this cycle comes around and they do it again, he said he will focus much more heavily on the relationships with the REO brokers. They initially focused on making offers, as many as they could, and through that you get to know some of these brokers who are controlling the homes. Sometimes, you are sending them multiple offers a day on different properties. Once you close and make it really simple, easy, and are pleasant to deal with, they like you. You get favor and sometimes get that call when one fell out of escrow. This is a great strategy and the main thing for other experts like Tony Alvarez.
Bruce next went on to ask how finding deals has changed in 2018, which Doug said it is 100% different. He does not even look in the MLS anymore. It's not that there aren't deals there since he knows there are, but the margins got so tight it was not a place they enjoyed shopping for deals. It was about 6-7 years ago that they started marketing directly to owners. Bruce asked if this was an owner-occupant or someone who owns a rental, which Doug said it was the latter. They started with an absentee owner out of the title or records. This is somebody who is going to have a rental, whether they intended it that way or ended up with it that way. As you grow and learn a lot more, you can niche down into certain distresses that would be cause for somebody to want to sell.
Some of the lists they go after include pending foreclosures or probates. Almost always for Doug and Andrea, the property has to be in distress and needs a lot of work. You are not just going to pop it in the MLS and hope somebody gets a loan. It will be an investor who buys it one way or another since they cannot get a loan. 95% of the houses they buy fall into that category where they need work and a lot of repair. Usually the seller does not want to deal with it, and Doug said he and Andrea can make it an easy transaction for them so they don't have to go through all the hoops of listing it.
Bruce asked if their mailer has changed over the years and how. He said it has changed, and it has mostly been through trial and error. What they did well on was follow directions. He first heard about mailing and specific mailers from a podcast he was listening to at the time. He basically saw what worked for somebody and copied and pasted his name, return address, and phone number. They started off with a postcard. Doug said if he had seen the postcard, he would probably throw it in the trash since it looked like junk mail. It was just a plain, white postcard with a lot of text. However, it worked for them.
They have now transitioned to where they are much more branded. They often mail people 3-5 times a year, so they will be continually getting the mailer. It is more of a personalized letter with their logo and picture. Aaron said he was very impressed with his branding of it all. Doug is one of the few investors he sees actually doing that. Aaron asked whether or not this is a benefit. He sees him doing the male/female thing and includes his picture. Doug and Andrea are landlords, so they get the postcards and letters. Doug noticed again how they were all the same thing and pretty generic. They wanted something to set themselves apart and stand out.
As you get repetitive mail and recognize the name and picture, it starts to build a little more credibility in the marketing. It costs more money to send mailers, so this is why most investors don't do it. Aaron did a job one time where he created a website, and a new employee said they almost did not come to work for him because his website used to be so bad. Aaron asked about whether not having a decent website will cause people to judge you but maybe change their mind if they get a Yellow Letter. Doug said yes and that when he first started sending out Yellow Letters it seemed unique. Now, Yellow Letters is common and people know it's just a marketing piece. They may have not even changed the name, or even have a name.
A website is imperative for the sake of credibility. When people search for the Van Soests, they are going to search their names as well as the name of the company and reviews on them. Those are being searched, and they take their reputation seriously by treating people right. The want to put the information out there online that they know people would want to find and need to find. Aaron said one of the things they do best is the stunning rehabs. Aaron wanted to do a special radio show with Andrea about how she and HD TV ruined his flip. They are special and not just granite countertops. Aaron asked if it is a benefit to people and landlords searching that they take a lot of pride in their work. Doug said yes, 100%. They get comments from people all the time who love what they do and looked through their slideshows or Instagram. Doug feels, especially today, that everybody has done the same granite countertops. However, possibly because of HGTV they want a little something extra and a little bit of uniqueness or sizzle, even on a normal track home. Not that it won't sell the other way, but this helps it sell faster and for more money.
Bruce asked what they do to make the home sizzle, and Doug said that's a question for Andrea. Aaron said it's basically vantage design studio on Instagram. He does not know if these are inspiration videos or not, but Doug said things like this are probably ordered from several different custom sites and are unique. You don't see things like this at Home Depot or Lowes for your kitchens or sinks. Andrea is in the business and really understands what people like and want, and this is her gift. Aaron asked if it has to cost a ton more, which Doug said it does not. Maybe just a little more, and it might be a little more hassle since you have to order from separate places. He does not know how scalable it is with 100 flips a year, but that is not what Doug and Andrea do.
They work in markets like the Inland Empire where not many people think this would work out here because of the price point. However, they do it. For a small kitchen in a home in Lake Elsinore, you may have to spend an extra $500 on it to make it look different and custom. Another thing with that is photography. You have to take excellent photos, not just take photos on your iPhone to put on the MLS. The buyers will find you on Zillow. Doug and Andrea are winning the tie breakers because people go online to prevent a trip, not induce one.
One of the things Aaron saw at a conference he went to is the industry is going to start changing how people search real estate. One of them will be a very Pinterest way. Instead of looking at a 3 x2 with square footage, they will show their design style and it will pull up listings. Pictures will be more important than people know.
Bruce said when his son Greg started flipping, he went through what he thought was necessary, and then it changed. He was putting in certain things before realizing nobody was paying for it or even cared. This changed his model sometimes.
Tune in next week as Bruce and Aaron continue their discussion with Doug Van Soest.
For more information, you can visit any of their websites: www.hopethroughhousing.org or www.hthf.org, or www.nationalcore.org. You can see their entire portfolio on these sites as well as donate here if you choose. If you want to volunteer, you can contact Greg Bradbard, and you can find his contact information on the website.
More on Hard Money Loans
Information on Note Investing
Real Estate Investor Education & Resources