Norris Bruce
Jul 11, 2018
Keep It Real, Not Reality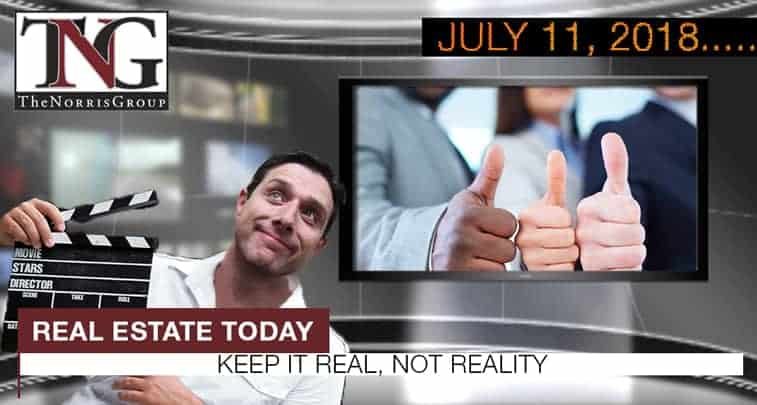 Today's News Synopsis:
What reality TV doesn't tell you about flipping houses.  The Mortgage Bankers Association reported a 2.5% increase in mortgage applications from last week.  Realtor.com offered buyers a list of scenarios to decide whether it is better to stay and renovate your home or move to a new place.
In The News:
Realtor.com – "Move or Improve?  These Scenarios Will Help You Decide How to Spend Your Dough" (7-11-2018)
"There comes a time when every homeowner will spread their arms, look around, and say, "This house feels too small." Perhaps your kids have outgrown their bunk beds, or your partner's startup blew up, and now every inch of your bungalow is occupied."
National Mortgage News – "Millennial credit scores tell very different stories by city" (7-110-2018)
"The average millennial borrower credit score remained unchanged in May, but values by city painted very different pictures, according to Ellie Mae."
Mortgage Bankers Association – "Mortgage Applications Increase in Latest MBA Weekly Survey" (7-11-2018)
"Mortgage applications increased 2.5 percent from one week earlier, according to data from the Mortgage Bankers Association's (MBA) Weekly Mortgage Applications Survey for the week ending July 6, 2018. This week's results included an adjustment for the Fourth of July holiday."
Think Realty – "More Homeowners Turning to Short-Term Rentals as Investment Strategy" (7-11-2018)
"About a quarter of all vacation and investment property owners rented those properties out as short-term rentals in 2017, and nearly a third plan to do so in 2018."
Apartment Therapy – "What HGTV Doesn't Tell You About Flipping Houses" (7-11-2018)
"So you want to make a cool $100,000? Popular HGTV shows lead you to believe the secret to getting rich quick is to start flipping houses."
Washington Post – "More data on why a home purchase is becoming more out of reach for millennials" (7-11-2018)
"Ilyce recently attended the National Association of Real Estate Editors' 52nd annual real estate journalism conference in Las Vegas, where temperatures soared to more than 106 degrees and the real estate news was equally vexing."
The Mercury News – "Granny flats: More popular than ever, but still mired in bureaucracy" (7-11-2018)
"This year, Megan Kellogg's mother moved into a new in-law unit in her own backyard, freeing up the main house for Kellogg's family of three."
Seeking Alpha – "Trouble Ahead For The U.S. Housing Market" (7-11-2018)
"The median family cannot afford the median home in several expensive markets, like the San Francisco Bay Area, Seattle, and Los Angeles. "
Sacramento, California hard money loan closed. Real estate investor received loan for $245,000 on this single family property appraised for $375,000.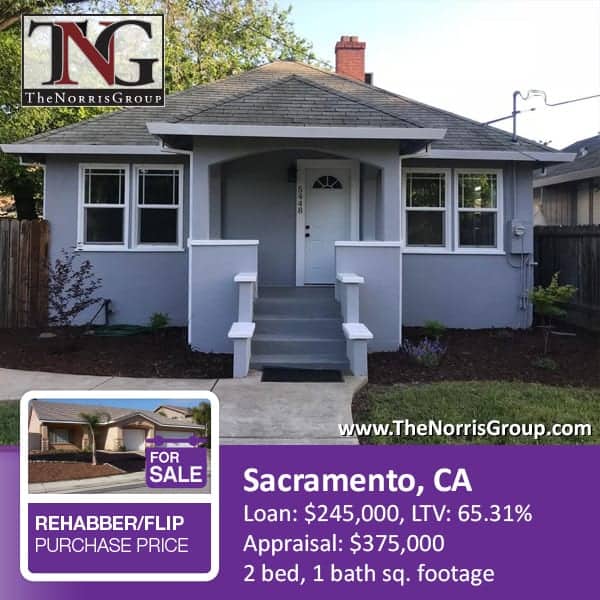 Bruce Norris will be speaking at the ThinkRealty Irvine Conference & Expo on Saturday, July 14.
Bruce Norris will be speaking at the Stay Put or Cash Out with LA REIA on Tuesday, August 7.
Bruce Norris will be presenting Cashing In On A Boom on Saturday, Septemeber 8.
Looking Back:
Mortgage performances were improving with only 4.8% being delinquent in April according to the latest Loan Performance Insights Report.  Janet Yellen was heading up to testify before Congress, all in the midst of a market with increased job growth and not-increasing wages.  Consumers now had easier access to CoreLogic data through their partnership with ESRI ArcGIS Enterprise.
More on Hard Money Loans
Information on Note Investing
Real Estate Investor Education & Resources