Norris Bruce
May 12, 2016
Job Openings for Construction Jobs That Remain Open at All-Time High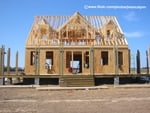 Today's News Synopsis:
Freddie Mac reported 30-year mortgage rates, which now stand at 3.57%, are at their lowest since 2013 while 15-year rates stand at 2.81%.  The latest National Delinquency Survey from the Mortgage Bankers Association showed delinquency rates remain relatively the same while foreclosures are continuing to decrease.  Job openings for construction jobs that continue to remain open is at 210,000, its highest since the crash.
In The News:
Realty Trac – "Q1 2016 Loan Originations Down 8 Percent From Year Ago Driven by 20 Percent Drop in Refinance Originations" (5-11-16)
"RealtyTrac® (www.realtytrac.com), the nation's leading source for comprehensive housing data, today released its Q1 2016 U.S. Residential Property Loan Origination Report, which shows 1.4 million (1,415,511) loans were originated on U.S. residential properties (1 to 4 units) in the first quarter of 2016, down 12 percent from the previous quarter and down 8 percent from a year ago to the lowest level since the first quarter of 2014."
DS News – "The New Way to Qualify for an SFR Investor Loan" (5-12-16)
"In order to achieve lower default rates on single-family rental investor loans, many single-family rental originators have enhanced their underwriting criteria and are now qualifying borrowers for SFR investor loans based on property income rather than personal income, according to research from Morningstar Credit Ratings."
Housing Wire – "Conservative groups join growing push to recapitalize Fannie Mae, Freddie Mac" (5-12-16)
"Over the last year, various groups, including community lenders, affordable housing advocates, civil rights groups, interested observers, and financial analysts, called for a change in governmental policy that would allow Fannie Mae and Freddie Mac to rebuild a capital base."
Mortgage Bankers Association – "Foreclosures Continue to Decrease, Delinquencies Flat" (5-12-16)
"The delinquency rate for mortgage loans on one-to-four-unit residential properties remained unchanged from the previous quarter at a seasonally adjusted rate of 4.77 percent of all loans outstanding at the end of the first quarter of 2016."
NAHB – "Housing Affordability Posts Second Straight Quarterly Gain" (5-12-16)
"Spurred by a modest reduction in mortgage interest rates and favorable home prices, nationwide housing affordability in the first quarter of 2016 posted a slight increase, according to the National Association of Home Builders/Wells Fargo Housing Opportunity Index (HOI) released today."
DS News – "The Effect of Compliance Costs on Households" (5-12-16)
"Regulations in the housing market are not only an added responsibility for mortgage companies, but it seems that compliance costs are spilling over into American households."
Construction Dive – "NAHB: Unfilled construction jobs reach post-crash high of 210K" (5-12-16)
"The construction March hiring rate, Dietz said, was 4.9%, but the quits rate increased to 2.4%, possibly indicating that employers are having a hard time holding onto employees."
Housing Wire – "Freddie Mac: 30-year mortgage rate falls to lowest level in 3 years" (5-12-16)
"Continuing the trend for most of the year, mortgage rates dropped again, falling to their lowest point in three years.  This week's decline comes courtesy of disappointing April employment data, Freddie Mac's Primary Mortgage Market Survey showed. "
DS News – "What Does 2016 Hold for Existing-Home Sales?" (5-12-16)
"Even with headwinds facing the housing industry such as constrained inventory and home price appreciation outpacing wage growth, the National Association of Realtors (NAR) believes that 2016 will be the best year for existing-home sales since the pre-crisis year of 2006."
San Diego, California hard money loan closed. Real estate investor received loan for $342,000 on this single family property appraised for $670,000.

Bruce Norris will be speaking at the AOA Million Dollar Tradeshow and Landlording Conference 2016 on Thursday morning, May 19.
Bruce Norris will be presenting his newest talk Stay Put, Cash Out, Or Change Seats? with Pasadena FIBI on Thursday night, May 19.
Bruce Norris will be presenting his newest talk Stay Put, Cash Out, Or Change Seats? with FIBI Long Beach on Thursday night, May 26.
Image copyright source: www.flickr.com/photos/jessicalynn
Looking Back:
CoreLogic reported the amount of foreclosure inventory and foreclosures completed decreased in March and was almost at levels not seen since the crisis.  The amount of mortgage credit that was available increased the prior month by 0.5% according to Mortgage Bankers Association.  The National Association of Realtors reported metropolitan areas with prices in the double-digits range increased for three months straight.
For more information about The Norris Group's California hard money loans or our California Trust Deed investments, visit the website or call our office at 951-780-5856 for more information. For upcoming California real estate investor training and events, visit The Norris Group website and our California investor calendar. You'll also find our award-winning real estate radio show on KTIE 590am at 6 pm on Saturdays or you can listen to over 170 podcasts in our free investor radio archive.