Norris Bruce
Jan 15, 2020
Is Your Dream Home Really Within Your Budget?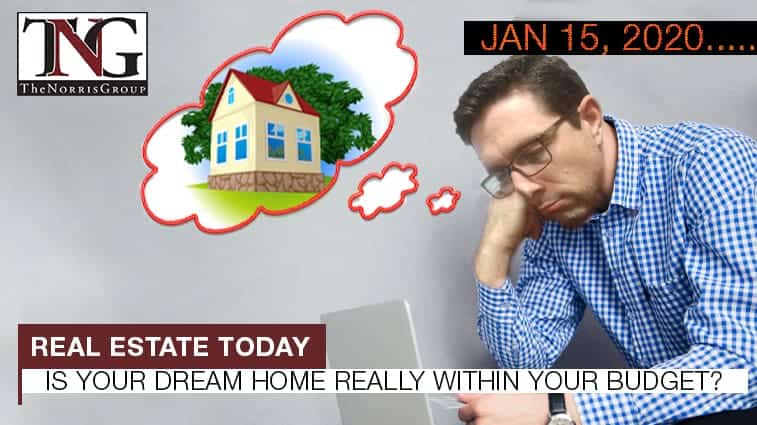 Today's News Synopsis:
All the hidden costs of buying a home.  The Mortgage Bankers Association reported a 3.2% increase in mortgage applications from last week.  Job growth is slower as a result of weaker affordability.
In The News:
Mortgage Bankers Association – "Mortgage Applications Increase in Latest MBA Weekly Survey" (1-15-2020)
"Mortgage applications increased 30.2 percent from one week earlier, according to data from the Mortgage Bankers Association's (MBA) Weekly Mortgage Applications Survey for the week ending January 10, 2020."
Curbed – "As California comes to grips with housing crisis, Texas real estate rises in 2020" (1-15-2020)
"Housing availability and affordability will help determine these states' trajectories this year."
Forbes – "The Decade's Digital Dystopia In Real Estate: What Is Next?" (1-15-2020)
"Changes that result from technological breakthroughs are not always positive.  A couple of months ago, reading the article "Digital dystopia: how algorithms punish the poor," which outlines technology's ability to negatively impact the most vulnerable, made me reflect on the impact of technological innovations on the real estate industry"
National Association of Realtors – "Waning Affordability Contributes to Slower Job Growth" (1-15-2020)
"Metro areas where affordability has worsened over the last five years have seen a decline in job growth during that same period."
HousingWire – "UBS: Fed may cut rate three times in 2020" (1-15-2020)
"Conventional wisdom says the Federal Reserve won't cut rates during an election year, to avoid looking like it's favoring one candidate over another – unless there's an economic shock so severe, it's forced to act."
Realtor.com – "6 Surprising Things That Can Sabotage Your Credit Score" (1-15-2020)
"If you're hunting for a house and a mortgage, you've probably heard that your credit score will affect your buying power big-time, because lenders use your credit score to determine whether to give you a loan, and at what rate."
Redfin – "Common DIY Remodeling Mistakes and How to Avoid Them" (1-15-2020)
"Are you considering attempting a "do it yourself" project for your home? Professionals are in high demand for these types of projects because often times homeowners get in over their head, or forget important steps before or during DIY remodeling projects."
Marie Claire – "All the Hidden Costs of Buying a Home" (1-15-2020)
"Ready to take the plunge into home-owning?  Hope you're organized. There are a million little steps, and acronyms, and details, and, yes, fees to keep track of."
Bruce Norris will be presenting Turmoil: The Coming Storm of Negative Interest Rates on Saturday, February 1.
Bruce Norris will be presenting his newest talk 6 Things To Succeed In 2020 with LA South REIA on Monday, February 10.
Bruce and Aaron Norris will be presenting their latest Florida Buying Bootcamp 2020 Thursday-Friday, March 19-20.
Looking Back:
Buying a foreclosed home?  2018 ended with new home sales decreasing drastically by 18-19% compared to December 2017.  Did we see an end to interest rate hikes this year?
More on Hard Money Loans
Information on Note Investing
Real Estate Investor Education & Resources