Norris Bruce
Jun 19, 2019
Is The West Coast Still The Best Coast?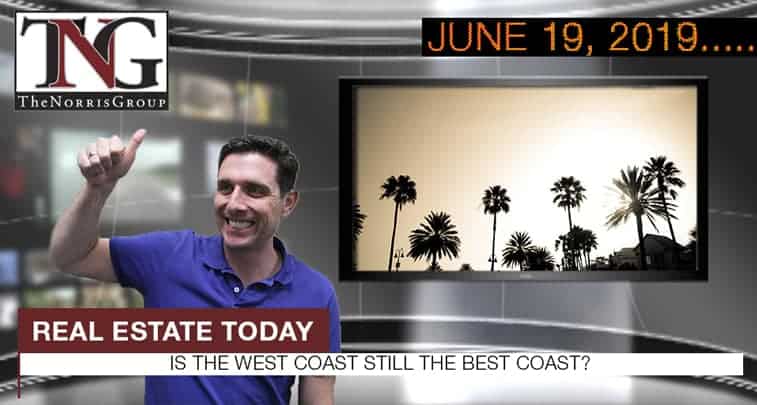 Today's News Synopsis:
8 reason to move TO California.  The Mortgage Bankers Association reported mortgage applications decreased 3.4% from last week.  The cost of a 1,500 square foot home could vary depending on where you live.
In The News:
Realtor.com – "Airbn-Bling: How Renting Out Your Property Can Help You Get a Mortgage" (6-19-2019)
"Short-term rental sites such as Airbnb have changed the game for homeowners.  Renting out your entire home—or part of it—is an attractive way to make extra cash."
Mortgage Bankers Association – "Mortgage Applications Decrease in Latest MBA Weekly Survey" (6-19-2019)
"Mortgage applications decreased 3.4 percent from one week earlier, according to data from the Mortgage Bankers Association's (MBA) Weekly Mortgage Applications Survey for the week ending June 14, 2019."
Curbed – "Facebook is teaching AI how to best navigate your home" (6-19-2019)
"How will robots know how to get from the kitchen to the bedroom? It takes a lot of training."
National Association of Realtors – "HOME Survey: More Say Now Is a Good Time to Sell a Home" (6-19-2019)
"The latest consumer findings from a National Association of Realtors® survey reveal that many more Americans believe that now is a good time to sell a home."
Wall Street Journal – "The Future of Housing Rises in Phoenix" (6-19-2019)
"Armed with loads of cash and the latest in machine learning, investors are reshaping the $26 trillion market for U.S. residential real estate, starting in Phoenix, the petri dish for America's housing experiments."
Business Insider – "What a 1,500-square-foot home costs in 25 major cities around the US" (6-19-2019)
"A standard 1,500-square-foot home can be extremely affordable — or wildly expensive — depending upon location."
Remodelista – "Expert Advice: 10 Home Maintenance Musts from Handywoman Kheli Mason" (6-19-2019)
"Kheli Mason had been studying to become a doctor when her career unexpectedly changed paths. She took a term off to earn some extra money and landed a job with a forward-thinking building maintenance handyman."
MarketWatch – "8 reasons to set your sights on moving to California" (6-19-2019)
"From Hollywood dreams to Silicon Valley startups; from Napa Valley vineyards to miles of free beaches, California is one of the most beautiful and livable places in America."

Aaron Norris will be presenting Innovative Real Estate Marketing with LA South REIA on Monday, July 8.
Aaron Norris will be presenting Innovative Real Estate Marketing with LA South REIA on Wednesday, July 10.
Bruce Norris will be speaking at the ThinkRealty Irvine Conference & Expo on Saturday, July 13.
Looking Back:
Which was better to buy, the old house or new one?  Housing starts were at their highest since the end of the recession in May, having increased 5% to 1.35 million units.  According to a recent Harvard study, the housing market continued to show progress despite inequality in the market.
More on Hard Money Loans
Information on Note Investing
Real Estate Investor Education & Resources