Norris Bruce
Mar 06, 2018
Interest Rate Incentive To Refinance is Going, Going, Gone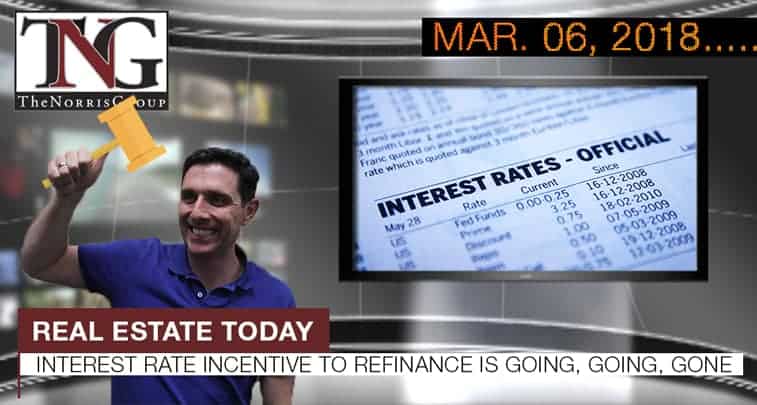 Today's News Synopsis:
Over a million Americans just lost their shot at refinancing.  CoreLogic reported a 6.6% increase in home prices in January for the sixth month in a row.  What are the 100 richest communities in America?  Bloomberg gives you the scoop.
In The News:
CoreLogic – "CoreLogic Reports Home Prices Rose More Than 6 Percent Year Over Year for the Sixth Consecutive Month in January" (3-6-2018)
"CoreLogic® (NYSE: CLGX), a leading global property information, analytics and data-enabled solutions provider, today released its CoreLogic Home Price Index (HPI™) and HPI Forecast™ for January 2018, which shows home prices rose both year over year and month over month."
HousingWire – "Senate agrees to begin debate over Dodd-Frank overhaul bill" (3-6-2018)
"The Senate passed a motion Tuesday to proceed to debate on a bill that would overhaul major parts of the Dodd-Frank Act and is expected to vote on the bill at some point this week."
Forbes – "Will Commercial Real Estate Values Gall?  How Investors Can Prepare" (3-6-2018)
"Will the commercial real estate market always go up? Of course not. But investors have been spoiled by two decades of double-digit returns that were too good to last."
Realtor.com – "Over a Million Americans May Have Just Lost Their Shot at Refinancing" (3-6-2018)
"Interest rates have surged in the opening weeks of 2018, raising uncomfortable questions about how much higher they can go before home purchases become unaffordable."
Bloomberg – "America's 100 Richest Places" (3-1-2018)
"The richest communities in America for years have been in Silicon Valley and the New York City area. Now the Midwest is starting to make some noise."
HousingWire – "MI companies creating new standard for over 45% DTI mortgages" (3-6-2018)
"More mortgage insurance companies continue to fight against mortgages with debt-to-income ratios of 45% to 50% as they prepare to raise their standards."
Bloomberg – "Airbnb Hires Amazon Prime Head Greg Greeley to Run Homes Business" (3-6-2018)
"Airbnb Inc. hired Greg Greeley, the head of Amazon.com Inc.'s Prime business, as president of its main home-rental unit."
Los Angeles, California hard money loan closed. Real estate investor received loan for $347,000 on this single family property appraised for $496,000.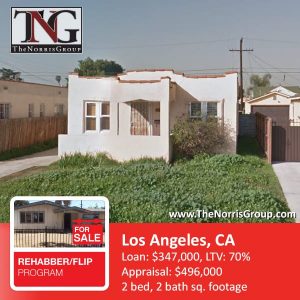 Bruce Norris will be speaking at the 2018 Real Estate Market Forecast in Ontario, California on Wednesday, March 7.
Bruce Norris will be presenting Stay Put or Cash Out with NorcalREIA on Wednesday, March 14.
Bruce Norris will be presenting Cashing In On A Boom: Investing In Quadrant 4 With Bruce Norris in Sacramento on Saturday, March 17.
Looking Back:
Frank Martell was just appointed the President and Chief Executive Officer as well as to the Board of Directors for CoreLogic.  In a unique story, someone in the entertainment industry who also worked in real estate was Christian singer and former American Idol contestant Danny Gokey.  According to Black Knight, the amount of new loans issued increased to their highest level on record, while at the same time delinquencies decreased.