Norris Bruce
May 16, 2019
If It Can Start A Fire Or Flood, Let The Experts Do It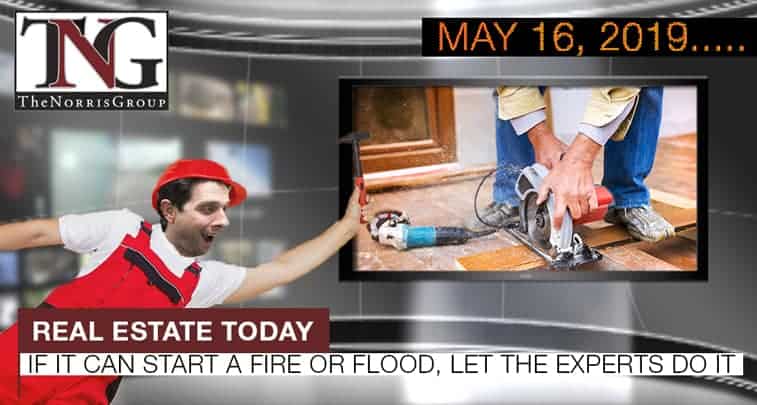 Today's News Synopsis:
Do you know when it's time to DIY?  Despite the current trade disputes, mortgage rates remain strong with 30-year rates at 4.07% and 15-year rates at 3.53%.  SB 50 in limbo until 2020.
In The News:
Mortgage Bankers Association – "April New Home Purchase Mortgage Applications Increased 15.6 Percent" (5-16-2019)
"The Mortgage Bankers Association (MBA) Builder Application Survey (BAS) data for April 2019 shows mortgage applications for new home purchases increased 15.6 percent from a year ago."
Freddie Mac – "Mortgage Rates Drop Slightly" (5-16-2019)
"Freddie Mac (OTCQB: FMCC) today released the results of its Primary Mortgage Market Survey (PMMS), showing that mortgage rates moderated after rising in April."
NAHB – "Single-Family and Multifamily Starts Post Solid Gains in April" (5-16-2019)
"Total housing starts rose 5.7 percent in April to a seasonally adjusted annual rate of 1.24 million units from an upwardly revised reading in March, according to a report from the U.S. Housing and Urban Development and Commerce Department."
Redfin – "U.S. Home Prices Resume Growth, Up 2.8% in April" (5-16-2019)
"U.S. home-sale prices edged up in April, growing 2.8 percent from a year ago, to a median of $307,600 across the metros Redfin tracks."
Zillow – "U.S. Home Values Fall for the First Time in Seven Years" (5-16-2019)
"U.S. home values fell from March to April, the first month-over-month decline since February 2012, according to the April Zillow® Real Estate Market Report."
Curbed – "California's transit-housing bill SB 50 stuck in limbo until 2020" (5-16-2019)
"Update: The Appropriations Committee decided Thursday not to leave SB 50 in suspense forever, but also that it won't come up for a vote until January of 2020."
Yahoo Finance – "The best home renovation tips from the stars of 'Good Bones'" (5-16-2019)
"On their HGTV series "Good Bones," mother-daughter team Karen Laine and Mina Starsiak tackle some pretty extreme renovation jobs. While you might not be looking to completely gut your home to achieve your dream or turn a profit, there are still plenty of tips Laine and Starsiak can offer."
Washington Post – "Three challenges facing sellers this spring" (5-16-2019)
"The spring real estate market has arrived. The local and national market demographics are changing, according to Nick Ron, chief executive of House Buyers of America."

Bruce Norris will be presenting a Real Estate Market Update with SRCAR on Tuesday, May 21.
Bruce and Aaron Norris will be speaking at the NSDREI 15th Anniversary Dinner Party on Tuesday, June 18.
Bruce and Aaron Norris will be speaking at the ThinkRealty Irvine Conference & Expo 2019 on Saturday, July 13.
Looking Back:
What did retirees want?  HUD and the Commerce Department reported a 3.7% decrease in housing production, although it continued to be at a post-recession high.  The Mortgage Bankers Association reported mortgage delinquencies decreased in the first quarter to 4.63%.
More on Hard Money Loans
Information on Note Investing
Real Estate Investor Education & Resources