Today's News Synopsis:
11 Upcoming Real Estate trends.  New home sales continued to remain steady in September, having decreased only 0.7% to 701,000 units.  Freddie Mac reported mortgage rates increased this past week with 30-year rates now at 3.75% and 15-year rates at 3.18%.
In The News:
Freddie Mac – "Mortgage Rates Rise" (10-24-2019)
"Freddie Mac (OTCQB: FMCC) today released the results of its Primary Mortgage Market Survey® (PMMS®), showing that the 30-year fixed-rate mortgage (FRM) averaged 3.75 percent, the highest it's been in 12 weeks."
ATTOM Data Solutions – "U.S. Median Home Prices Jump 8 Percent, to New High in Q3 2019" (10-24-2019)
"ATTOM Data Solutions, curator of the nation's premier property database and first property data provider of Data-as-a-Service (DaaS), today released its Q3 2019 U.S. Home Sales Report, which shows that single-family homes and condos sold for a median price of $270,000 in the third quarter, up 2.9 percent from the previous quarter and up 8.3 percent from a year ago — reaching a new high."
Inman – "Growing number of homeowners feel 'house rich and cash poor'" (10-24-2019)
"Stagnant wage growth and booming costs of living are stressing homeowners, according to a new HomeTap study."
DS News – "Delinquencies Hit Seasonal Uptick" (10-24-2019)
"September saw a slight seasonal uptick in delinquencies, up by 2% from August, but according to the First Look at September mortgage performance data from Black Knight, the national delinquency rate was still down 11% from this time last year, reflecting on ongoing decline in delinquencies."
NAHB – "New Home Sales Remain Stable in September" (10-24-2019)
"Sales of newly built, single-family homes decreased 0.7 percent to a seasonally adjusted annual rate of 701,000 units in September off a downwardly revised reading in August, according to newly released data by the U.S. Department of Housing and Urban Development and the U.S. Census Bureau."
Kitchn – "7 Soon-to-Be Tired Home Trends That Are on the Way Out, According to Real Estate Experts" (10-24-2019)
"Shag carpet was all the rage in the 1970s. Wallpaper borders and glass bricks were beloved in the 1980s. Along came the blonde wood in the 1990s. And now, these features are some of the first things to go when planning a home remodel."
Forbes – "11 Upcoming Real Estate Trends Poised To Impact Agents And Investors" (10-24-2019)
"The real estate market's fluidity makes it a place where trends are always changing. Developing trends usually take a few years to enter the mainstream and become the norm."
Hesperia, California hard money loan closed. Real estate investor received loan for $190,000 on this single family property appraised for $311,000.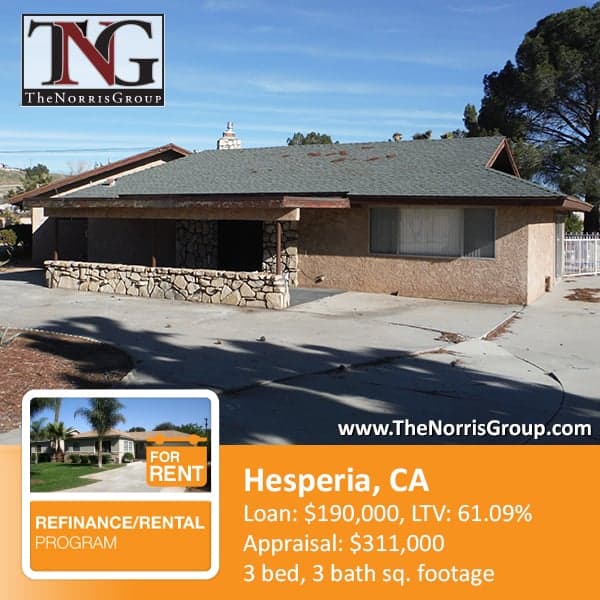 Bruce Norris will be presenting 10 Decisions to Make Before The Next Downturn with the South OC REI Club on Wednesday, October 30.
Aaron Norris will be presenting his latest talk Innovative Real Estate Marketing with Pasadena FIBI on Thursday, November 21.
Bruce Norris will be presenting Turmoil: The Coming Storm of Negative Interest Rates on Saturday, February 1.
Looking Back:
Fannie Mae was 'pessimistic' about the housing market in 2019.  The Mortgage Bankers Association reported a 4.9% increase in mortgage applications in their latest MBA weekly survey.  More Americans were choosing an alternative method to buying a new home: renovating.
More on Hard Money Loans
Information on Note Investing
Real Estate Investor Education & Resources