Norris Bruce
Mar 13, 2019
How Much Rent Do You Charge For a Pillow?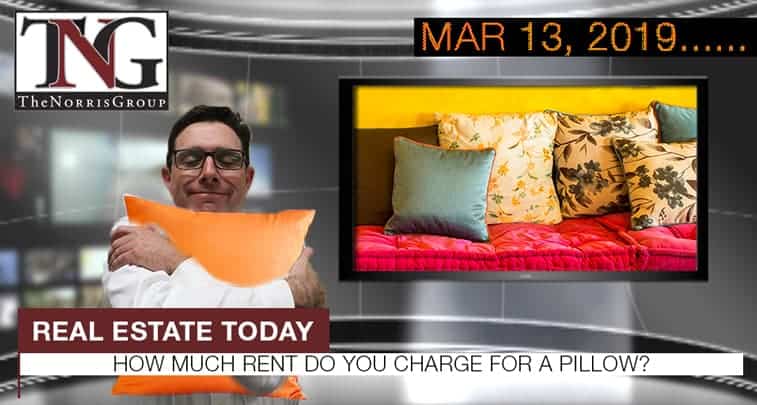 Today's News Synopsis:
Looks like you can now rent out the decor in your place.  The Mortgage Bankers Association reported mortgage applications increased 2.3% from last week in their latest survey.  The real estate in Silicon Valley could be hugely affected by the increasing number of millionaires.
In The News:
Realtor.com – "Should You Rent Your Home Decor?  When It May Be Smarter to Rent Pillows, Blankers, and More" (3-13-2019)
"So you want a total home decor refresh, but you're reluctant to drop the big bucks to turn your home into a Pinterest-worthy palace? You may be in luck: Rent the Runway, an online rental service that provides designer clothing and accessories for a fraction of the purchase price, is teaming up with West Elm to rent out chic home decor."
CoreLogic – "CoreLogic Introduces Verification of Employment and Income Solution to Expedite Borrower Verification Process" (3-13-2019)
"CoreLogic® (NYSE: CLGX), a leading global property information, analytics and data-enabled solutions provider, today released an enhanced Verification of Employment and Income (VOE/I) product."
Bloomberg – "America's Most Hated Home Loan Is Staging a Comeback" (3-13-2019)
"Professor Chris Mayer has a lesson for ­homeowners: Reverse mortgages, which let older Americans tap their home equity without selling or moving, aren't as risky as some say."
ThinkRealty – "Huge Influx of Millionaires will have 'Significant Impact' on Silicon Valley Real Estate" (3-13-2019)
"Thanks to the prospective public offerings of several large tech firms, Silicon Valley will likely see thousands of new millionaires vying for real estate in the next two years."
Mortgage Bankers Association – "Mortgage Applications Increase in Latest MBA Weekly Survey" (3-13-2019)
"Mortgage applications increased 2.3 percent from one week earlier, according to data from the Mortgage Bankers Association's (MBA) Weekly Mortgage Applications Survey for the week ending March 8, 2019."
Curbed – "Ikea releases 3D-printable furniture hacks for people with disabilities" (3-13-2019)
"Ikea hacks typically have the goal of making Ikea products look less like Ikea products. But a new project from the retailer, in collaboration with disability-minded nonprofits Milbat and Access Israel, is putting a new, accessible spin on the concept."
Inman – "Instagram Stories bring new life to listings" (3-13-2019)
"Video may once have been considered a flashy "extra" in your real estate marketing plan, but those days are long gone."

Bruce Norris will be presenting 10 Decisions To Make Before The Next Downturn with NorcalREIA TONIGHT.
Aaron Norris will be presenting Innovating Real Estate Marketing with the Black Inland Empire Real Estate Investment Club on Wednesday, March 20.
Bruce Norris will be presenting 10 Decisions To Make Before The Next Downturn with Pasadena FIBI on Thursday, April 18.
Looking Back:
Wework launched Veterans in Residence Program.  One thing that could potentially hurt housing affordability was the ever-increasing mortgage rates.  New home purchase applications increased 4.6% in February according to the Mortgage Bankers Association.
More on Hard Money Loans
Information on Note Investing
Real Estate Investor Education & Resources