Norris Bruce
Aug 07, 2018
How Are They Doing Now?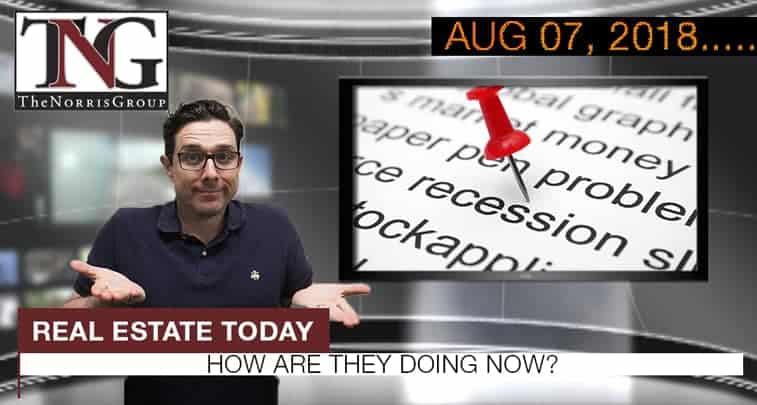 Today's News Synopsis:
Many people lost their homes during the great recession.  How are they doing now?  The amount of mortgage credit available increased last month 1.7% according to the Mortgage Bankers Association.  Could the current mortgage market have a big effect on the midterm elections?
In The News:
Freddie Mac – "Freddie Mac Announces Financing Initiative to Preserve Rental Affordability" (8-7-2018)
"Freddie Mac (OTCQB: FMCC), the leading multifamily financier in the United States, today announced an innovative financing initiative that will incentivize multifamily property owners to keep rents at levels affordable to working families without any federal, state or municipal subsidy."
Realtor.com – "6 Jaw-Droppingly Candid 'For Sale' Signs That Prove Creativity Can Get You Noticed" (8-7-2018)
"Home sellers—and their real estate agents—go to great lengths to capture the attention of potential buyers."
Mortgage Bankers Association – "Mortgage Credit Availability Increased in July" (8-7-2018)
"Mortgage credit availability increased in July according to the Mortgage Credit Availability Index (MCAI), a report from the Mortgage Bankers Association (MBA) which analyzes data from Ellie Mae's AllRegs Market Clarity business information tool."
Forbes – "Will The Mortgage Market Impact The Midterm Elections?" (8-7-2018)
"Mortgage availability might be at historical highs, but according to a new study, that's not going to help U.S. President Donald Trump—nor his party—come November."
Curbed – "Universities, chasing the startup economy, reshape urban real estate" (8-7-2018)
"Dennis Lower, longtime president and CEO of Cortex, a self-styled innovation hub and technology district in St. Louis, calls the sprawling, 200-plus-acre development "a handshake to the millennial workforce" in this Midwestern city."
Business Insider – "Many Americans ended up homeless during the real estate crisis 10 years ago – here's where they are now" (8-7-2018)
"After the real estate bubble burst in 2008, many families living in the US found that the cost of running their homes was no longer affordable, resulting in many of those people losing their homes."
City Lab – "This Housing Price Spike Is Different" (8-7-2018)
"Housing prices are cooking. Across the nation, the price of homes is rising faster than the rate of inflation—in some places by a factor of three."
Los Angeles Times – "What a home sales slump could mean for professionals, buyers" (8-7-2018)
"San Diego home sales recently dropped to their lowest level in years, likely much more to do with affordability constraints than the economy, but it might be a sign of things to come."

Bruce Norris will be speaking at the Stay Put or Cash Out with LA REIA TONIGHT.
Bruce Norris will be presenting Cashing In On A Boom on Saturday, Septemeber 8.
Bruce Norris will be speaking at the Stay Put or Cash Out with SJREI on Thursday, Septemeber 13.
Looking Back:
Mall CEO's sayid retail apocalypse was exaggerated.  Question was if you believed them.  According to the latest Home Purchase Sentiment Index from Fannie Mae, there were much fewer Americans now than before who believed now was a good time to buy a home.  Low-down-payment purchase lending was at its highest in seven years according to Black Knight Financial's latest Mortgage Monitor Report with 1.5 million borrowers having down payments lower than 10%.
More on Hard Money Loans
Information on Note Investing
Real Estate Investor Education & Resources