Norris Bruce
Dec 04, 2018
House Hacking!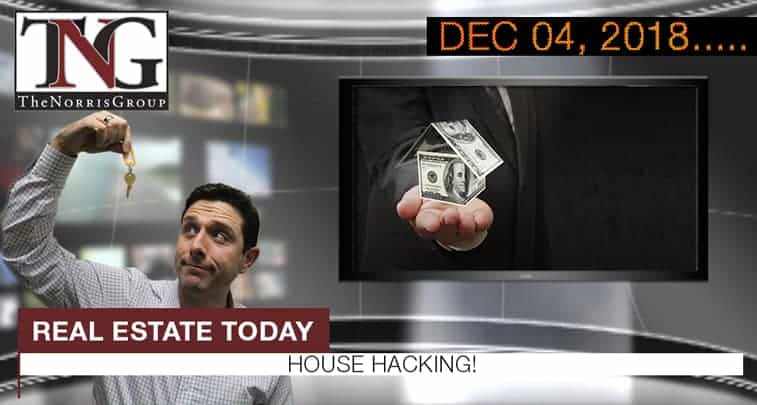 Today's News Synopsis:
Want to live in expensive markets and save money?  Fannie Mae's Doug Duncan was featured this week saying that all of his forecasts and analyses are not just for making the public aware, but also for the benefit of everyone in the real estate industry form consumers to lenders and investors.  An old bill that didn't make it past the first committee meeting this year is being brought back that would push for more apartments and condominiums near transit.
In The News:
CNBC – "Luxury home sales could see long winter chill" (12-4-2018)
"The heat in housing demand is cooling across the nation and across most price points, but luxury is really feeling the chill."
Realtor.com – "Can You Get a Mortgage With a Credit Freeze?" (12-4-2018)
"Credit freezes are a hot topic these days. With security breaches cropping up at banks, retailers, and even credit reporting agencies (hello, Equifax), many Americans fear that hackers might access their personal data and open new credit lines in their name."
Curbed – "These minimalist city maps are like visual riddles" (12-4-2018)
"Every city has a defining feature that acts as a cultural shorthand for those in the know. In New York City, a metropolis built around a faulty but important mass transit system, the subway is top of mind."
Zillow – "Amazon HQ2 Finalists Lead List of Housing Markets Expected to Overperform in 2019" (12-4-2018)
"A handful of metro areas that spent the past year competing for Amazon's second headquarters – including Washington, D.C., one of the winners – are expected to see their home-value growth outpace the nation in the coming year, according to the 2018 Q4 Zillow® Home Price Expectations Survey."
Redfin – "House Hunting at Work: The Most Popular Time to Search for Homes is 10 a.m. on Friday" (12-4-2018)
"Searching for a new home is like a job. Maybe that's why people most often do it while they're at work.  The most popular time to search Redfin.com for homes for sale is Friday in
the middle of the morning."
ThinkRealty – "Powerful Data Produces Good Business" (12-4-2018)
"'The role of chief economist  at Fannie Mae is a little different than a chief economist role anywhere else,' Doug Duncan, Fannie Mae's chief economist, started out."
Forbes – "House Hacking – How Financially Savvy People Live in Expensive Markets While Saving Money" (12-4-2018)
"Are you one of the million Americans who lives in a very expensive real estate market and feel home affordability is simply out of reach? Would you love to be a homeowner but have acknowledged that reality means overreaching on your housing budget?  Welcome to 2018!"
Mercury News – "California gears up for round 2 on controversial battle over more homes near transit" (12-4-2018)
"It's back.  A controversial bill with the potential to add millions of apartments and condominiums near transit — which died in its first committee hearing earlier this year — was resurrected Monday, but with a number of significant changes. Already, some of the changes are raising eyebrows."
Looking Back:
Yes, there was a Zestimate on Santa's house.  Renters were losing out on an extra $2,000 a year due to fewer and fewer places being affordable.  The latest S & P Global Ratings showed they expected a doubling in the non-QM market, possibly even tripling.
More on Hard Money Loans
Information on Note Investing
Real Estate Investor Education & Resources