Norris Bruce
Mar 18, 2020
Hopefully It's Just The Start Of The Relief For People Feeling The Economic Fallout of Covid-19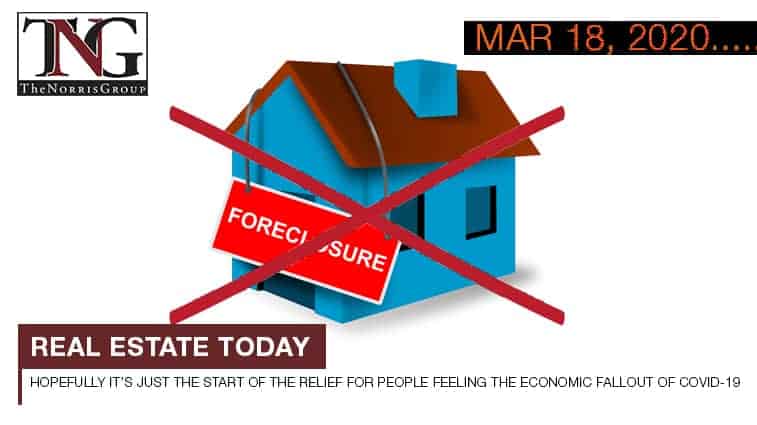 Today's News Synopsis:
President announces foreclosure moratorium.  Freddie Mac is also helping by offering enhanced relief for borrowers whose lives were effected by the coronavirus.  The way to stop coronavirus starts in your own home.
In The News:
Forbes – "What's The Best Way To Disinfect Your Home?  Tips For How – And What – To Clean During Coronavirus" (3-18-2020)
"As the world ramps up its self-protection measures against coronavirus, we have all seen the advice for washing our hands for 20 seconds (and various playlists for what songs to sing so you know you've reached the full 20 seconds), but there are also important considerations when it comes to keeping your living spaces free of coronavirus germs."
Curbed – "To stop coronavirus, we must start at home" (3-18-2020)
"The choices we make today will help those closest to us."
NAHB Now – "Single-Family Housing Starts Up in February, but Challenges Lie Ahead Due to Coronavirus" (3-18-2020)
"Total housing starts decreased 1.5% in February from an upwardly revised January reading to a seasonally adjusted annual rate of 1.60 million units, according to a report from the U.S. Housing and Urban Development and Commerce Department."
Curbed – "Trump announces sweeping eviction and foreclosure moratorium for coronavirus relief" (3-18-2020)
"President Donald Trump announced Wednesday a sweeping moratorium on foreclosures for homeowners with mortgages backed by Fannie Mae or Freddie Mac or Federal Housing Administration mortgages on single-family homes."
Freddie Mac – "Freddie Mac Announces Enhanced Relief for Borrowers Impacted by COVID-19" (3-18-2020)
"Company suspends single family foreclosure sales and evictions; confirms and expands forbearance and modification programs."
KnowYourOptions – "Coronavirus (COVID-19) Help" (3-18-2020)
"Many homeowners are affected by the devastating impact of coronavirus, or COVID-19. We're here to help. Our mortgage relief options can help you feel safe at home if your employment or income are affected."
GeekWire – "RedFinNow pauses making offers on homes as CEO says housing market has taken 'turn for the worse'" (3-18-2020)
"Seattle-based real estate company Redfin announced Wednesday that RedfinNow, an arm of its business that buys homes directly from homeowners and resells them to homebuyers, will temporarily pause making offers on homes."
Aaron Norris will be presenting his latest talk Innovative Real Estate Marketing With Inland Gateway Association of Realtors on Thursday, April 9 (ONLINE ONLY).
Bruce Norris will be presenting his newest talk 6 Things To Succeed In 2020 with Pasadena FIBI on Thursday, April 16 (ONLINE ONLY).
Aaron Norris will be presenting his latest talk Innovative Real Estate Marketing With NorcalREIA on Wednesday, June 10.
Looking Back:
A new tiny, circular home takes advantage of space by having sliding walls that can slide in and out to incorporate 20 different layouts.  Realtor.com discusses the spring housing market and the pros and cons of selling during this time.  One big factor that can make a difference in how easy or hard it is to sell your home is professional photography.
More on Hard Money Loans
Information on Note Investing
Real Estate Investor Education & Resources