Norris Bruce
Mar 12, 2019
Honey, I Shrunk Fannie and Freddie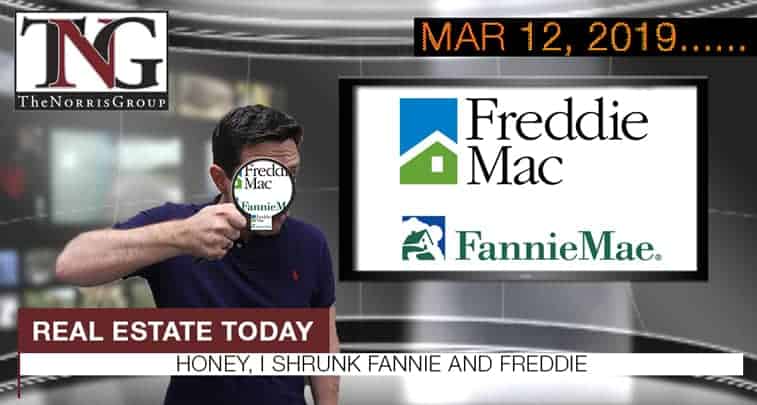 Today's News Synopsis:
Fannie Mae and Freddie Mac may be playing a smaller role in the housing market.  Overall delinquency and foreclosure rates for December were their lowest for that month in almost 20 years.  What can energy-efficient windows help bring to your home?
In The News:
Zillow – "Better to Protect Against Natural Disasters Than Insure Against Them, Experts Say" (3-12-2019)
"With climate change and natural disasters posing a growing threat to communities across the United States, economists and real estate experts favor funding for preventative measures and construction regulations over the government providing or requiring insurance."
Realtor.com – "A Transparent Look at Energy-Efficient Windows: Cost, Effectiveness, and More" (3-12-2019)
"Energy-efficient windows have been touted as a way to reduce your home's energy loss.  After all, your average pane of glass doesn't do much to keep heat or cold inside your home, depending on what's desired for the season."
Redfin – "A Swimming Pool Adds Nearly $100,000 to a Typical Los Angeles Home's Value" (3-12-2019)
"How much is a pool worth? The answer depends on where you live.  In Los Angeles, homes with pools sell for $95,393 more than comparable homes without them, making it the metro where pools are most valuable."
MarketWatch – "It costs retirees $100,000 a year to live in these 4 cities" (3-12-2019)
"Retirement doesn't come cheap.  The average over-65 household spends just over $49,000 a year, on average, which shakes out to roughly $4,000 a month, according to data released by the Bureau of Labor Statistics."
HousingWire – "Is Fannie, Freddie's role in the housing market beginning to shrink?" (3-12-2019)
"Private investors are buying non-conforming mortgage loans – which are usually the domain of Fannie Mae and Freddie Mac – at a growing rate."
Bloomberg – "Buyers Finally Get the Upper Hand in Hottest U.S. Housing Markets" (3-12-2019)
"The real estate frenzies in West Coast cities have become the stuff of lore: buyers jostling at open houses, homes getting offers sight unseen, bids coming in hundreds of thousands of dollars over asking."
Apartment Therapy – "Line Art Is the Trend Minimalists (and Wannabe Minimalists) Need to Know" (3-12-2019)
"Line art is taking over home design, one line at a time. Influenced by the line drawings of Matisse and Picasso, these art pieces create faces and bodies using fluid lines."
CoreLogic – "CoreLogic Reports U.S. Overall Delinquency and Foreclosure Rates Lowest for December Since at Least 2000" (3-12-2019)
"CoreLogic® (NYSE: CLGX), a leading global property information, analytics and data-enabled solutions provider, today released its monthly Loan Performance Insights Report."
Hesperia, California hard money loan closed. Real estate investor received loan for $139,000 on this single family property.

Bruce Norris will be presenting 10 Decisions To Make Before The Next Downturn with NorcalREIA on Wednesday, March 13.
Aaron Norris will be presenting Innovating Real Estate Marketing with the Black Inland Empire Real Estate Investment Club on Wednesday, March 20.
Bruce Norris will be presenting 10 Decisions To Make Before The Next Downturn with Pasadena FIBI on Thursday, April 18.
Looking Back:
Were cheap 3D-printed homes on their way?  The wait for the results of the Dodd-Frank reform bill was longer than expected as voting had been postponed by the Senate.  One thing California saw a decrease in was empty houses as vacancies were at their lowest in 13 years.
More on Hard Money Loans
Information on Note Investing
Real Estate Investor Education & Resources