Norris Bruce
Jun 05, 2019
Here I Come To Save The Day!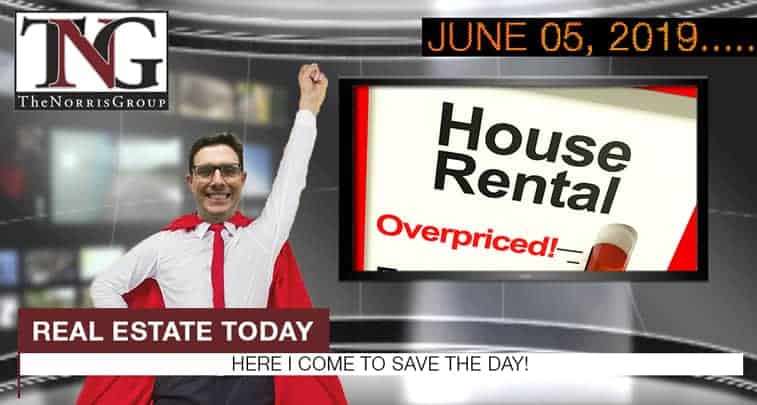 Today's News Synopsis:
Help is on the way in certain cities and states where rents are exceedingly high – but which ones?  The Mortgage Bankers Association reported a 1.5% increase in mortgage applications from last week.  The government is pushing for a bill called the Affordable Housing Credit Improvement Act of 2019, which would add 1.9 million more units nationwide.
In The News:
NAHB – "Nearly 700 Builders Shine a Spotlight on Housing Affordability in Hill Visits" (6-5-2019)
"Nearly 700 builders from across the nation converged on Capitol Hill today for the National Association of Home Builders (NAHB) 2019 Legislative Conference to urge their lawmakers to support policies that will increase the production of quality, affordable housing and keep the housing recovery moving forward."
Realtor.com – "The Rent Is Too High – So Help Is on the Way in Many Cities, States" (6-5-2019)
"When Stasha Powell moved into her one-bedroom apartment in Redwood City, CA, about 26 miles south of San Francisco, the rent was $625 per month. That was 17 years ago."
HousingWire – "May's job report reveals the labor market is tightening" (6-5-2019)
"The National Employment Report indicates that private sector employment increased by only 27,000 jobs from April to May, according to the ADP Research Institute and Moody's Analytics."
Mortgage Bankers Association – "Mortgage Applications Increase in Latest MBA Weekly Survey" (6-5-2019)
"Mortgage applications increased 1.5 percent from one week earlier, according to data from the Mortgage Bankers Association's (MBA) Weekly Mortgage Applications Survey for the week ending May 31, 2019."
ATTOM Data Solutions – "The New Solar Economy: Harnessing the Power of the Sun" (6-5-2019)
"As consistently as the sun rises each day, so do our hopes of harnessing the power of renewable energy in order to reduce our need for oil, natural gas, coal, and nuclear power."
Curbed – "New affordable housing bill aims to add 1.9M units nationwide" (6-5-2019)
"The Affordable Housing Credit Improvement Act of 2019 would strengthen a pillar of federal housing support."
Apartment Therapy – "How 'Fixer-Upper' Changed the Way People Buy Homes" (6-5-2019)
"When Sarah Richardson and her husband were house hunting near Green Bay, Wisconsin, they came across a 5,300-square-foot riverfront home. The behemoth property hadn't seen an update since it was first built in 1959."
DS News – "Where Is Renting Preferred Over Owning a Home?" (6-5-2019)
"Demand for homeownership is waning as more residents prefer renting over buying a home, according to the latest national index produced by the Florida Atlantic University (FAU) and Florida International University faculty."

Aaron Norris will be moderating the ADU Panel for SDCIA on Tuesday, June 11.
Bruce Norris will be speaking at the Southern California Appraisal Institute's 22nd Annual Inland Empire Market Trends on Thursday, June 13.
Bruce and Aaron Norris will be speaking at the NSDREI 15th Anniversary Dinner Party on Tuesday, June 18.
Looking Back:
Cheap rent in San Francisco?  Home prices increased in April by 6.9% year-over-year and 1.2% month-over-month according to CoreLogic.  Where you lived could make all the difference on whether it was cheaper to rent or buy.
More on Hard Money Loans
Information on Note Investing
Real Estate Investor Education & Resources