Norris Bruce
Sep 10, 2019
From Order To Built In 2 Weeks!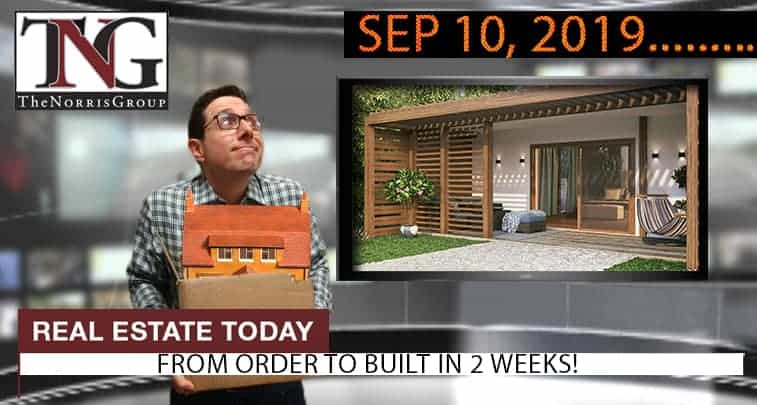 Today's News Synopsis:
Abodu becomes San Jose's first pre-approved ADU builder.  Home prices are going down after having seen increases for a long time, but that may not necessarily be a good thing.  Experts expect to see a shortage in housing construction until at least 2022.
In The News:
MarketWatch – "The surprising ways foreclosures make housing-market downturns even worse" (9-10-2019)
"The massive wave of foreclosures that wreaked havoc on communities across the country is among the most significant hallmarks of the previous recession."
Zillow – "Experts: New Construction Shortage Will Persist Until At Least 2022" (9-10-2019)
"While home values have recovered since the Great Recession and, in many cases, surpassed their pre-recession peaks, single-family home construction activity has continued to languish."
Mortgage Bankers Association – "MBA Releases 2019 Mid-Year Commercial/Multifamily Servicer Rankings" (9-10-2019)
"The Mortgage Bankers Association (MBA) today released its mid-year rankings of commercial and multifamily mortgage servicers' volumes as of June 30, 2019. At the top of the list of firms is Wells Fargo Bank, N.A., with $681.8 billion in master and primary servicing, followed by PNC Real Estate/Midland Loan Services  ($655.2 billion), KeyBank National Association ($273.1 billion), Berkadia Commercial Mortgage LLC  ($268.4 billion), and CBRE Loan Services ($208.3 billion)."
Wall Street Journal – "Real-Estate Firms Turn to Mortgages, Insurance Offerings" (9-10-2019)
"Residential real-estate companies are piling into new businesses like mortgages and title insurance, aiming to generate additional income to offset tight margins in their core business."
Realtor.com – "Home Prices Are Finally Going Down, Instead of Up: Why That's Bad News" (9-10-2019)
"Typically, home prices surge over the summer months. Buyers don't mind schlepping to open houses when the weather is warm and they don't have to slog through snow, and families are motivated to move before the kids start school."
Redfin – "Rochester, Buffalo, and Hartford Least at Risk of a Housing Downturn in the Next Recession" (9-10-2019)
"It won't be a repeat of 2008, but housing markets in some parts of the country are at more risk than others."
NAHB – "Vast Majority of Americans Cite Growing Housing Affordability Problem As a Crisis" (9-10-2019)
"Four out of five American households believe the nation is suffering a housing affordability crisis and at least 75 percent report this is a problem at the state and local level as well, according to a new nationwide survey conducted by Morning Consult on behalf of the National Association of Home Builders (NAHB)."
HousingWire – "Bay Area company combats housing crunch with "backyard home" offering" (9-10-2019)
"Guests coming in two weeks? San Jose, in California's Silicon Valley, has an idea for where to put them."
Yahoo Finance – "Announcing Realogy Military Rewards: New Home Buying and Selling Program Launches for ALL Military Personnel, Veterans and Their Families" (9-10-2019)
"Realogy Holdings Corp.(RLGY), the largest full-service residential real estate services company in the United States, today announced Realogy Military Rewards, a new home buying and selling program that will offer $350 to $7,500* in cash back or rewards to those who have served our country and their extended families."
Bruce Norris will be presenting his latest talk 10 Decisions To Make Before The Next Downturn with SJREI on Thursday, September 12.
Bruce Norris will be presenting Cashing In On A Boom: Creating Value In A Tight Market on Saturday, September 14.
Bruce Norris will be presenting his latest talk 10 Decisions To Make Before The Next Downturn with the BIEREIC on Wednesday, September 18.
Looking Back:
How were seniors affecting the housing market?  Zillow began expanding their buying and selling business to Atlanta.  44 million homeowners with mortgages had tappable equity, which passed $6 trillion for the first time ever according to Black Knight Financial Services.
More on Hard Money Loans
Information on Note Investing
Real Estate Investor Education & Resources