New Jersey Foreclosure Laws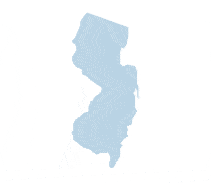 ATTORNEY GENERAL'S OFFICE
P.O. Box 080
Trenton, NJ 08625-0080
Tel: (609) 292-4925
Fax: (609) 292-3508
www.state.nj.us/lps
Type of Document: Mortgage
Only judicial foreclosures are allowed in New Jersey.
Deficiency: A deficiency may be obtained by a lender for the difference of market value and what is owed on the property. The downside for a lender to pursue a deficiency judgment is it will allow the borrower a six month opportunity to redeem the property.
Redemption: Redemption is usually possible only during the ten days following the foreclosure sale. If the borrower objects to the sale, the time allowed to redeem is extended until the court rules on the objection.
Oddities of the state: The lender may choose to foreclose on the back payments and fees only, leaving the existing mortgage in place.