Norris Bruce
May 15, 2019
Forget That Starter Home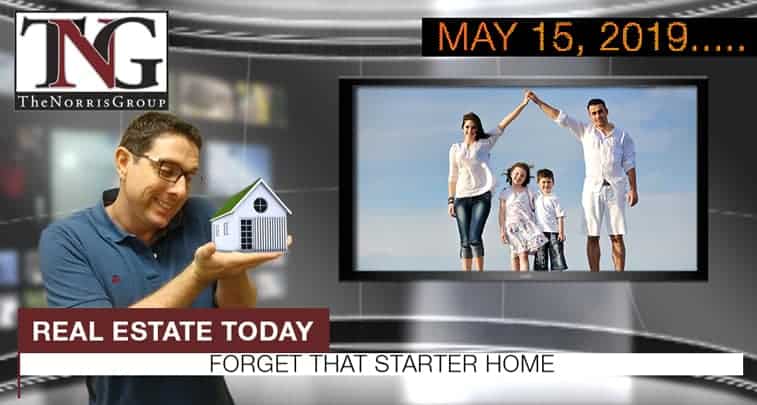 Today's News Synopsis:
Can you afford a forever home? Builder confidence rose three points this month to 66 according to the National Association of Home Builders/Wells Fargo Housing Market Index.  The Mortgage Bankers Association reported a 0.6% increase in mortgage applications from last week.
In The News:
Mortgage Bankers Association – "Mortgage Applications Decrease in Latest MBA Weekly Survey" (5-15-2019)
"Mortgage applications decreased 0.6 percent from one week earlier, according to data from the Mortgage Bankers Association's (MBA) Weekly Mortgage Applications Survey for the week ending May 10, 2019."
Wall Street Journal – "Rising Rents for Millennials Give Rise to a New Breed of Lender" (5-15-2019)
"Jennifer Burnes says the paychecks from her work as a model and designer in Hollywood arrive sporadically, posing a challenge to paying monthly rent. 'You know the check's on the way, you just don't know when, exactly,' the 22-year-old said."
Realtor.com – "Should You Skip the Starter Home and Buy a Forever Home?" (5-15-2019)
"If you're out there shopping for your first home, you might swoon over that four-bedroom Colonial and imagine growing old there—but wait a minute! Sure, you might be jonesing to put down permanent roots, but your bank account and life circumstances might beg to differ."
NAHB – "Builder Confidence Posts Solid Gain in May" (5-15-2019)
"Builder confidence in the market for newly-built single-family homes rose three points to 66 in May, according to the latest National Association of Home Builders/Wells Fargo Housing Market Index (HMI) released today. Builder sentiment is at its highest level since October 2018."
Curbed – "Could Bakersfield become a California and boom town?" (5-15-2019)
"Local entrepreneurs want to turn a boom in new businesses into an urban renaissance."
McClatchy DC Bureau – "California on track to lose at least one congressional seat after 2020 Census" (5-15-2019)
"California's population is growing more slowly than expected, making it increasingly likely it will lose at least one congressional seat in 2020 — and maybe more."
Rent Cafe – "How Much Space Can You Rent on a Median Income in the 100 Largest U.S. Cities?" (5-15-2019)
"Whether it's a temporary whim, a childhood dream, or the desire to have access to the big city life in your "backyard," living in a big city can be appealing."

Bruce Norris will be presenting a Real Estate Market Update with SRCAR on Tuesday, May 21.
Bruce and Aaron Norris will be speaking at the NSDREI 15th Anniversary Dinner Party on Tuesday, June 18.
Bruce and Aaron Norris will be speaking at the ThinkRealty Irvine Conference & Expo 2019 on Saturday, July 13.
Looking Back:
Why was Avocado Toast synonymous with Millennials?  The NAHB reported an increase in builder confidence for the month of May, which stood at 70.  The group paying a lot more in mortgage costs, over $20,000, were homebuyers with low credit scores.
More on Hard Money Loans
Information on Note Investing
Real Estate Investor Education & Resources