Norris Bruce
Jun 06, 2019
For Now, At Least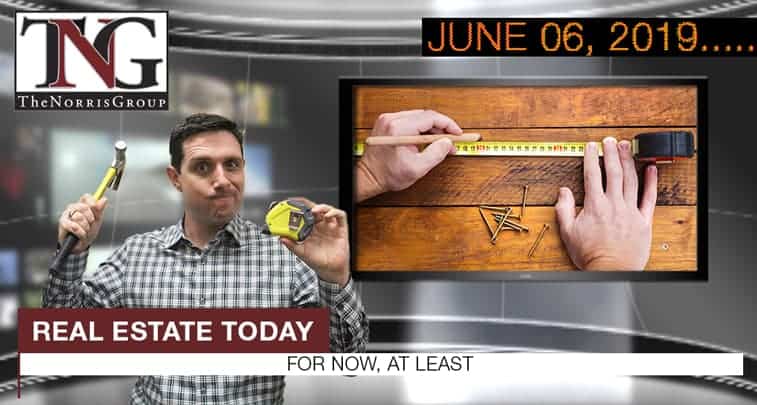 Today's News Synopsis:
Why are Americans holding off on remodeling their homes?  Mortgage rates decreased again, putting 15-year rates at 3.28% and 30-year rates at their lowest in two years at 3.82%.  The home-flipping rate in the U.S. was at its highest in nine years in the first quarter with 49,059 homes and condos flipped.
In The News:
Freddie Mac – "30-Year Fixed Rate Mortgage Rate Nears Two-Year Low" (6-6-2019)
"Freddie Mac (OTCQB: FMCC) today released the results of its Primary Mortgage Market Survey (PMMS), showing that the 30-year fixed-rate mortgage rate fell to 3.82 percent, the sixth consecutive weekly decline and its lowest level since September 2017."
Redfin – "Here's What Homebuyers and Sellers Can Expect if the Fed Lowers Rates" (6-6-2019)
"A weakened stock market and looming economic fallout from trade wars have led many to expect that the Fed will lower interest rates this year."
CoreLogic – "CoreLogic Reports the Negative Equity share Fell to 4.1% in the First Quarter of 2019" (6-6-2019)
"CoreLogic® (NYSE: CLGX), a leading global property information, analytics and data-enabled solutions provider, today released the Home Equity Report for the first quarter of 2019."
MarketWatch – "Why Americans are holding off on remodeling their homes (for now)" (6-6-2019)
"Homeowners are pulling back on their spending on house improvements.  Growth in remodeling spending is expected to decline in half of America's largest cities this year, a study released this week by Harvard University's Joint Center for Housing Studies found."
ATTOM Data Solutions – "U.S. Home Flipping Rate Reaches a Nine-Year High in Q1 2019" (6-6-2019)
"ATTOM Data Solutions, curator of the nation's premier property database and first property data provider of Data-as-a-Service (DaaS), today released its Q1 2019 U.S. Home Flipping Report, which shows that 49,059 U.S. single-family homes and condos were flipped in the first quarter of 2019, down 2 percent from the previous quarter and down 8 percent from a year ago to a three-year low."
Bloomberg – "U.S. Household Wealth Hits a Record in First Quarter" (6-6-2019)
"U.S. household wealth rebounded to a record in the first quarter as the stock market recovered from a plunge in the prior period, supporting consumers after Federal Reserve interest-rate hikes and trade-war shocks rattled investors late last year."
Inman – "Feds warn of 1,100% rise in real estate phishing scams" (6-6-2019)
"The downpayment on a house is the largest single sum of money many people spend in their lifetimes, and now the feds have a stark warning for would-be homebuyers: Watch yourself, or lose it all to scammers."
Business Insider – "11 facts about San Francisco's housing market that will make you glad you live somewhere else" (6-6-2019)
"San Francisco is less than 49 miles square and, with water on three sides, there's no room to spread out."

Aaron Norris will be moderating the ADU Panel for SDCIA on Tuesday, June 11.
Bruce Norris will be speaking at the Southern California Appraisal Institute's 22nd Annual Inland Empire Market Trends on Thursday, June 13.
Bruce and Aaron Norris will be speaking at the NSDREI 15th Anniversary Dinner Party on Tuesday, June 18.
Looking Back:
Birth rates were falling most where homes were appreciating fastest.  According to the latest Reuters poll, house prices were increasing twice as fast as inflation and pay.  According to the Mortgage Banker Association, net losses reported by independent mortgage bankers in the first quarter was $118 on each loan originated.
More on Hard Money Loans
Information on Note Investing
Real Estate Investor Education & Resources