Today's News Synopsis:
Suburbs in largest metros carry the heaviest burden.  The mortgage delinquency rate in the U.S. decreased to its lowest in 12 years with 4.1% of mortgages in some stage of delinquency, down from 4.7% in July 2017.  Home appreciating at a faster rate than a normal U.S. home is surprisingly a foreclosure.
In The News:
Zillow – "Suburbs in Largest Metros Often Carry the Heaviest Financial Burden" (10-9-2018)
"Housing affordability across the country is especially tough in the nation's urban areas, but in the country's largest metros it's often the suburbs that are the least affordable."
Bloomberg – "California's Riverside Metro Has Largest Five-Year Jobs Gain" (10-9-2018)
"Among cities with a population of at least one million in the last Census, the Riverside-San Bernardino-Ontario metro area in California had the largest increase (22 percent) in jobs from August 2013 to August 2018."
CoreLogic – "CoreLogic Loan Performance Insights Find That the Overall U.S. Mortgage Delinquency Rate Drops to a 12-Year Low" (10-9-2018)
"CoreLogic® (NYSE: CLGX), a leading global property information, analytics and data-enabled solutions provider, today released its monthly Loan Performance Insights Report."
Redfin – "For-Sale Home Supply Surges In Hot West Coast Markets" (10-9-2018)
"San Jose and San Francisco, however, are seeing more new listings hit the market.  After more than six years of tight supply and surging prices, the third quarter of 2018 has been a turning point for the housing market in many major West Coast metro areas, where the number of homes for sale has increased dramatically from a year ago."
MarketWatch – "Foreclosed homes are appreciating faster than the typical U.S. home" (10-9-2018)
"Homes that were foreclosed on during the recession are rising in value at a breakneck pace, much faster than the typical U.S. home."
Forbes – "The Housing Bust Widened the Wealth Gap.  Here's How" (10-9-2018)
"Less-well-off homeowners that succumbed to foreclosure as the housing market went bust, destroying the value of their largest asset, have very likely missed out on the immense wealth-creation the subsequent housing recovery has enabled."
National Mortgage News – "Rising interest rates hurt consumers' view of housing: Fannie Mae" (10-9-2018)
"Rising interest rates, both current and the prospect for future increases, took a toll on consumers' outlook on the housing market during September, according to Fannie Mae."
ThinkRealty – "Top 3 Cities for Tight Housing Inventories" (10-9-2018)
"Many regional housing markets are posting more inventory volumes than they have in recent years. Still, it's not home-buying season everywhere just yet."

Bruce Norris will be speaking at the FIBI State of the Economy on Wednesday, October 10.
Bruce Norris will be giving a market update with the Chino Valley Real Estate Professionals on Friday, October 12.
Bruce Norris will be speaking at the Fresno Real Estate Investor Rally on Wednesday, October 17.
Moreno Valley, California hard money loan closed. Real estate investor received loan for $190,000 on this single family property appraised for $290,000.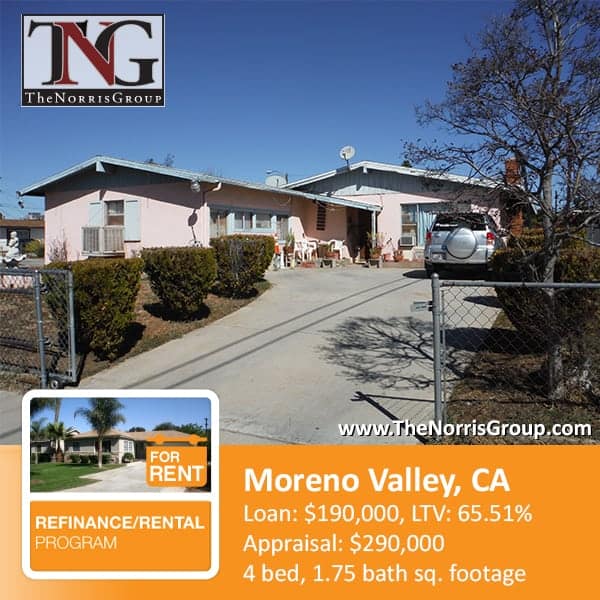 Looking Back:
What is your city willing to do to bring Amazon's HQ2 home?  Looked like the CFPB was making some changes to their mortgage servicing rules.  In order to cater more to travelers on business trips, Airbnb teamed up with WeWork.
More on Hard Money Loans
Information on Note Investing
Real Estate Investor Education & Resources