Norris Bruce
Dec 05, 2018
Find Out Which State Is The #1 Choice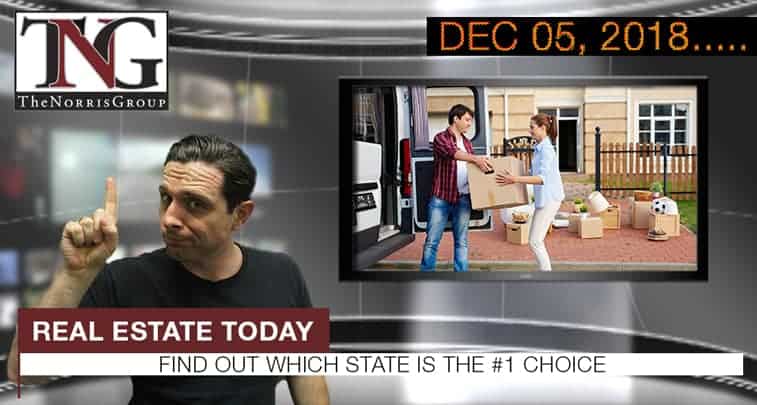 Today's News Synopsis:
Looking for a better life?  The Mortgage Bankers Association reported a 2% increase in mortgage applications from last week.  Home prices increased 5.4% year-over-year according to CoreLogic.
In The News:
Mortgage Bankers Association – "Mortgage Applications Rise in Latest MBA Weekly Survey" (12-5-2018)
"Mortgage applications increased 2.0 percent from one week earlier, according to data from the Mortgage Bankers Association's (MBA) Weekly Mortgage Applications Survey for the week ending November 30, 2018."
MarketWatch – "For Americans looking for a better life, this state is their No. 1 choice" (12-5-2018)
"Looking to get the hell out of Dodge? Then there's a pretty decent chance you're headed for Florida."
National Association of Realtors – "Realtors More Likely to Donate Annually than Most Americans, According to Survey" (12-5-2018)
"Eighty-two percent of Realtors donate money to charitable causes every year, compared to the national average of 56.6 percent of Americans1 who do so, according to a new report from the National Association of Realtors."
Freddie Mac – "The Major Challenge of Inadequate U.S. Housing Supply" (12-5-2018)
"After nearly a decade of low levels of building, housing stock is well short of what the United States needs."
ThinkRealty – "The Housing Slowdown is Starting to Hit this U.S. Region Hardest" (12-5-2018)
"After nearly a decade of surging growth, the U.S. housing market is finally starting to slow down.  New home sales have declined for 11 consecutive months, according to data from the U.S. Census Bureau. Despite the median price for new homes dropping, the data also show that sales of newly built homes in October fell 12 percent when compared to a year earlier."
CoreLogic – "CoreLogic Reports October Home Prices Increased by 5.4 Percent Year Over Year" (12-5-2018)
"CoreLogic® (NYSE: CLGX), a leading global property information, analytics and data-enabled solutions provider, today released the CoreLogic Home Price Index (HPI™) and HPI Forecast™ for October 2018, which shows home prices rose both year over year and month over month."
The Sacramento Bee – "UCLA economists predict the U.S. economy will downshift in 2019 and 2020" (12-5-2018)
"The United States is "playing with fire" in launching a trade war with China and its economic growth will plummet over the next two years as the stimulus of tax cuts and spending increases wanes and interest rates rise, according to a new forecast from the UCLA Anderson School of Management."
Realtor.com – "How to Make Moving During the Holidays a Painless Experience" (12-5-2018)
"Moving during the "most wonderful time of the year" is anything but wonderful. At a time when people look forward to cozying up at home, the last thing most of us want to do is pack boxes, clean, and wrangle odds and ends."
Looking Back:
It's Zestimate not Exactimate.  The latest home price report from CoreLogic showed home prices increased 7% year-over-year in October and were projected to increase 4.2% by the next October.  Even Zillow increased their expectations for home price growth in 2018.
More on Hard Money Loans
Information on Note Investing
Real Estate Investor Education & Resources