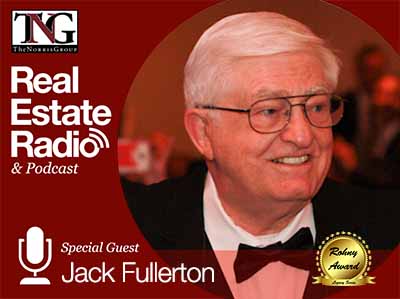 Date & Times
October 15, 2020 - October 22, 2020
VENUE:
ORGANIZER:
TNG I Survived Real Estate Legacy Series with Coach Jack Fullerton
Date:
October 15, 2020
-
October 22, 2020
Summary:
Details
The Norris Group's Legacy Series is interviews with I Survived Real Estate Rohny Award winners. Next up in the 2020 series is foreclosure specialist and educator The Coach, Jack Fullerton. The Rohny Award is given every year to a real estate educator or mentor that has impacted the real estate investment market and many careers along the way.
"Coach" Jack Fullerton is a well-loved real estate investor and connector in the real estate investor community. He was recognized in 2014 with the Rohny Award for being a mentor to many in the Southern California real estate community and beyond. He was our first to receive the honor.
Bruce and Coach Fullerton talk about how Coach got started in real estate, how he started teaching and why he is called Coach.
The Norris Group originates and services loans in California and Florida under California DRE License 01219911, Florida Mortgage Lender License 1577, and NMLS License 1623669.  For more information on hard money lending, go www.thenorrisgroup.com and click the Hard Money tab.
This is our weekly radio broadcast. We recorded the show last week and will be featuring him on the radio show starting today. You can view the transcription and full broadcast here