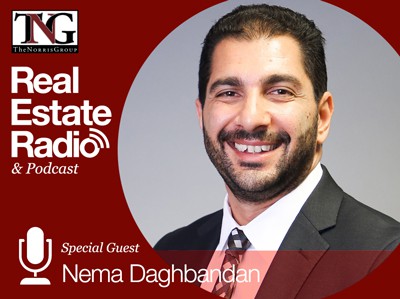 Date & Times
November 15, 2019 @ 2:00 pm - 11:30 pm
VENUE:
The Norris Group
1845 Chicago Ave, Suite C




Riverside

,

CA

92507

United States
ORGANIZER:
The Norris Group
The Real Estate Radio Show With Nema Daghbandan
Date:
November 15, 2019 @ 2:00 pm
-
11:30 pm
Summary:
In this week's radio show, we interview real estate expert and investor Nema Daghbandan.  This is our weekly radio broadcast.  We recorded the show yesterday and will be covering it on our radio show starting tomorrow.  You can view the transcription and full broadcast here.
Details
Aaron Norris is joined this week by Nema Daghbandan.  The Norris Group is back this week after taking a break for I Survived Real Estate. Aaron thanked everyone who helped them raise over $70,000. Next year, they are going to hit the $1 million mark. September 18th, 2020 is when year 13 will happen and when they will raise a million bucks.  Nema is in charge of the real estate finance group there, and he is a partner with the law firm. His practice entails all facets of lending matters across the country. He advises financial institutions on various lending matters, including licensing, usury and foreclosures, which he just helped Aaron with a couple of weeks ago. He is also an expert in default management and leads the firm's non-judicial trustee group. He got his degree from Miami School of Law; and then before that, his undergrad was at UC Irvine in Political Science.
In this segment, Aaron and Nema will discuss what it takes to be a private lender today, how heavily regulated we are, how regulations vary from state to state, how the Jobs Act impacted their industry, how he helped prevent regulation that would have been bad for the industry, requirements for getting a license in states like Florida or California, a new New York regulation that will tax flippers, and much, much more all on the real estate radio show.