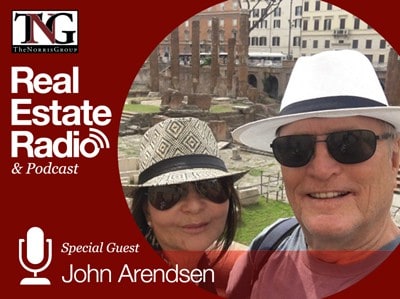 Date & Times
November 27, 2019 @ 9:30 am - 11:30 pm
VENUE:
The Norris Group
1845 Chicago Ave, Suite C




Riverside

,

CA

92507

United States
ORGANIZER:
The Norris Group
The Real Estate Radio Show With John Arendsen
Date:
November 27, 2019 @ 9:30 am
-
11:30 pm
Summary:
Happy Thanksgiving!  In celebration of Thanksgiving, we will be sending the radio show out early this week.  Enjoy!  In this week's radio show, we interview real estate expert and investor John Arendsen.  This is our weekly radio broadcast.  We recorded the show yesterday and will be covering it on our radio show starting tomorrow.  You can view the transcription and full broadcast here.
Details
Aaron Norris is joined this week by John Arendsen of Backyard Homes and several other companies to discuss accessory dwelling units. John is a licensed general contractor, manufactured home contractor, a licensed real estate broker and manufactured home dealer. This makes him a quadruple threat. He's been Aaron's go to for the last several years about accessory dwelling units. They met because of an introduction by Linda Scott out at SDCIA, and they've just had a great time getting to know each other. He gets to nerd out with legislation, anything around accessory dwelling units for the last year, and his whole family is actually involved in the business. His son and daughter run the main operations for on-the-level general contractors. His wife operates MH Processing LLC, and she's been a great resource for lending around the manufactured space. Aaron always bugs her about questions regarding ADUs. 
Episode Highlights
In this segment, Aaron and John will discuss ADUs, Junior ADUs, what properties fall under this category, how many people are even aware of them, the different bills that were passed regarding ADUs, who the biggest loser was when it came to the bills, the unique code Aaron uses to understand the exemptions for where ADUs can't be built, AB-68, opportunity zones and commercial real estate, and much more all on the real estate radio show.
Read More >