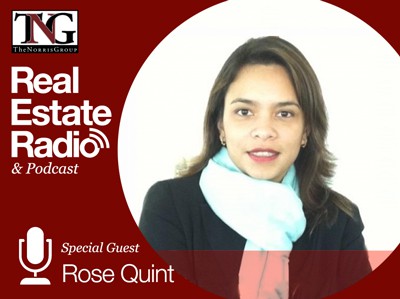 Date & Times
February 21, 2020 @ 7:00 am - 11:30 pm
VENUE:
The Norris Group
1845 Chicago Ave, Suite C




Riverside

,

CA

92507

United States
ORGANIZER:
The Norris Group
Rose Quint On The Radio Show
Date:
February 21, 2020 @ 7:00 am
-
11:30 pm
Summary:
Aaron Norris interviews Rose Quint of NAHB on the real estate radio show this week.  This is our weekly radio broadcast.  We recorded the show last week and will be covering it on our radio show starting Friday.  You can view the transcription and full broadcast here.
Details
Aaron Norris is joined this week by Rose Quint. She is the Assistant Vice President for Survey Research with the National Association of Home Builders. She holds a B.S. in Economics and International Business from Old Dominion University as well as a Master's degree in Economics from Virginia Polytechnic Institute and State University. Her responsibilities over NAHB include planning and conducting industry surveys, specifically in the areas of builder sentiment, remodeling, housing affordability, and A, D & C financing issues. 
In this segment, they discuss the recent Consumer Electronics Show, what preferences people have when it comes to the type of house they want and features in it, what her job entails in A D and C financing, the reason for the decrease in the sizes of single-family homes the last four years, builder trends and whether it is easy to find builders, the American Living Award and what determines who earns it, and much more all on the real estate radio show.