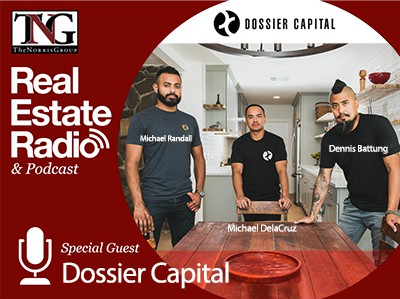 Date & Times
January 24, 2020 @ 2:45 pm - 11:30 pm
VENUE:
The Norris Group
1845 Chicago Ave, Suite C




Riverside

,

CA

92507

United States
ORGANIZER:
The Norris Group
Michael DelaCruz, Michael Randall, and Dennis Battung of Dossier Capital On The Radio Show
Date:
January 24, 2020 @ 2:45 pm
-
11:30 pm
Summary:
This week's radio show features Michael Delacruz, Michael Randall, and Dennis Battung of Dossier Capital.  This is our weekly radio broadcast.  We recorded the show earlier this week and will be covering it on our radio show starting today.  You can view the transcription and full broadcast here.
Details
Aaron Norris of the Norris Group continues his discussion on accessory dwelling units with Dossier Capital. Joining him are Michael DelaCruz, Dennis Battung and Michael Randall. A little over a year ago, a year from last September, they were very instrumental in helping write an accessory dwelling unit chapter as they rolled out hard money funding for investors doing this via flips, holds and even secondary units on rentals already purchased. Aaron followed with people he had worked with on this, including Kristi Cirtwell, and he looked at Dossier Capital's properties this summer. This interview is a follow-up to what they have done and if they still love ADUs. 
In this segment, Aaron discusses with the three of them how they first got started in the business, whether it was hard for them when they first started with the times, the response from the cities and their buyers regarding their projects, their approach to designing ADUs, SB 13 and how this will benefit both homeowners and investors, the TIC model for ADUs, and much more all on the real estate radio show.