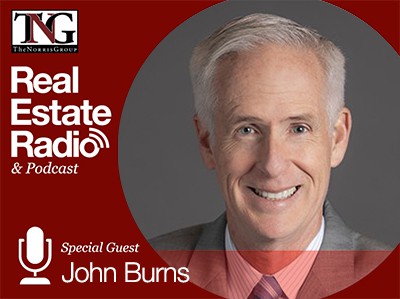 Date & Times
September 18, 2020 - September 24, 2020
VENUE:
ORGANIZER:
John Burns, CEO JBREC on the TNG Real Estate Radio Show
Date:
September 18, 2020
-
September 24, 2020
Summary:
Details
John leads a consulting firm that specializes in independent, unbiased analyses of the real estate industry. The company is on retainer with a very diversified group of companies to advise them on market conditions, and also completes a variety of project and portfolio specific advisory assignments. He was a CPA for 2 years and then spent 8 years in KPMG Peat Marwick's Real Estate Consulting practice (now called Bearing Point). He was also a Principal for four years at a national consulting firm before starting our firm in 2001.
John has a M.B.A. from the University of California, Los Angeles and a B.A. in economics from Stanford University. Specialties: Real estate market research, Housing Analysis, Strategic Planning, Financial Analysis and Valuation.
Bruce and John talk about the government's response to the CoronaVirus and what the consequences of the stimulus package could be.
The Norris Group originates and services loans in California and Florida under California DRE License 01219911, Florida Mortgage Lender License 1577, and NMLS License 1623669.  For more information on hard money lending, go www.thenorrisgroup.com and click the Hard Money tab.
This is our weekly radio broadcast. We recorded the show last week and will be featuring him on the radio show starting today. You can view the transcription and full broadcast here