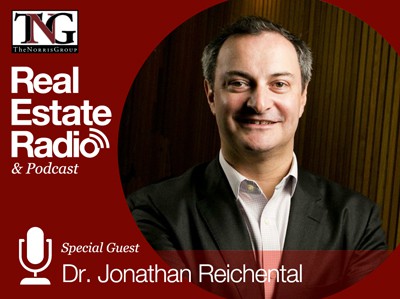 Date & Times
April 18, 2019 @ 7:30 pm - April 19, 2019 @ 11:30 pm
VENUE:
The Norris Group
1845 Chicago Ave, Suite C




Riverside

,

CA

92507

United States
ORGANIZER:
The Norris Group
Dr. Jonathan Reichental On The Real Estate Radio Show
Date:
April 18, 2019 @ 7:30 pm
-
April 19, 2019 @ 11:30 pm
Summary:
Aaron Norris is joined again this week by Dr. Jonathan Reichental on the radio show.  This is our weekly radio broadcast.  We recorded the show last week and will be featuring him on the radio show for the second time this week.  You can view the transcription and full broadcast here.
Details
Aaron Norris is joined this week by Dr. Jonathan Reichental.  He is a multiple award-winning technology leader whose 30-year career has spanned both the private and public sectors. In 2017, Dr. Reichental was named a top 100 CIO in the world and in 2016 was named one of the top 20 most influential CIO's in the United States. He is recognized as a global thought leader on a number of emerging trends including urban innovation and blockchain technology. In 2013 he was recognized as one of the 25 doers, dreamers, and drivers in government in America. His innovative work in government has also been recognized by the White House. Works with his teams to apply technology innovation in organizations to create new value and to enable work to be more meaningful and fun.
He is also an adjunct professor at several universities including the University of San Francisco as well as a popular writer and educator producing several highly successful online courses with LinkedIn Learning. He co-authored The Apps Challenge Playbook, and he is a frequent public speaker on a wide range of technology and business-related topics. Co-hosts the popular podcast, Drinking Wine Talking Tech.
Aaron and Dr. Reichental will discuss smart cities, at-risk industries, economic and demographic trends, how the U.S. compares to other countries, LinkedIn and how they could change our current education model, and much, much more.
The Norris Group originates and services loans in California and Florida under California DRE License 01219911, Florida Mortgage Lender License 1577, and NMLS License 1623669.  For more information on hard money lending, go www.thenorrisgroup.com and click the Hard Money tab.