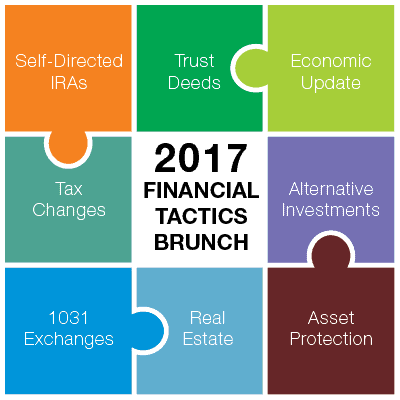 Date & Times
October 28, 2017 @ 8:00 am - 1:00 pm
VENUE:
Center Club Orange County
650 Town Center Drive, Garden Level




Costa Mesa

,

CA

92626

United States
ORGANIZER:
The Norris Group
Price: $49
SOLD OUT: Cutting-Edge Financial Tactics Brunch 2017
Date:
October 28, 2017 @ 8:00 am
-
1:00 pm
Summary:
Join us for our 7th Annual Cutting-Edge Financial Tactics Brunch Saturday, October 28 in Costa Mesa, CA with Keystone CPA, Exeter 1031 Exchange, uDirect IRA Services, and Barthcalderon Attorneys as we explore some of the biggest mistake investors make and how to avoid them.
Details
SOLD OUT! Unfortunately, we have maxed out the number of people we are allowed to have in the room. Please call 951-780-5856 and ask for Joey Romero to be placed on a waiting list. 
"Sorry, you need to ask your CPA, attorney, and/or other experts?" It's so frustrating!
We've all had it happen. You've got this burning question on an investment or the structure of a new entity and you're forced to bounce between experts who don't always agree. It drives us nuts too!
This is why we're so excited about our 6th Annual Cutting-Edge Financial Tactics Brunch Saturday, October 28 in Costa Mesa, CA.
We're bringing together six experts to cover the most frequently asked questions and biggest, horror-story mistakes they see investors make. Some of the topics will include:
The best entity(ies) for different kinds of investments and the tax ramifications you must know
The fiduciary rule and self-direct investing and how this might limit your ability to invest in 2018
What asset protection really means and horror stories you won't want to repeat
The three major mistakes investors make with IRA investing and how to avoid them
Horror stories on 1031 exchanges gone wrong and how they can easily be avoided
Ideas for investors in quadrant four and preparing your portfolio for recession
And much more (of course)
These pros will be open for questions. Beginners and seasoned professionals alike will enjoy this no-nonsense session. Great food, awesome networking, and incredible content. You won't want to miss it!
SOLD OUT!